Being in New York Part 2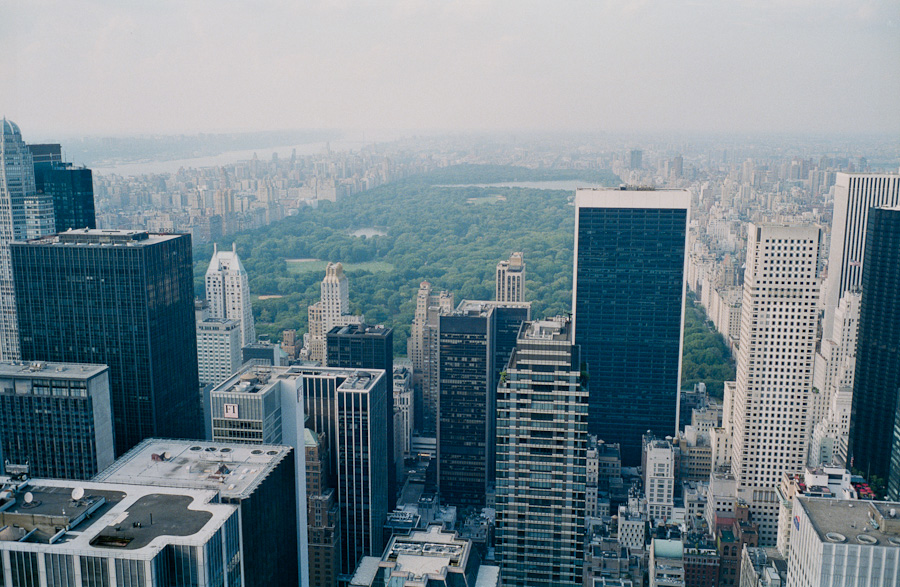 After the patio lounging episode on Sunday we made our way back to Manhattan and brought ourselves to 30 Rockefeller Plaza, Top of the Rock.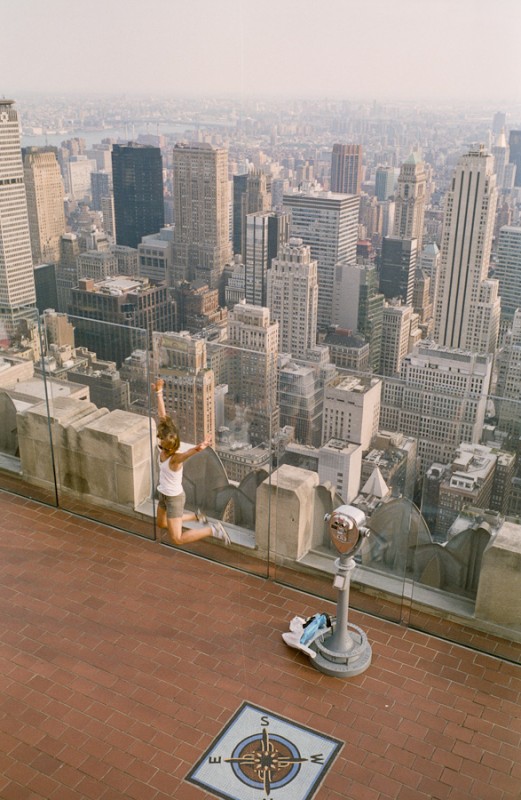 Now that you're looking at this web page I think that you deserve advanced notice. In this entry I will visit the Statue of Liberty on Liberty Island. I arted the shit out of that place. Just so you're aware… just so when it happens you won't be able to say you were not warned. There's some serious art up ahead. It is not the standard product I push, but trust me when I say that you'll be back for more.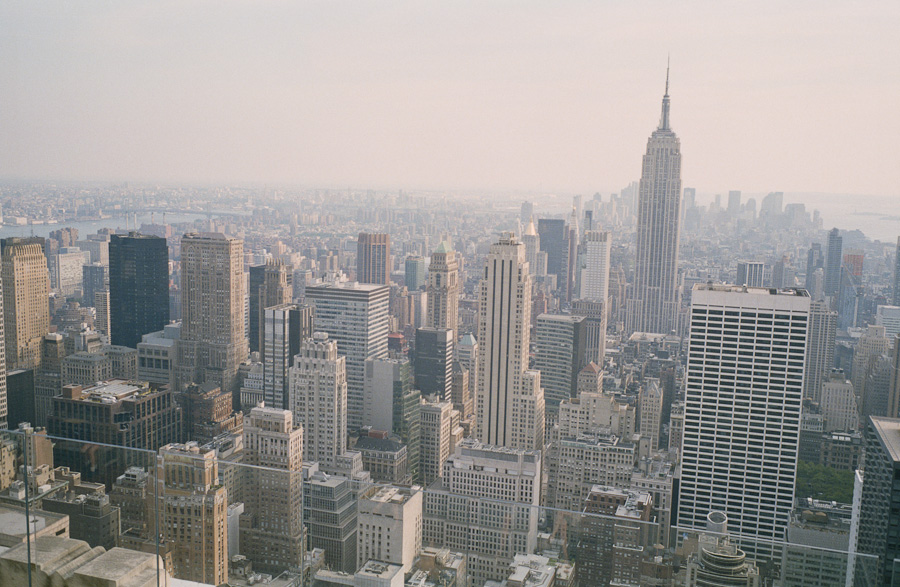 Weather was great. Still hot and humid, but smoggy.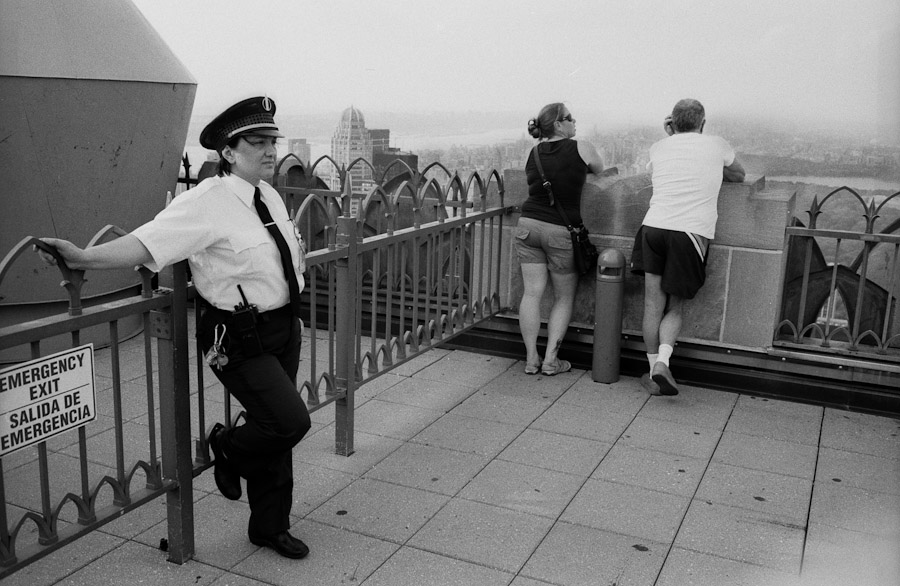 Switched to some 125px.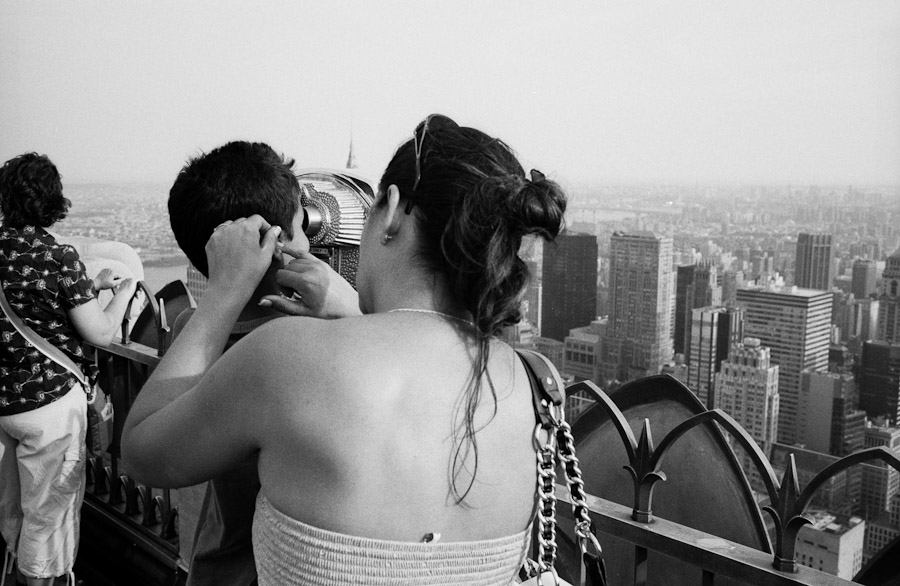 Sure why not.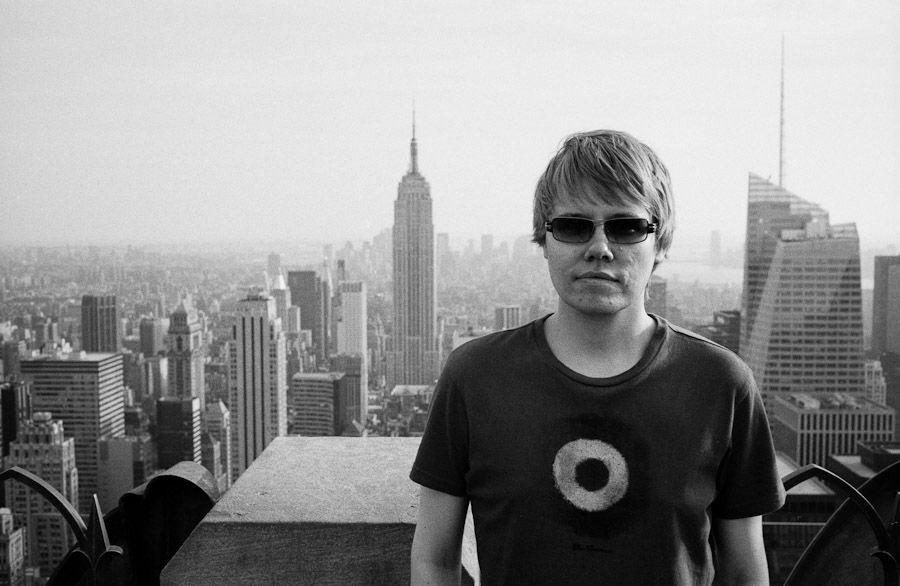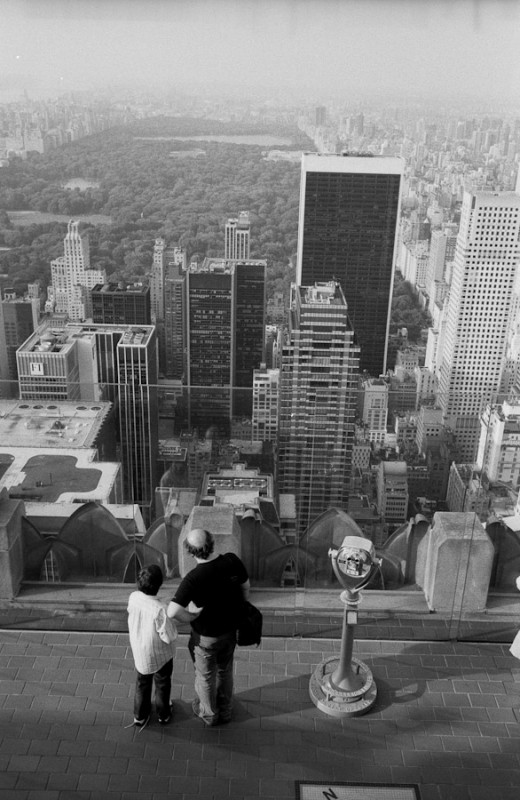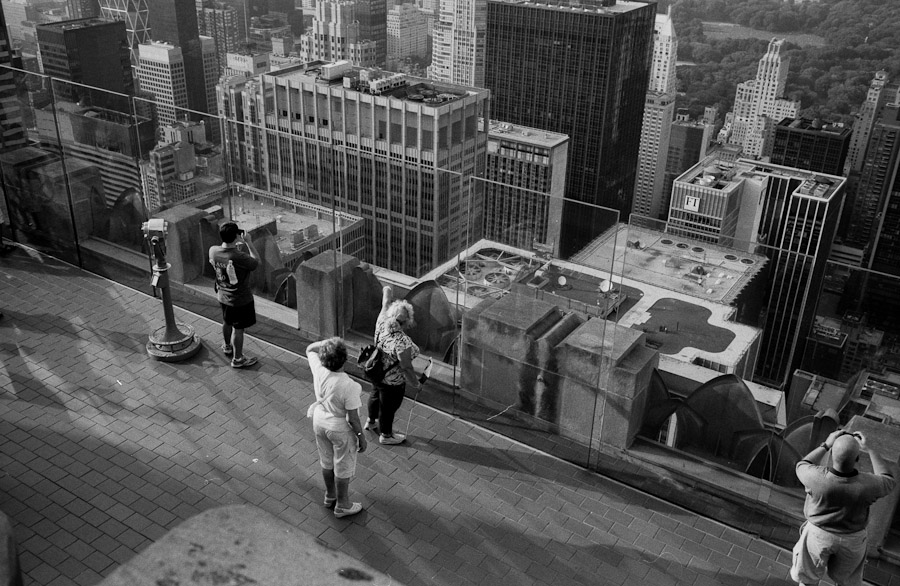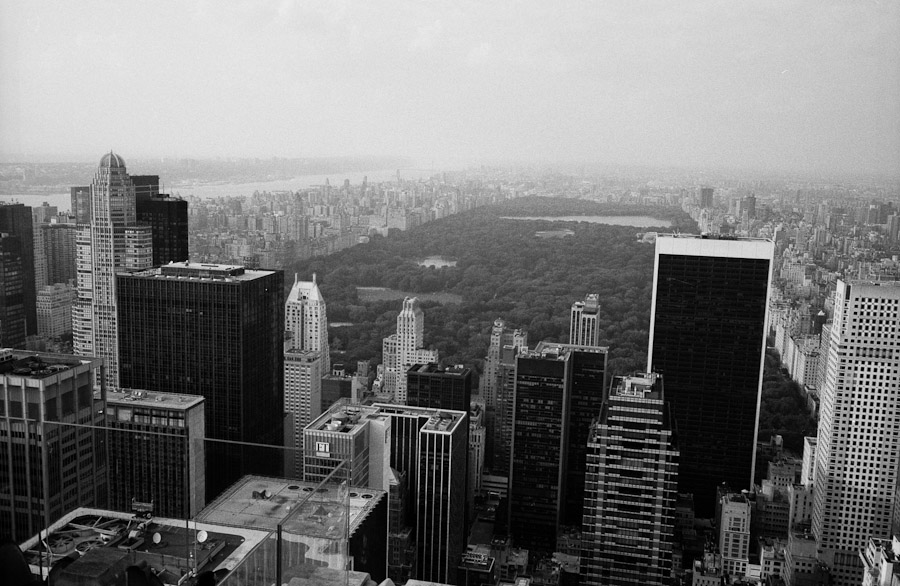 70 stories above New York. To the north you can see most of Central Park. To the south is the Empire State Building and further south is downtown and the financial district.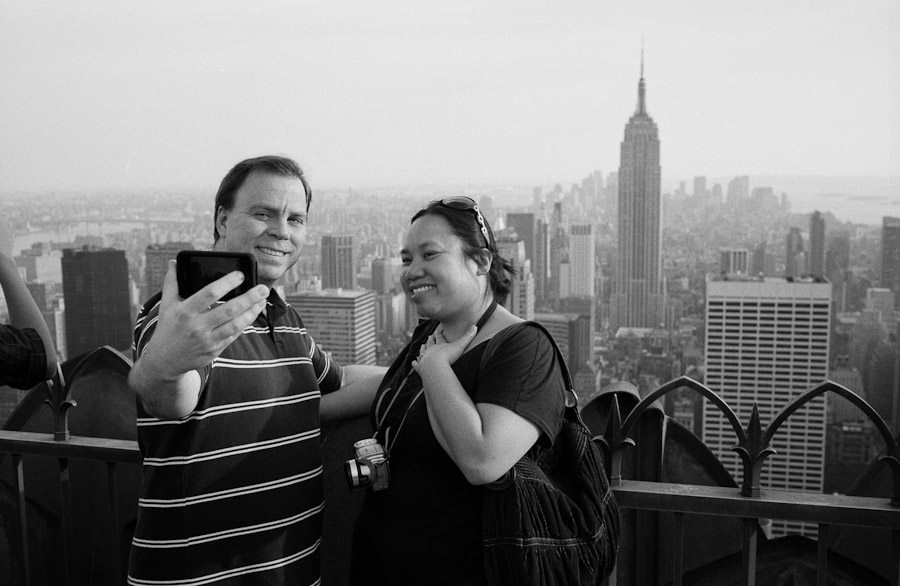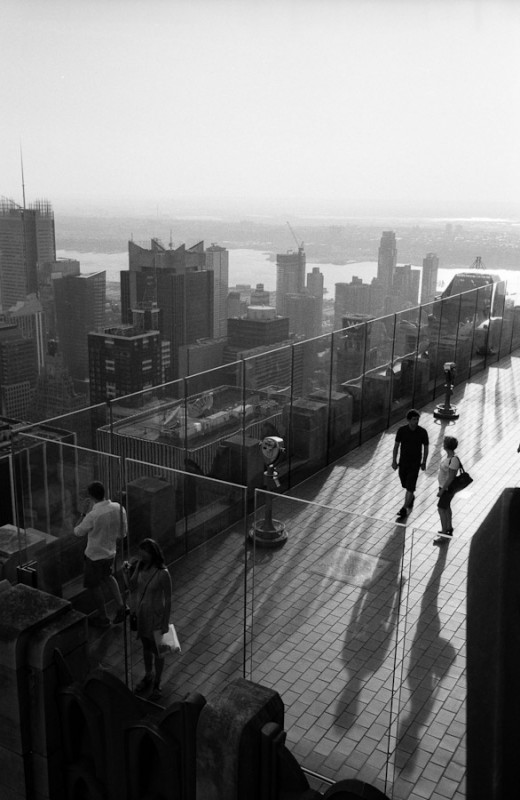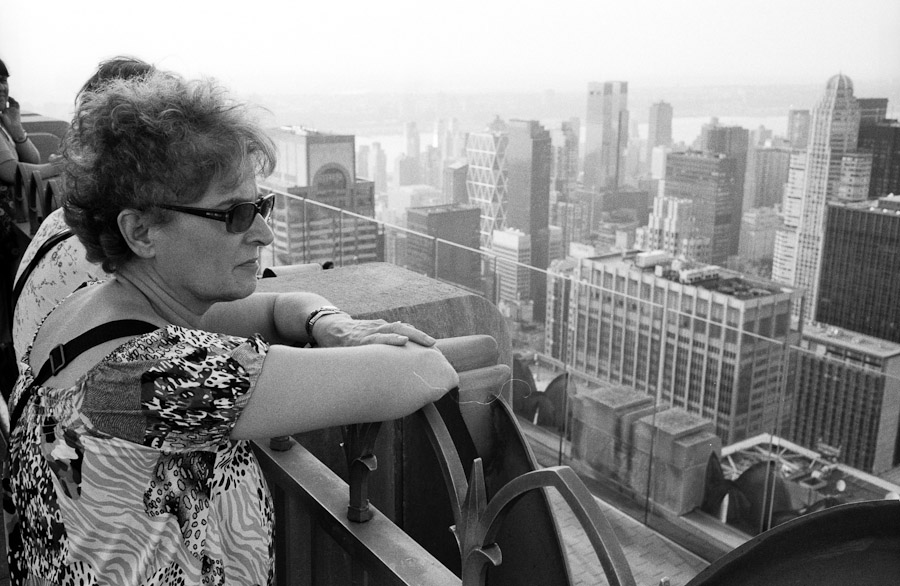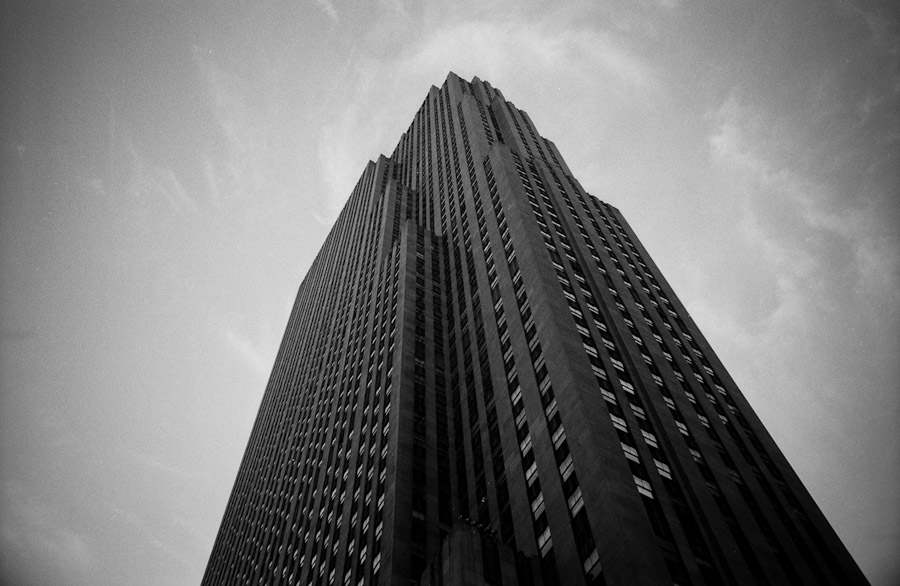 Back on the ground I got more interested in what I had been on top of.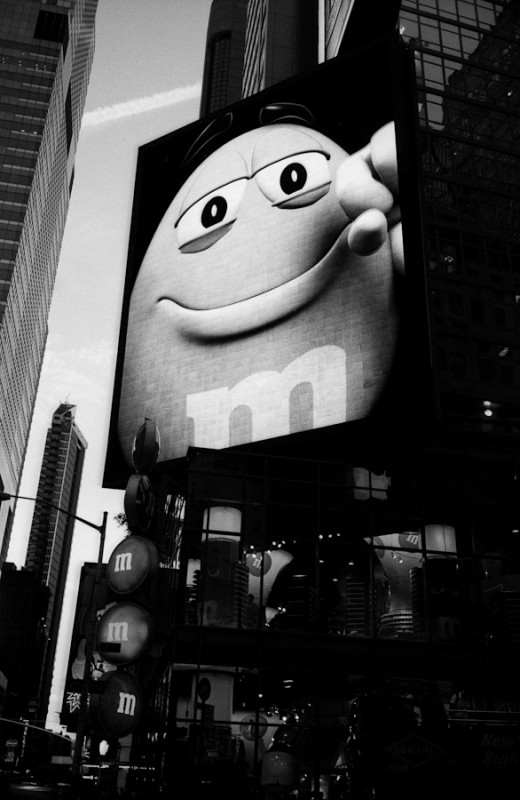 We'd spent a long time up there and become hungry again so we went searching for a good place to eat. Passed up the M&M store…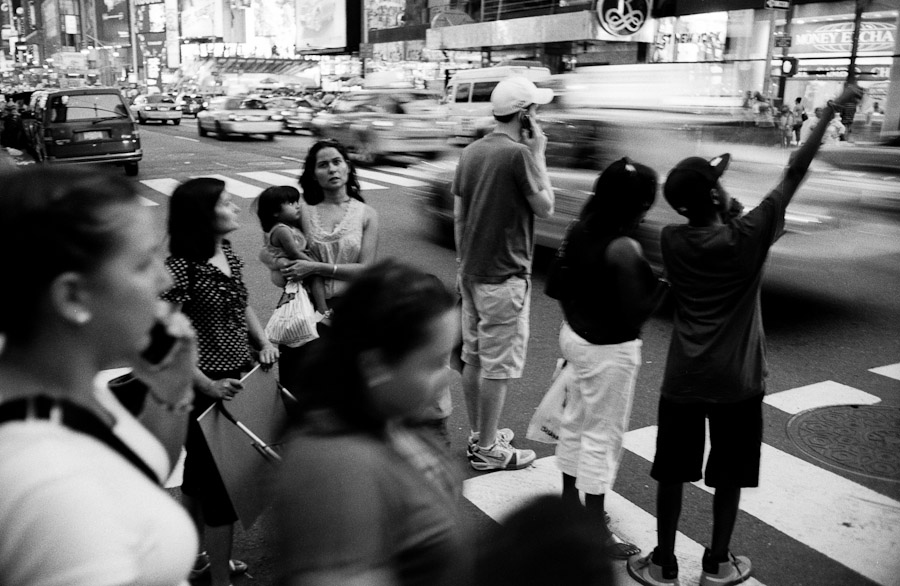 125px was starting to get a bit slow.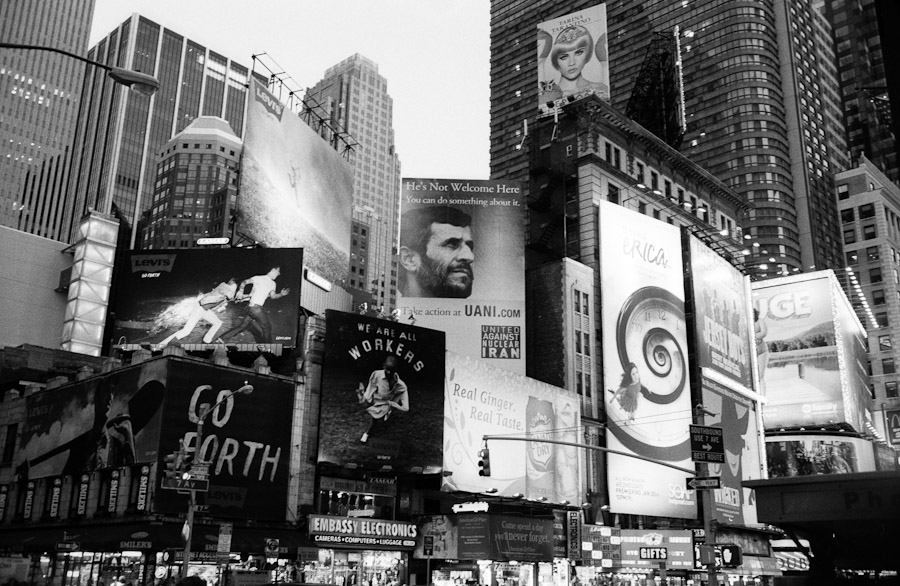 How about that?
After wandering in circles for ever we managed to find a Thai restaurant that was cheap and delicious. Then we wandered back towards the Times Square area to take in the beauty.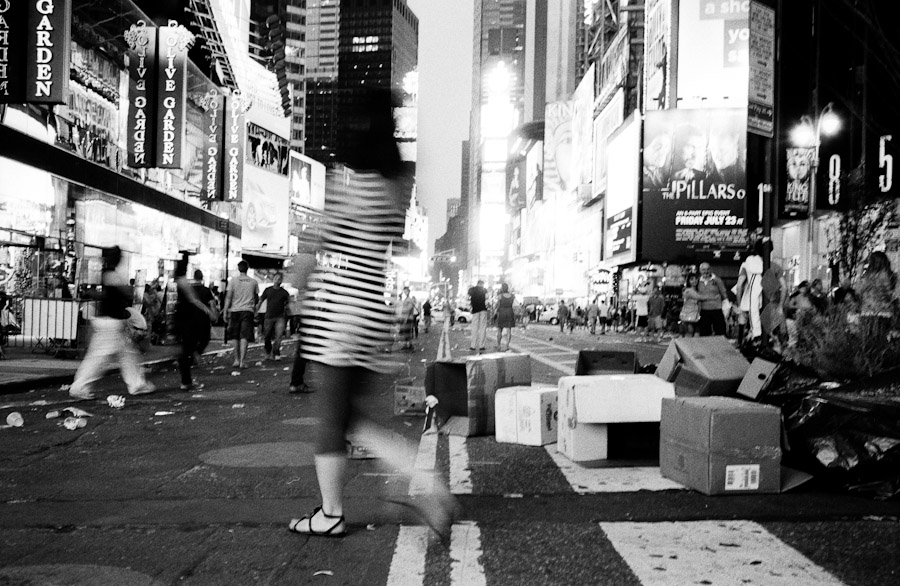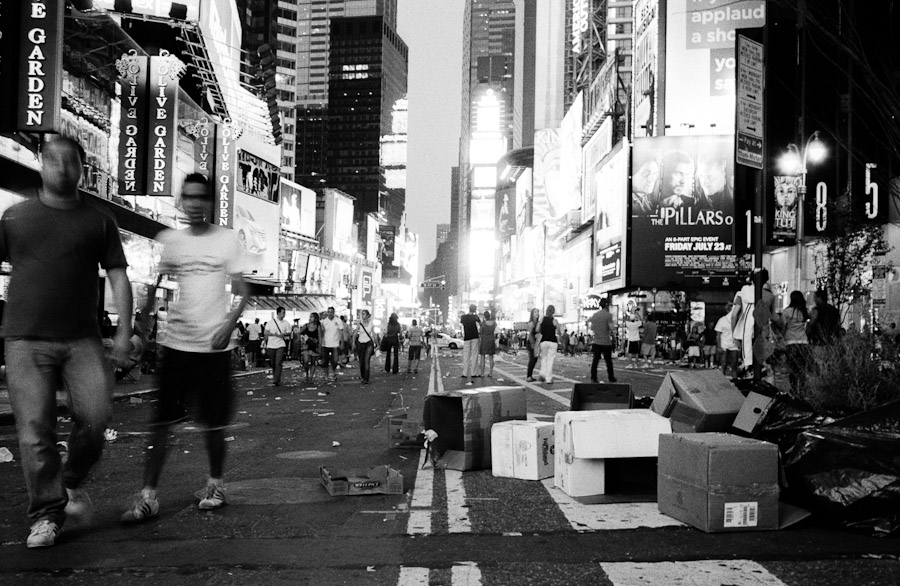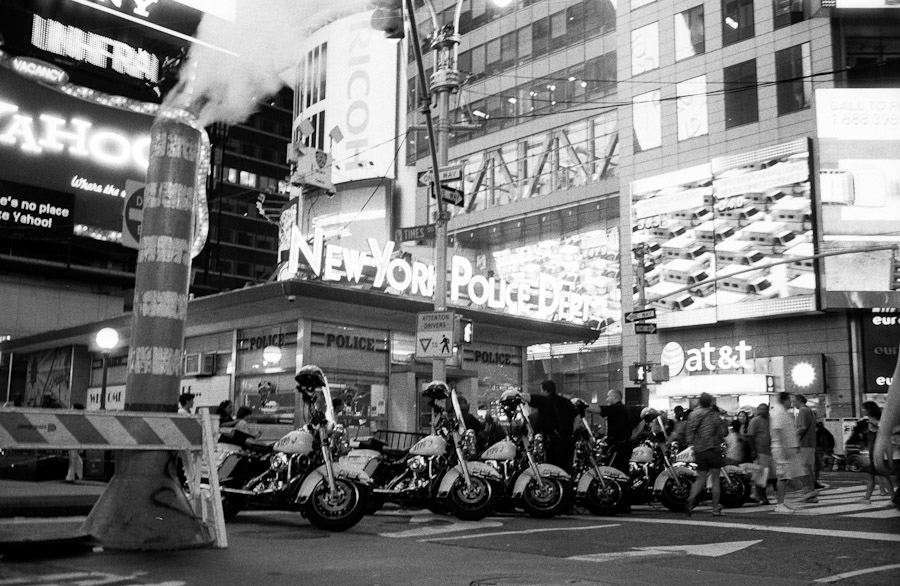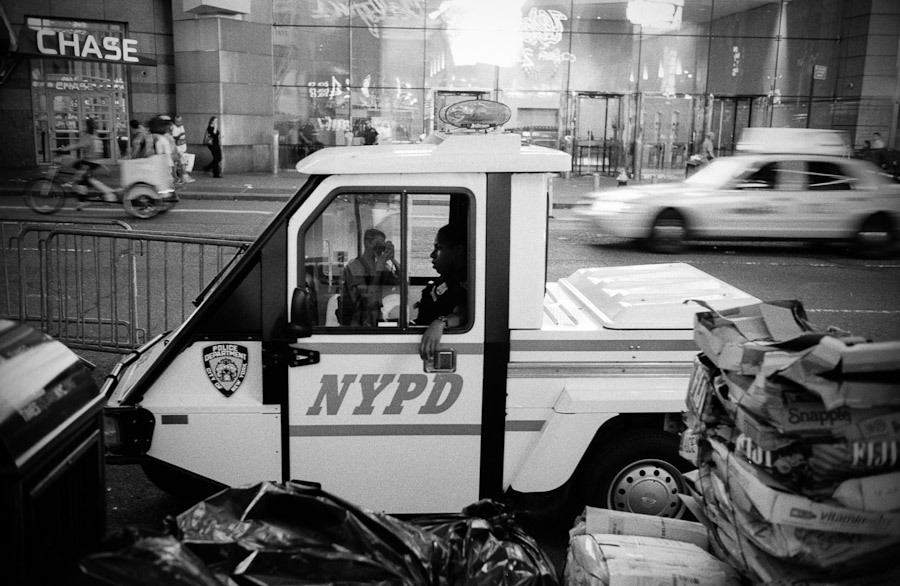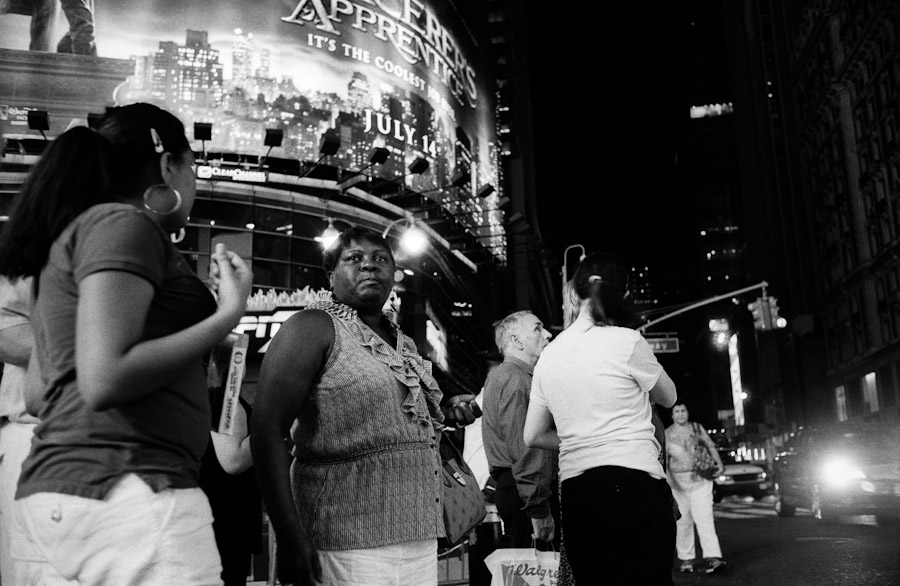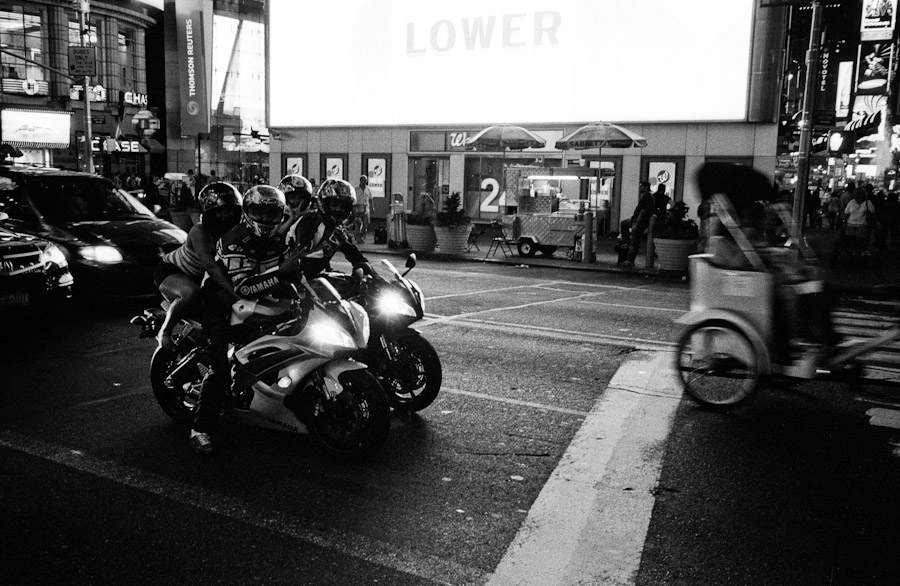 When I saw these guys pull up to the light I was thinking I might have a great photo in front of me so I bent my elbows and waited for something interesting on the massive screen across the street. It seemed totally irrelevant, even ugly, and discouragingly I lowered my camera. At the same moment they all noticed me and got excited. Click. There's no evidence on the negative that the girl was wearing anything at all on her feet. Interesting choice.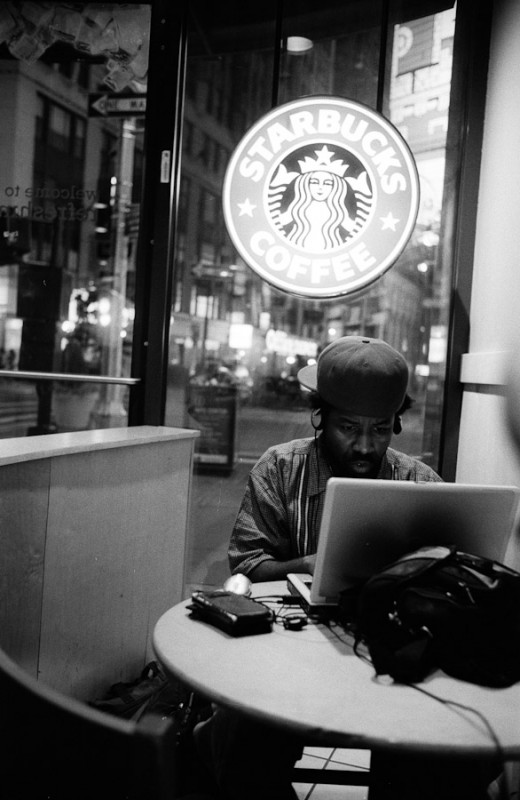 That was at Starbucks.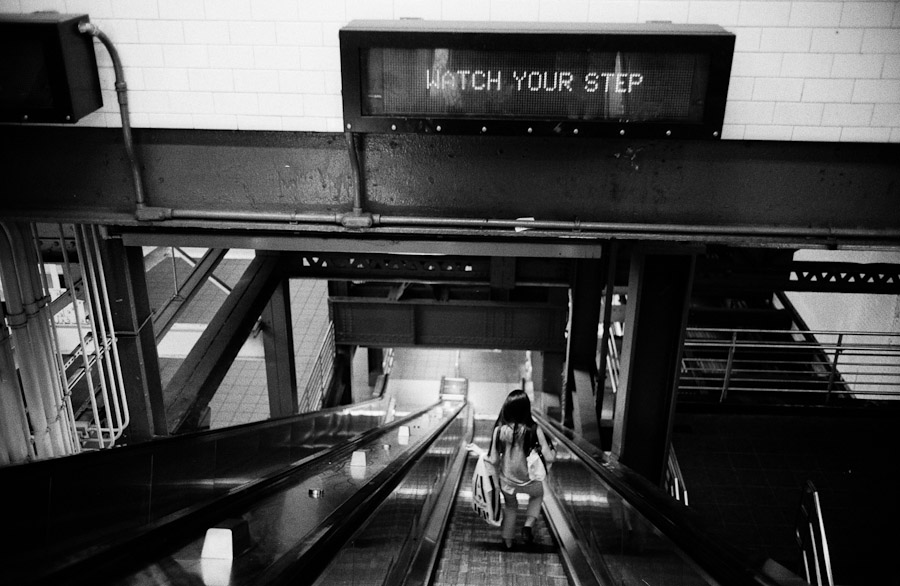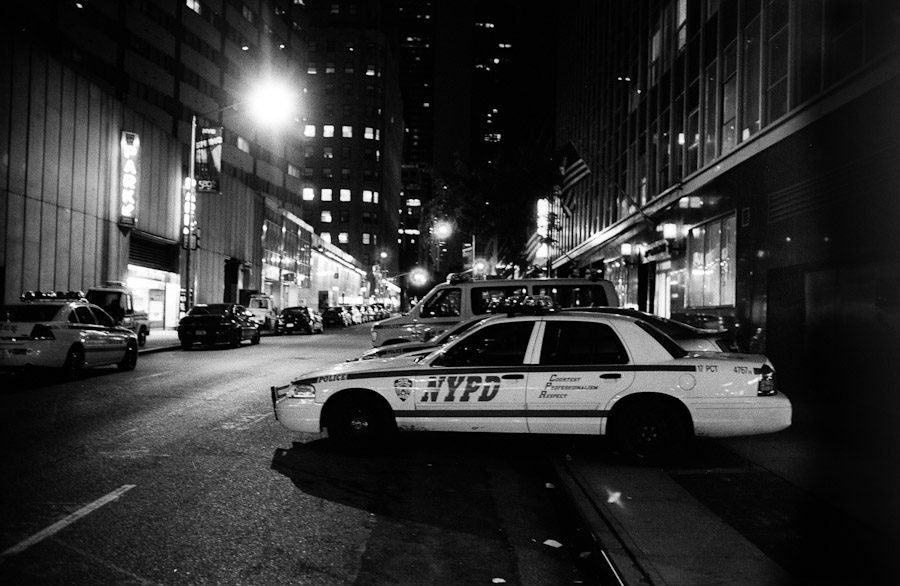 Such is the value of space.
On Monday morning my first stop was at the post office to send some post cards home.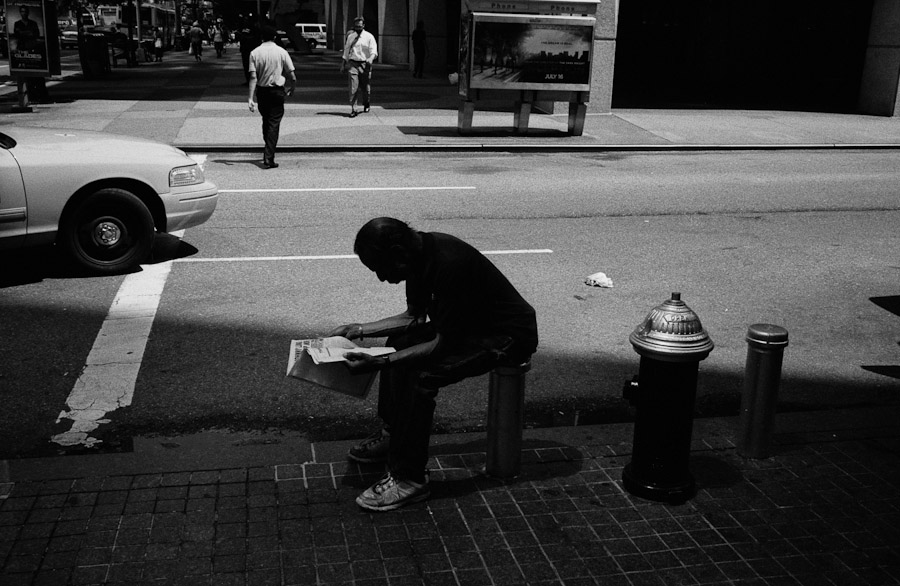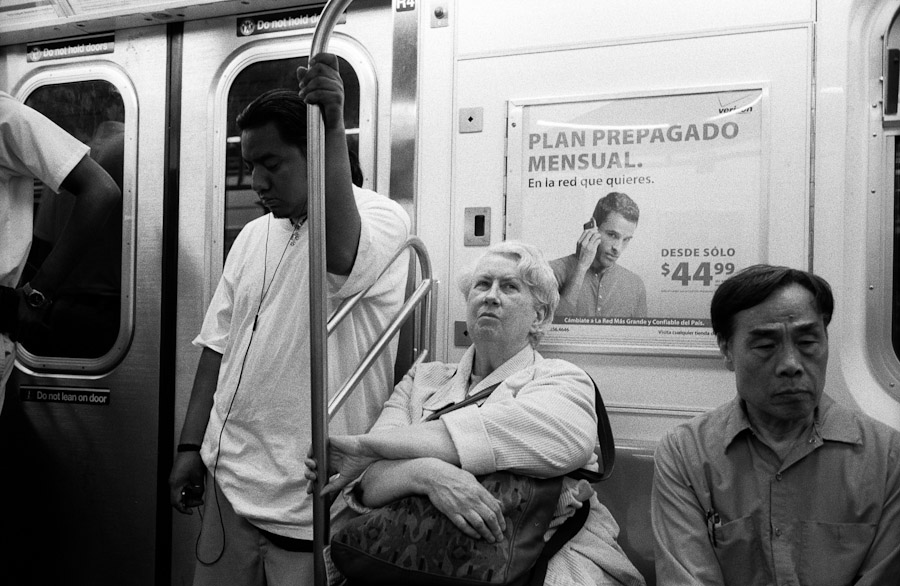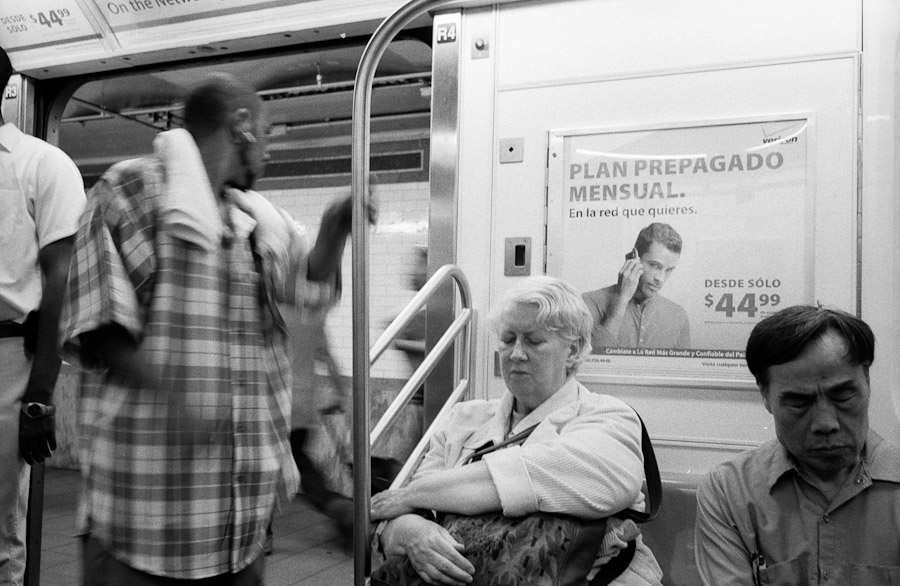 Monday was forecast as being dodgy weather wise. A bit of a storm passed through in the morning but it cleared up quickly and so we decided to head for Liberty/Ellis island in hopes that it would be a little less busy that day.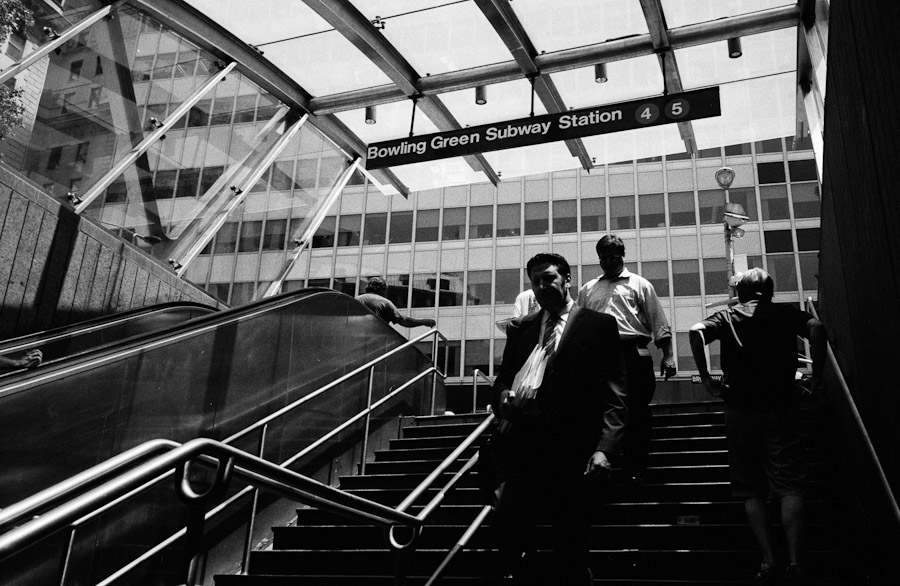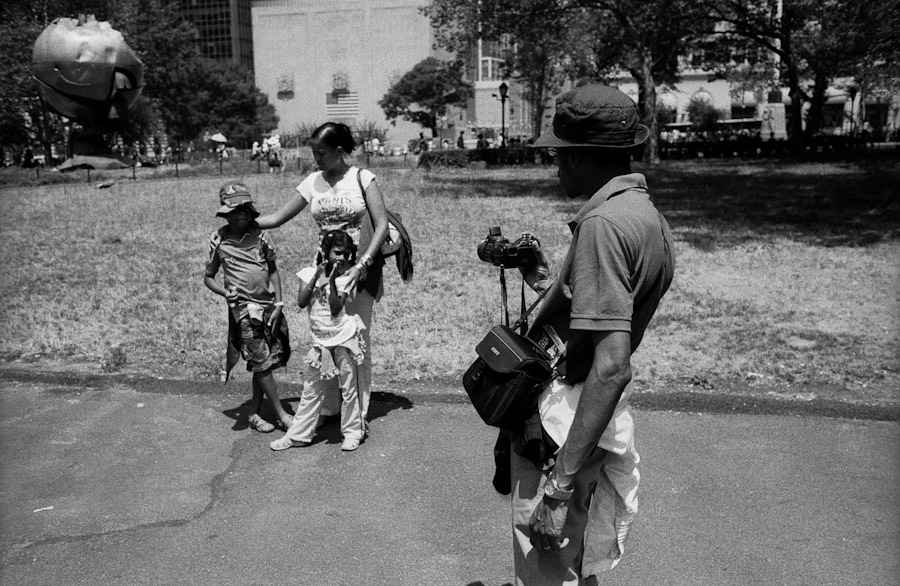 When I got to Battery Park, that was happening.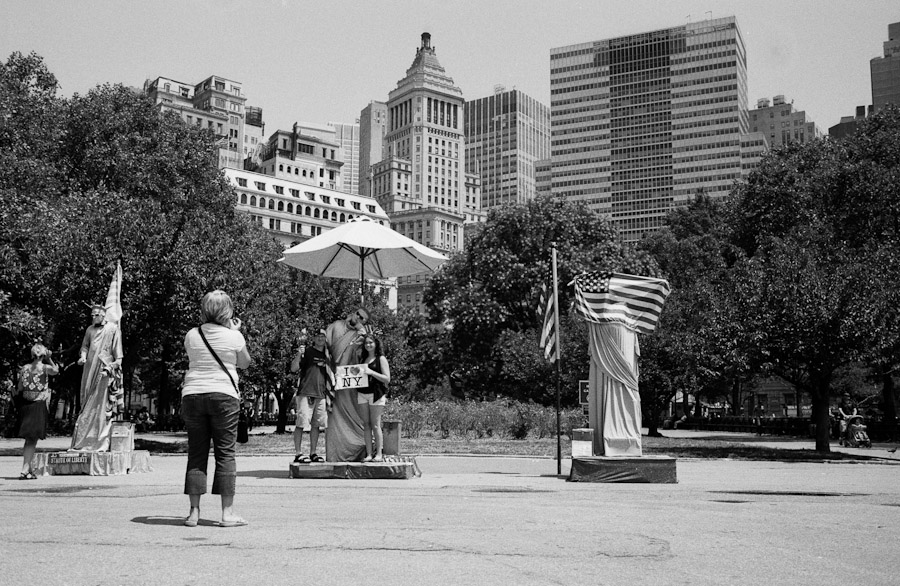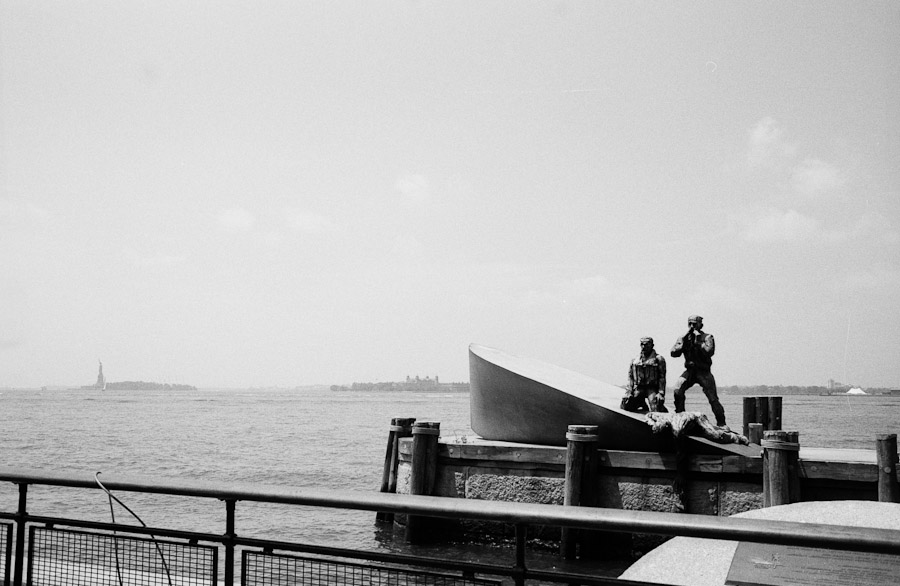 I guess that's something horrific meant to inspire hatred of unknowable foreign enemies and encourage a patriotic support for war. The Statue of Liberty on the far left and Ellis Island mid-frame.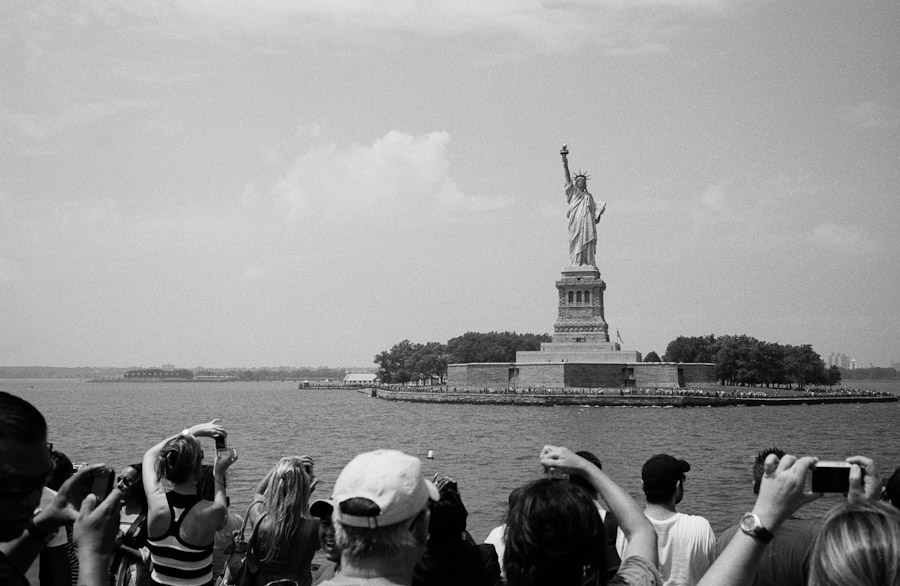 What I wanted to capture was the degree that the boat suddenly leaned the moment we were within proximity of the statue as everyone rushed to that side of the boat. But I couldn't seem to get a good frame of it at the time.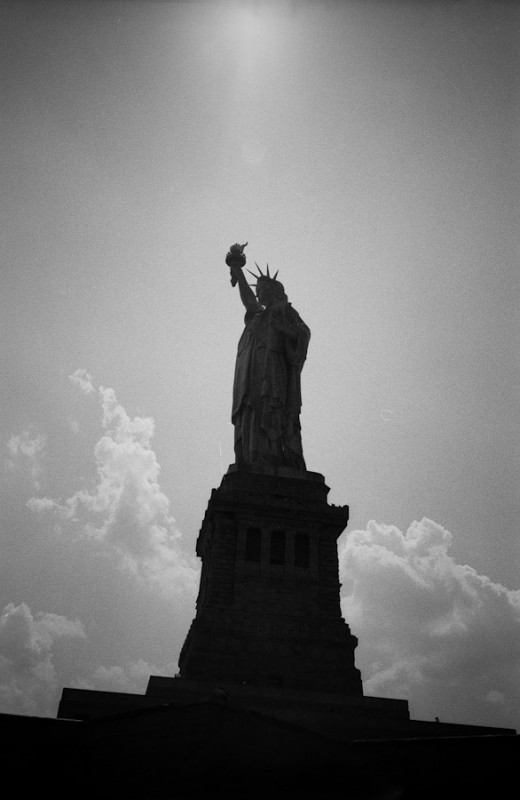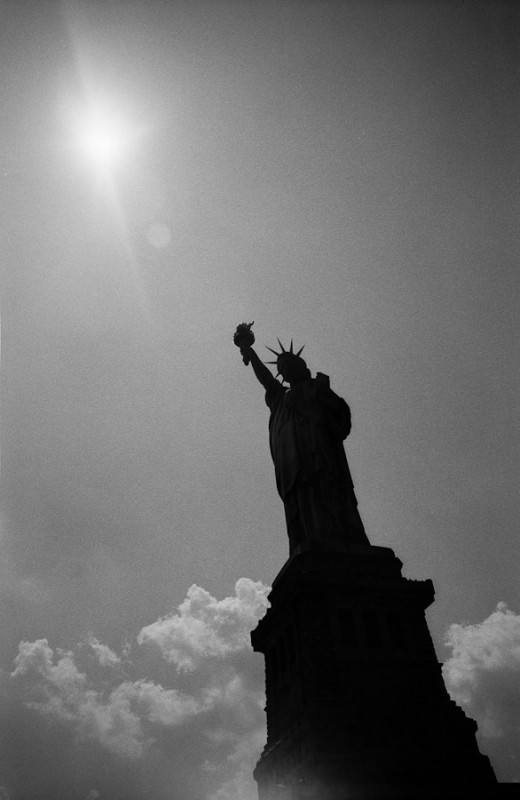 Yeah.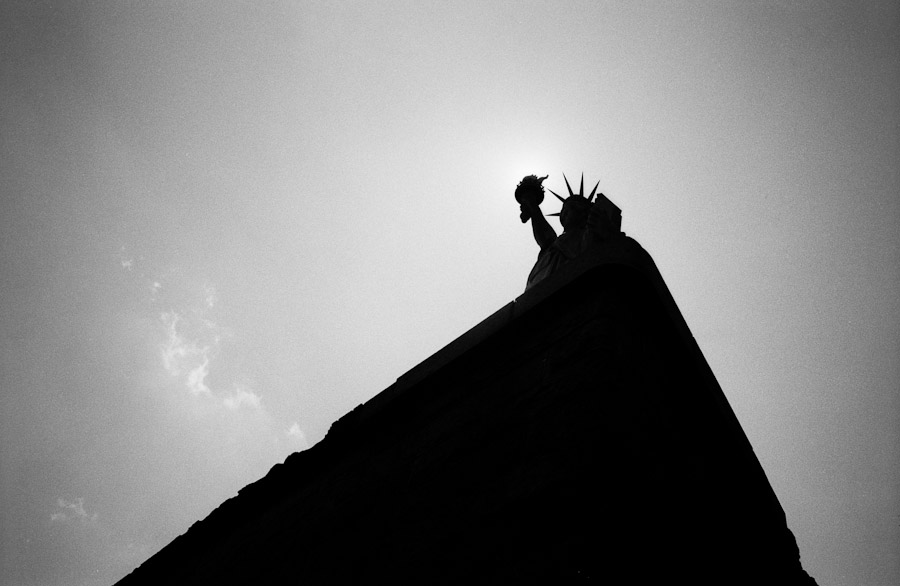 That's totally what it looks like when you put the sun behind her torch.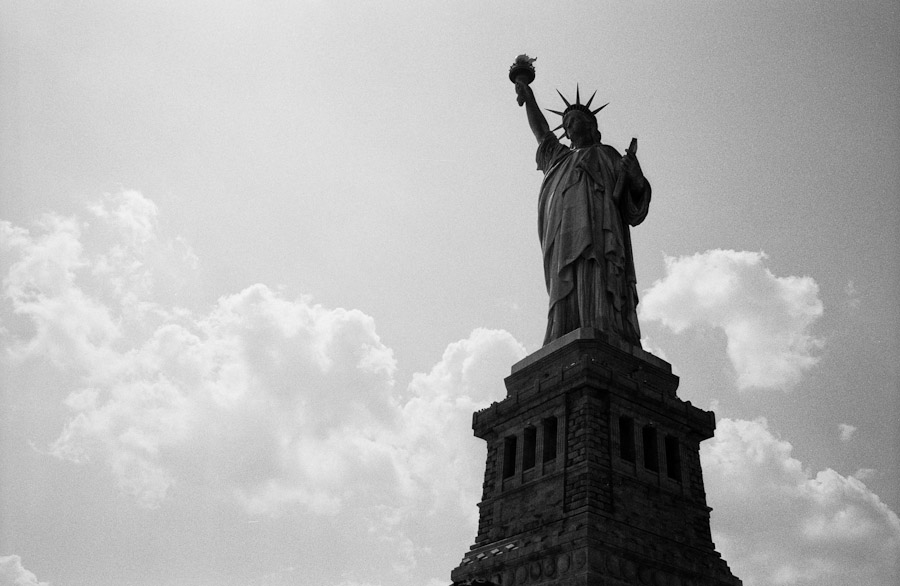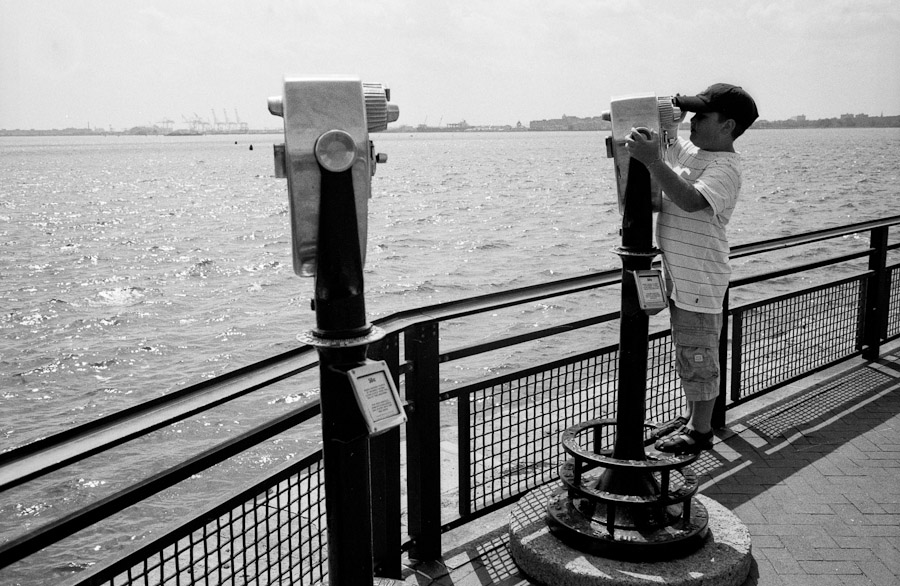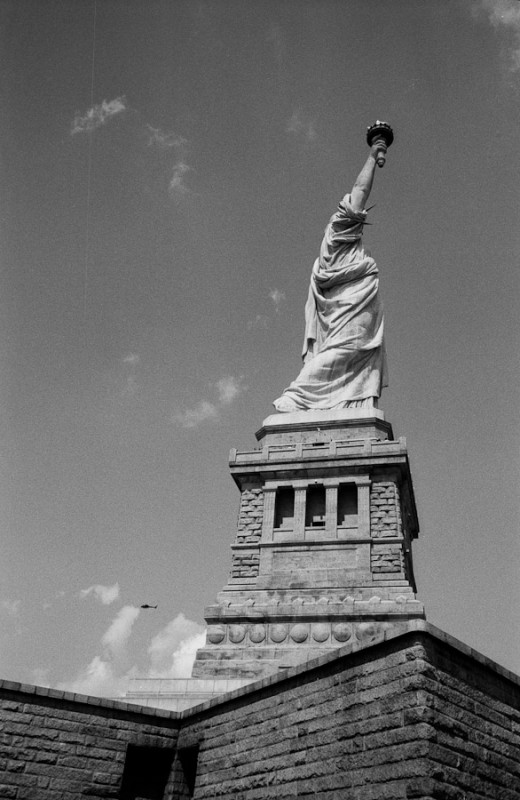 Here is the icon of freedom in America, complete with black helicopter.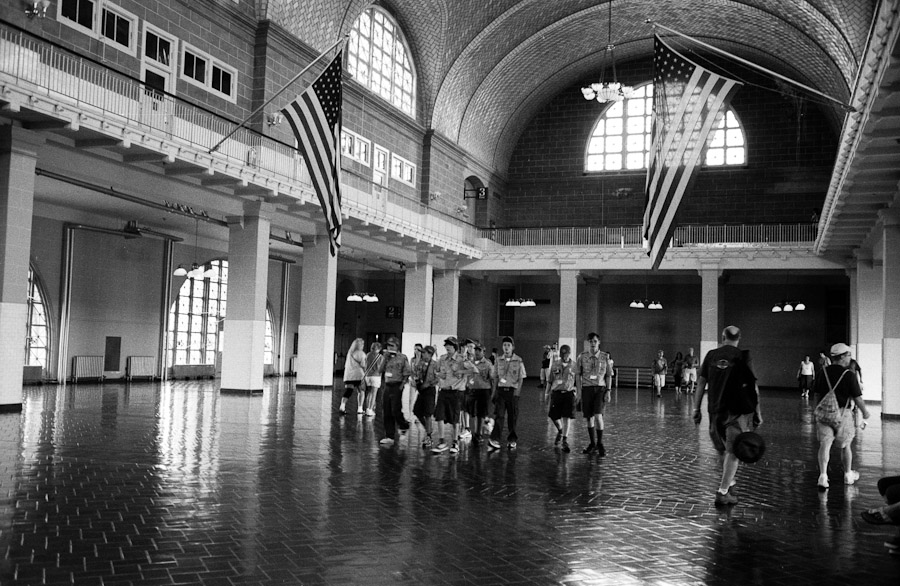 A group of boy scouts pass through the Registry room at Ellis Island. Between 1892 and 1954 twelve million immigrants were processed at Ellis Island. Most of them passed through this room.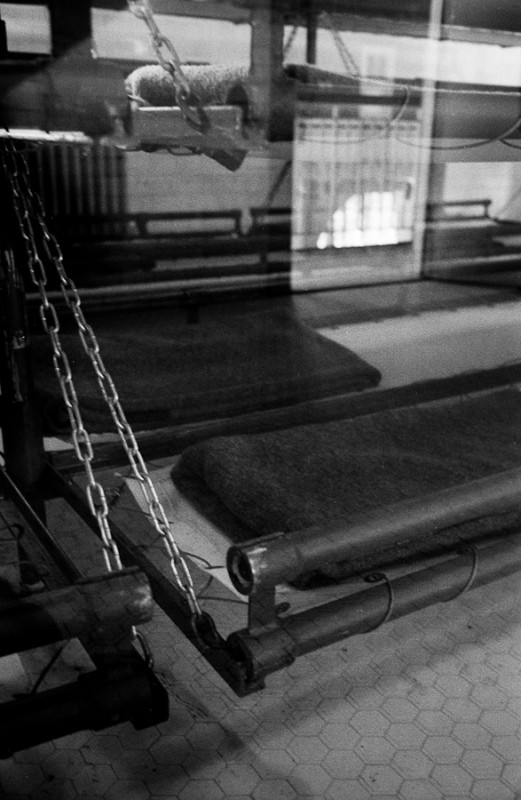 Off to the side of that room was a room of tiny bunks where children slept. The room seemed creepy and rather claustrophobic. The bunks are smaller and tighter than they look here. I thought of how scary it might have been to spend nights there as a child in a foreign place, but for many it must have been such a comfort compared to the journey that lead them here.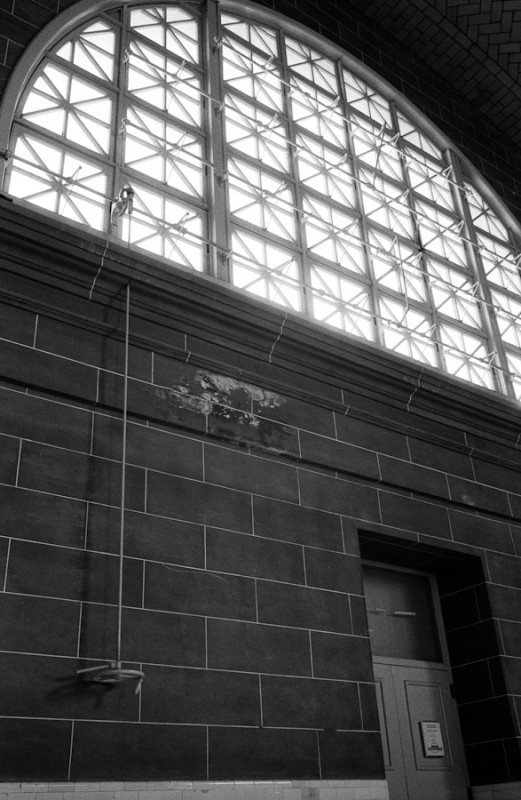 For some reason the crank to operate the windows was fascinating.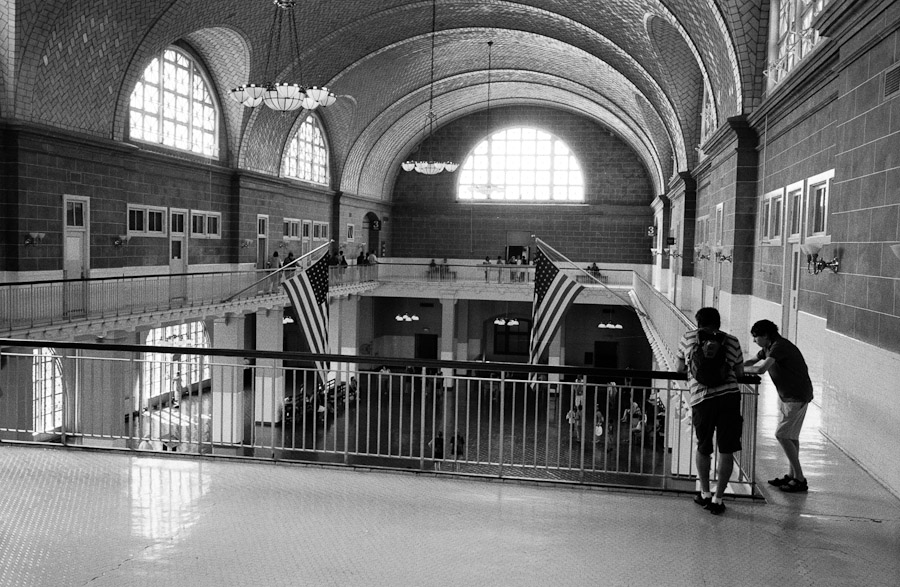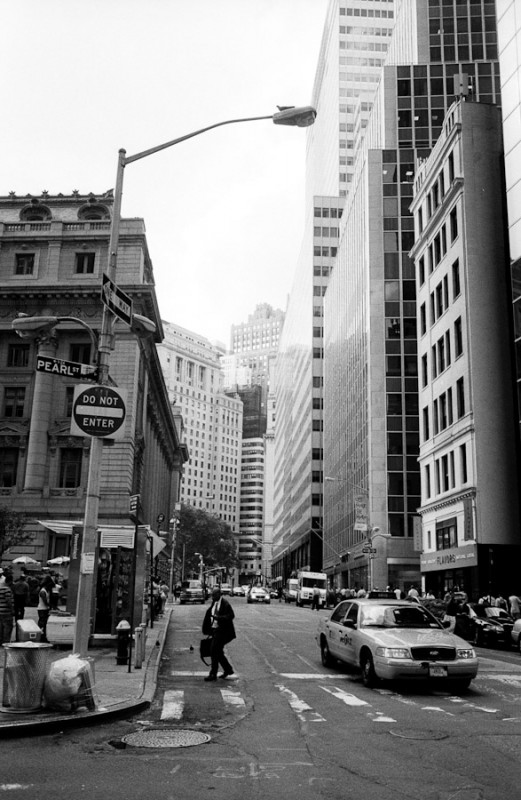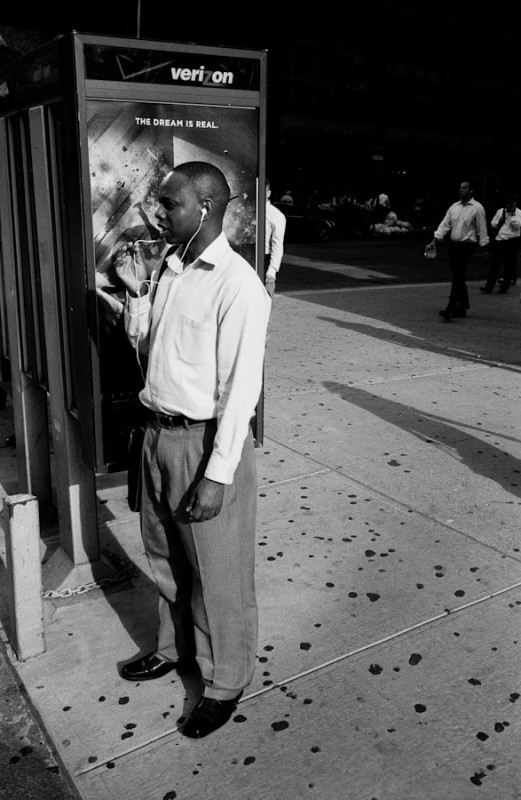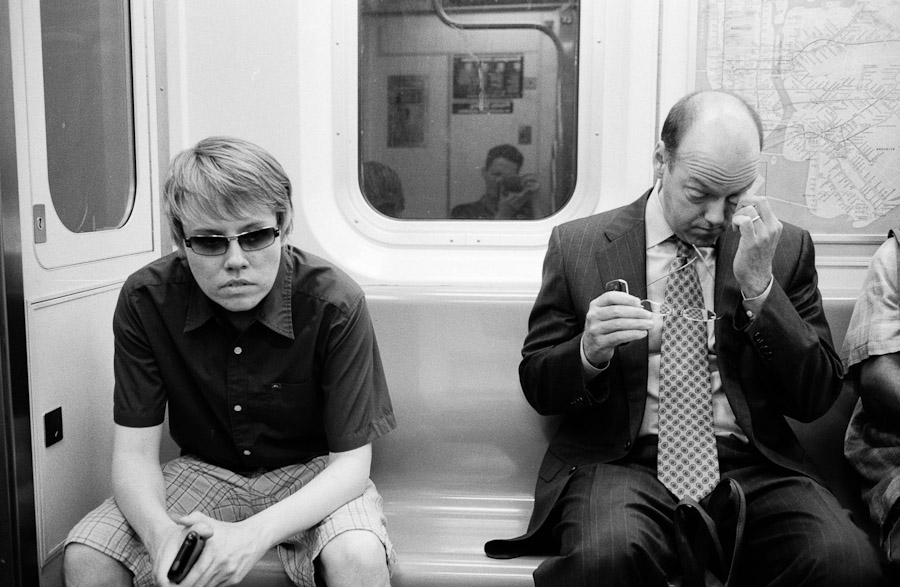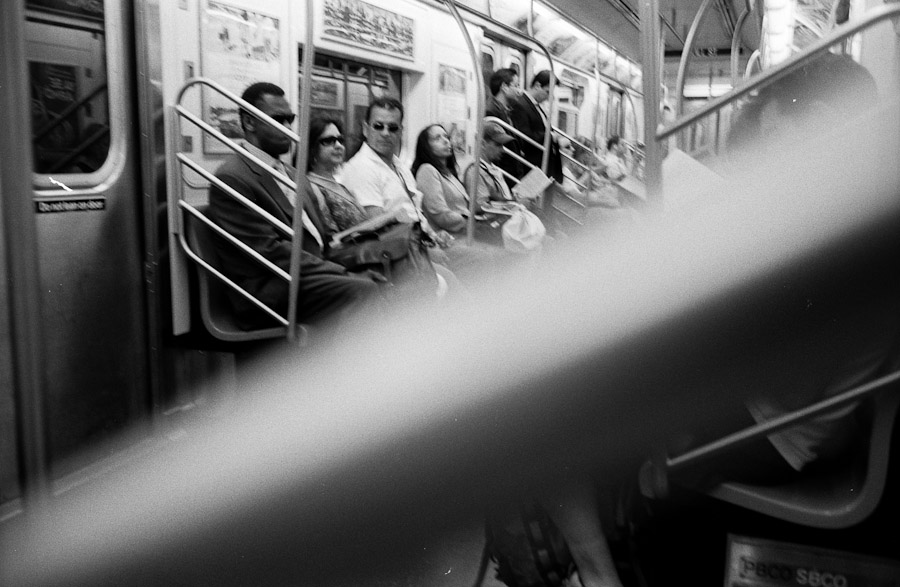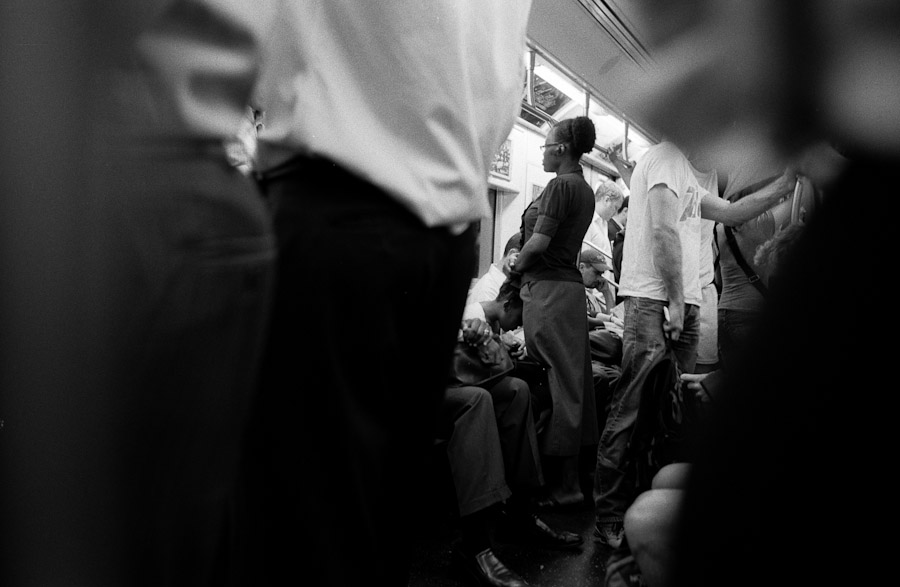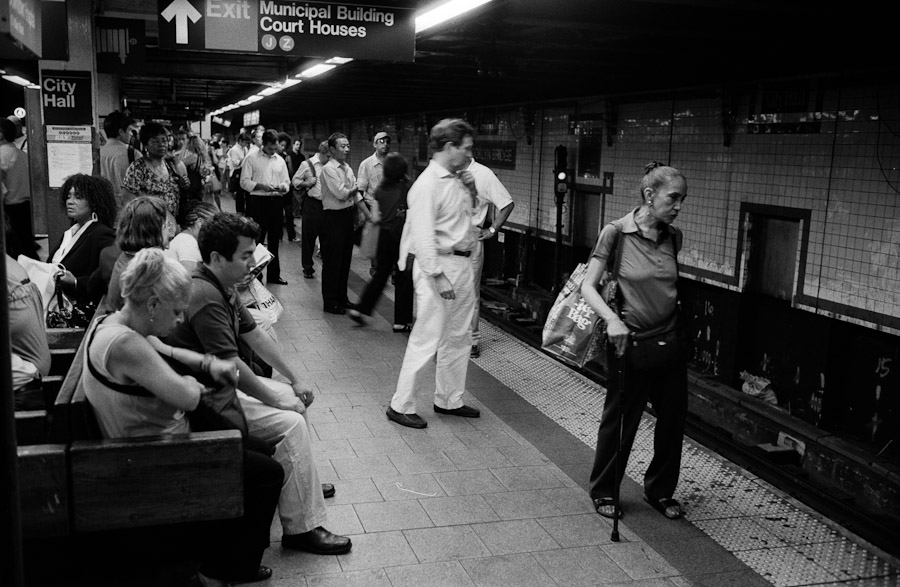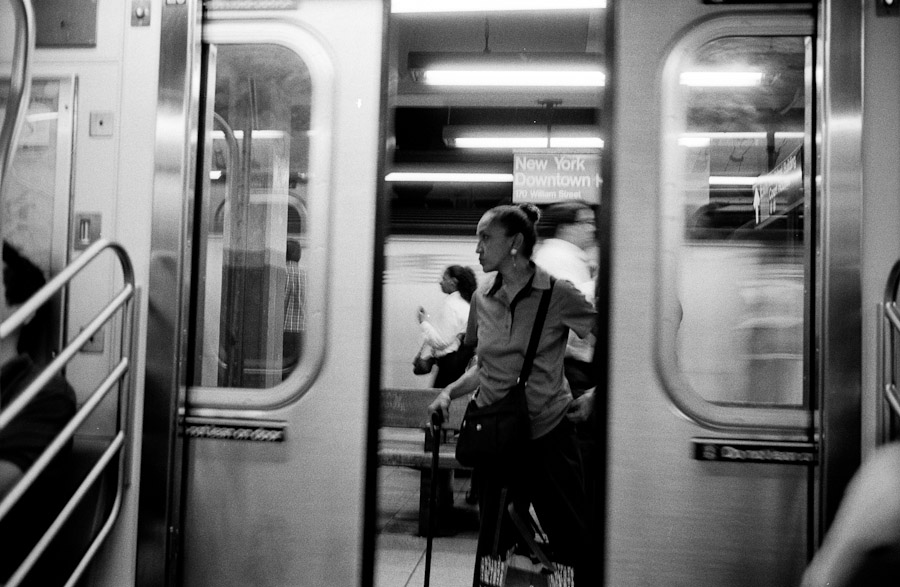 That was a long day out in the heat of the sun through the queue to the ferries, the ferries and the islands. We went to do some more shopping on Broadway that evening and then found a place to have some greasy food. I had a bacon cheeseburger and Randy enjoyed a Reuben while we listened in to a conversation between the waiter and this fat kid who was sitting at the bar with his dad. The kid's like "ey! Amigo! How about that chocolate deep fudge cake and I want a raspberry sauce on the side." I almost spat out my beer and I'm like Randy did you hear that?
When we paid our bill and walked past to exit, father was asking him how he liked that dessert with the raspberry sauce and encouraging him to finish all that, and in a fabulous New York accent that I hadn't heard too much of. Priceless experience.
Tags: Agfa Optima 100, Arista Premium 400, Kodak 125px, Kodak Tri-X, Leica M6 TTL, New York, Summicron-M 35/2
Add a Comment Trackback