Hello and welcome back to my blog. At some point while I was composing this post, the first of my New York entries, my thoughts began to obsess over the way my photographs are presented here. I came to the conclusion that thumbnails are for the faint of heart (or the disinterested) which I never meant to endorse. I've now put 900px images right on the front page and offloaded the workout for any thumbnail clickers on to the tubes of the internet.
Last we heard, our heroes were wrapping up a successful project in Washington, DC. Well, on Friday morning, Randy and I trekked over to Washington's Union Station and hopped the Amtrak to New York.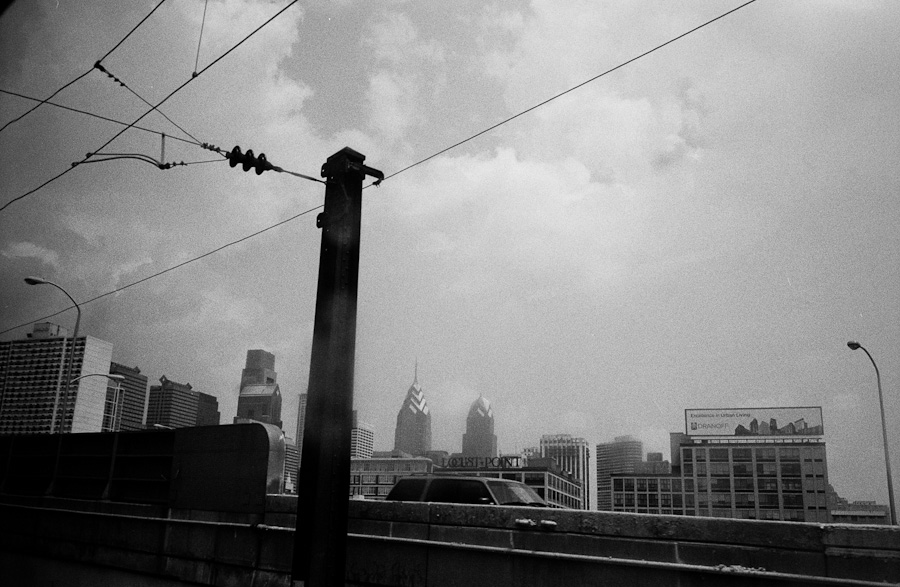 Passing through Philadelphia.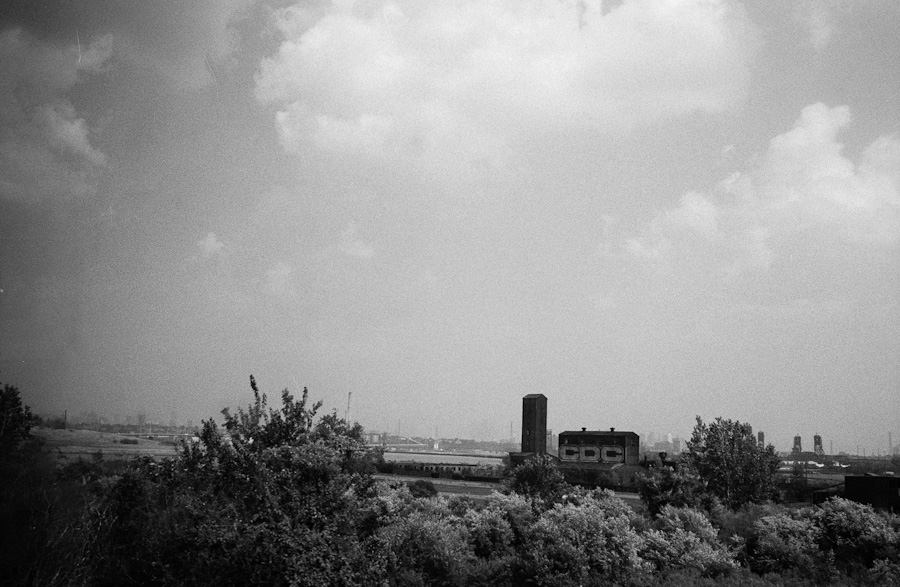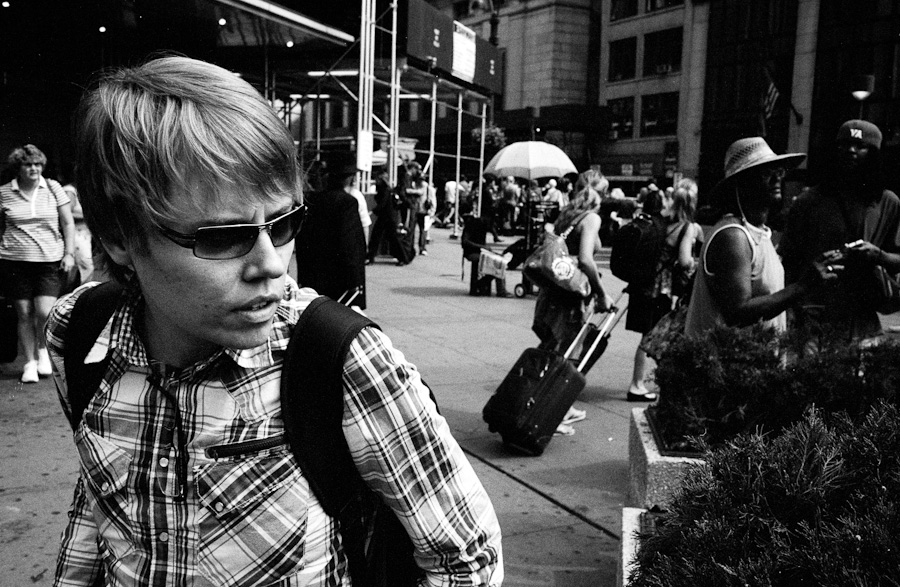 I expected that deboarding the train at Penn Station in New York would be a unique experience, but what I didn't expect was the claustrophobia (which I'm fortunately not very sensitive to) and bustle through tight sooty corridors and ceilings lower than I ever would have thought. I'd never felt like such an ant. Then we came up outside Madison Square Gardens and I knew I really was an insect here. We got our bearing then and dove back down into the Metro to reach the hotel.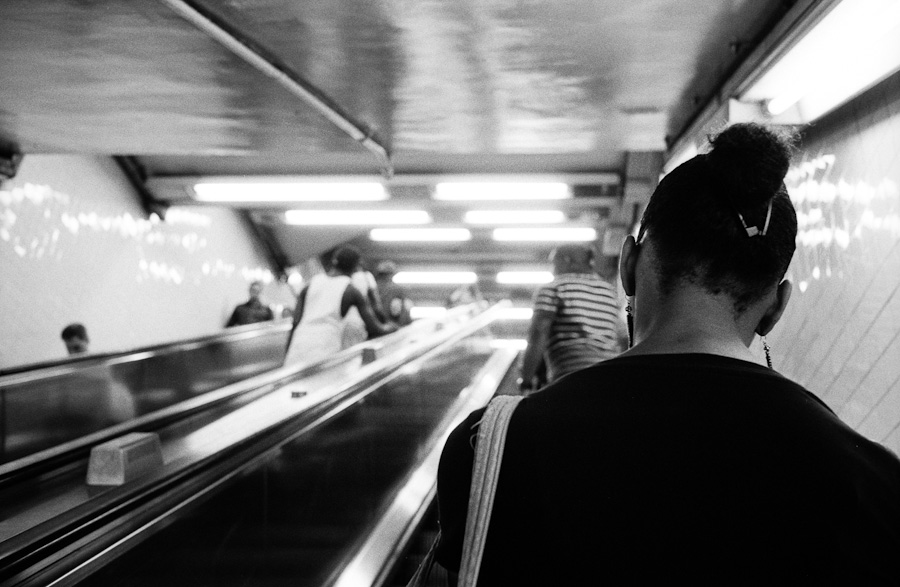 Resurfacing at Lexington and 53.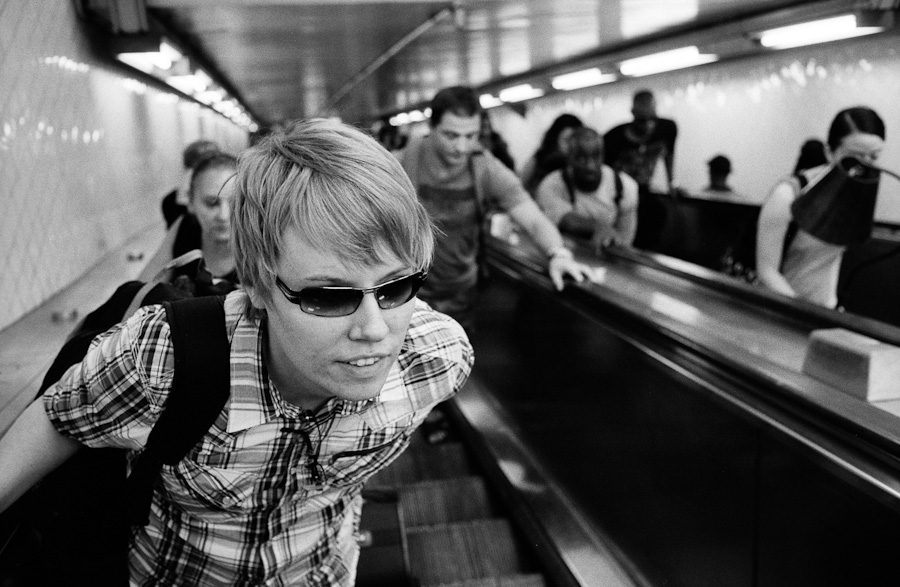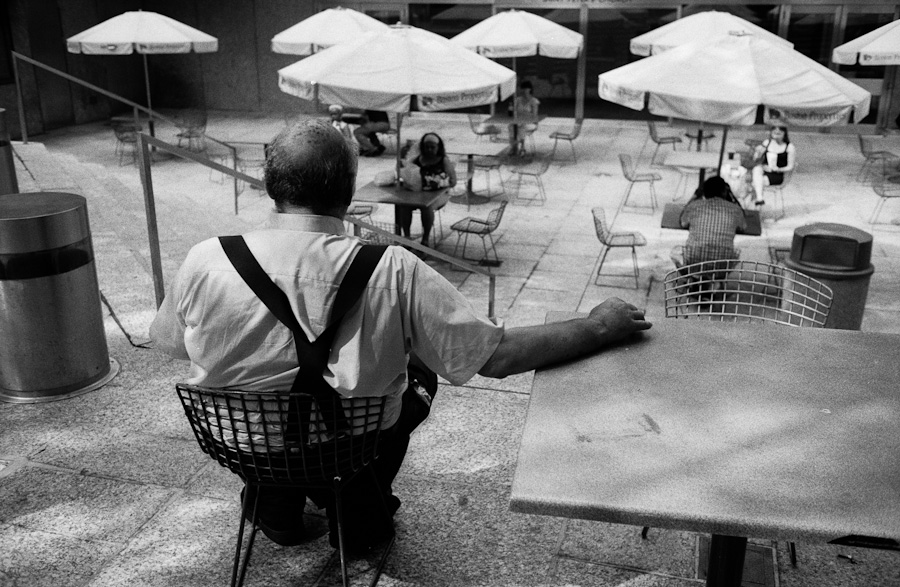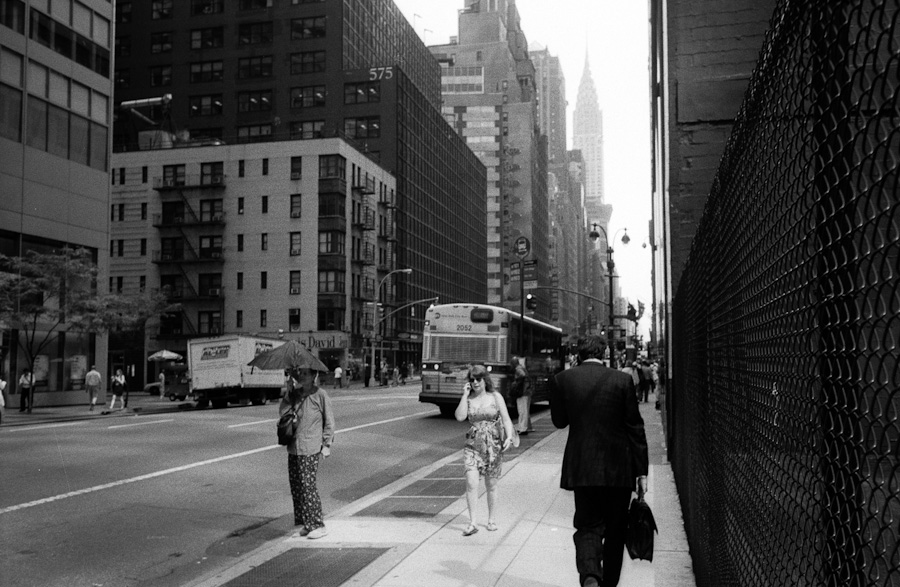 The urge to start making photos won despite having arms full of bags so I just made a one handed shot as I walked.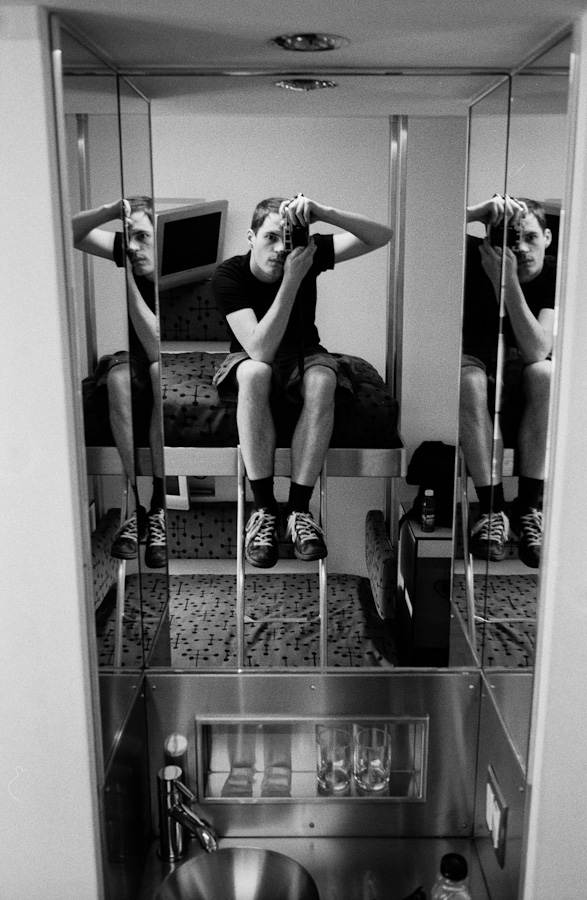 But the hotel was just around the corner.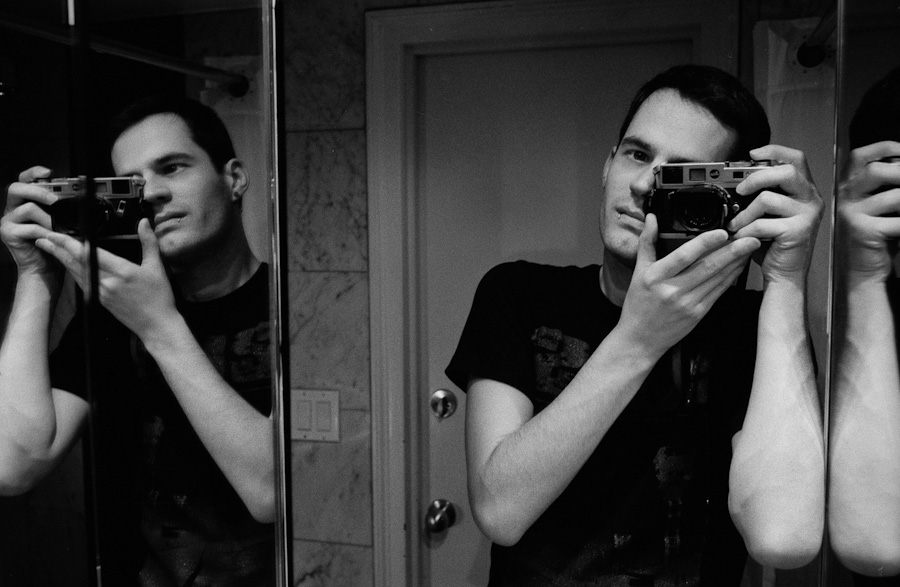 They seemed to have a decent presence of lighting and mirrors, so I got that out of my system.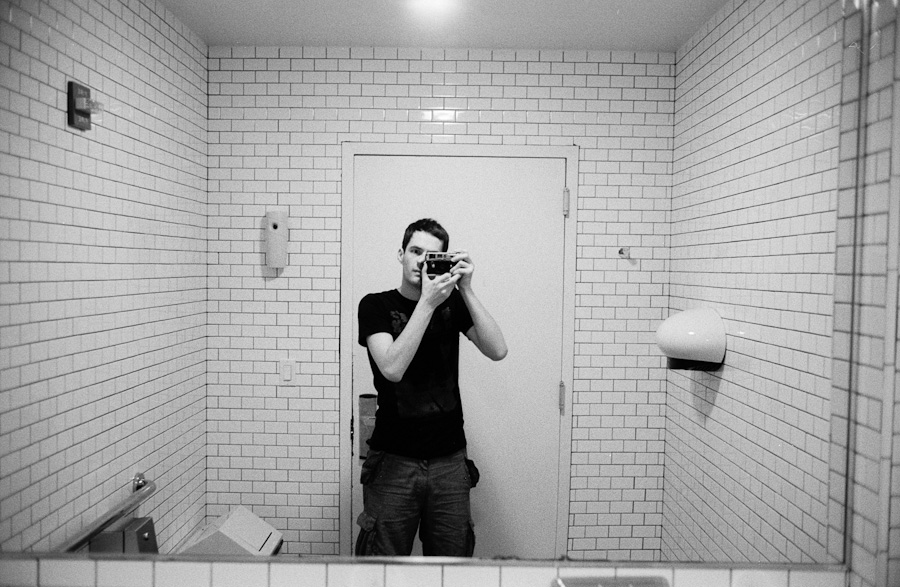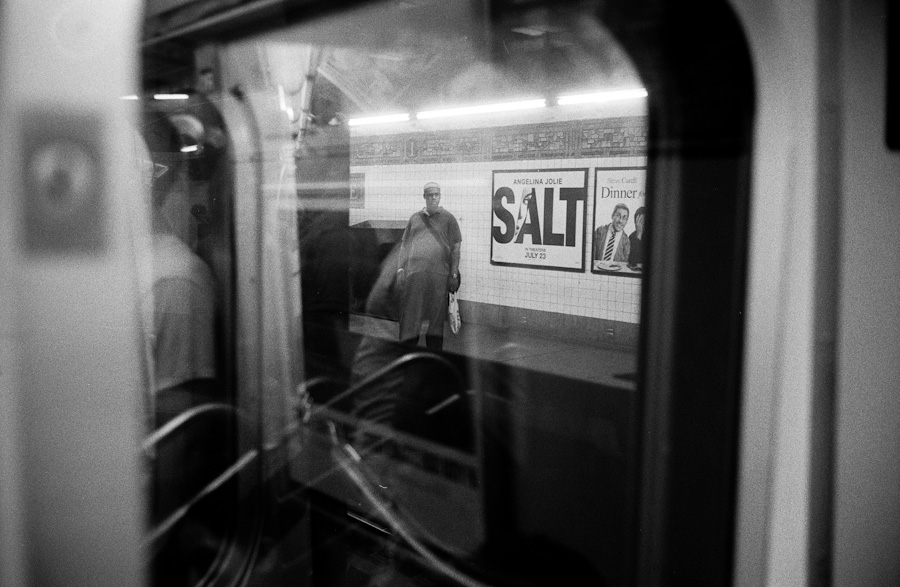 We had a little rest and then made our way for Brooklyn where we had tickets to see some music at the Knitting Factory that night.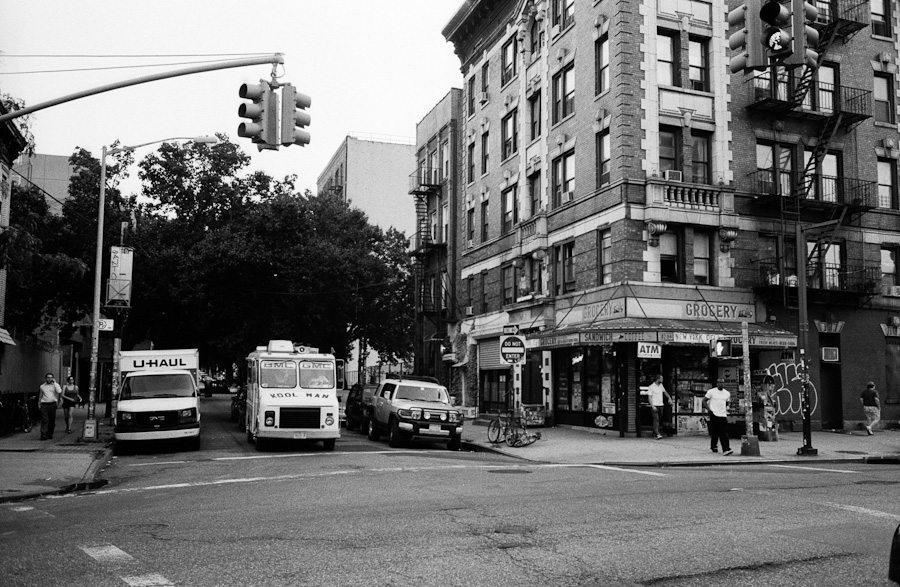 Just outside the venue.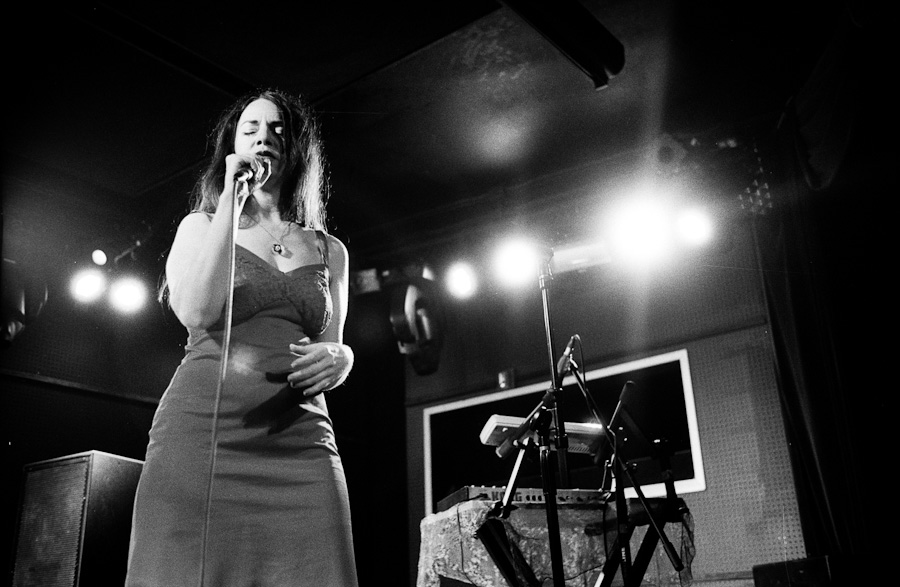 Then I satisfied an important lifetime goal by seeing Elysian Fields play. I'd never thought I'd see them play live at all never mind be introduced to New York by one of my favourite bands.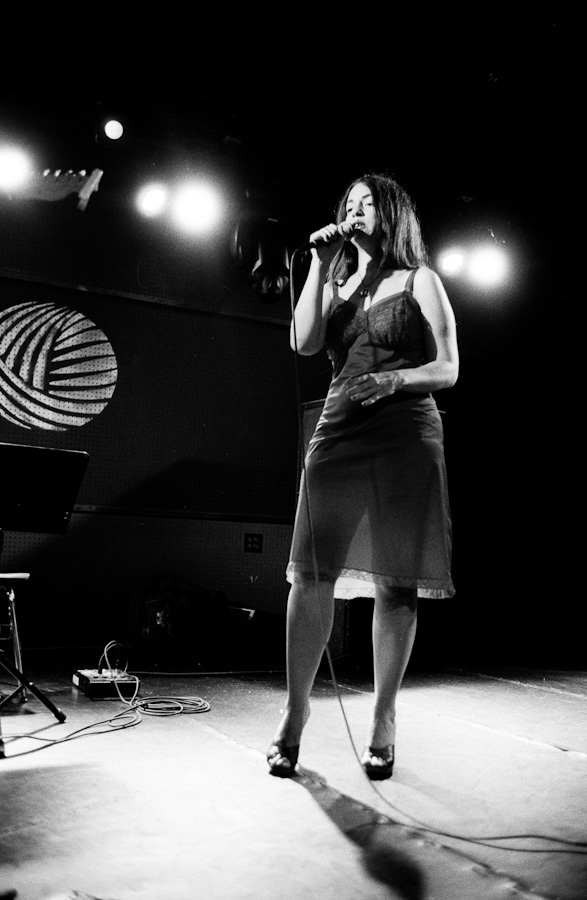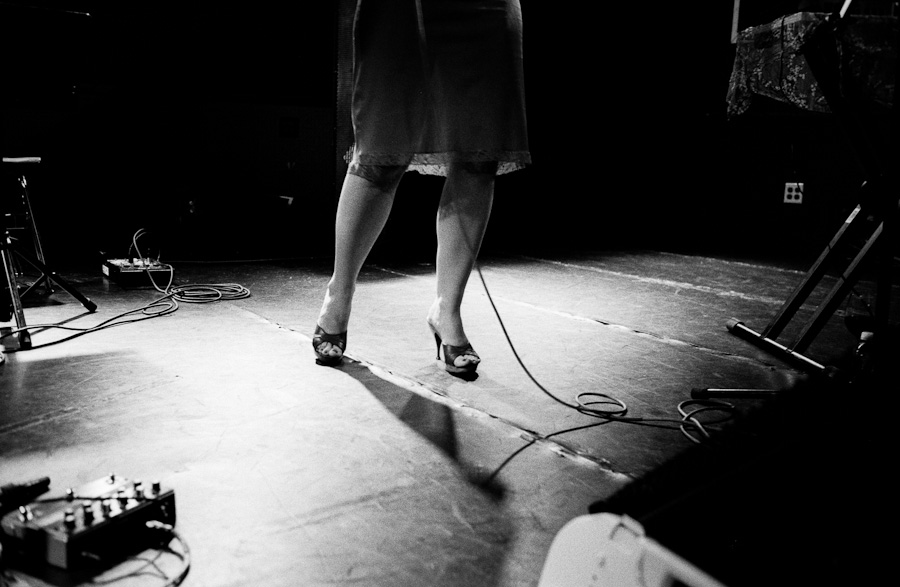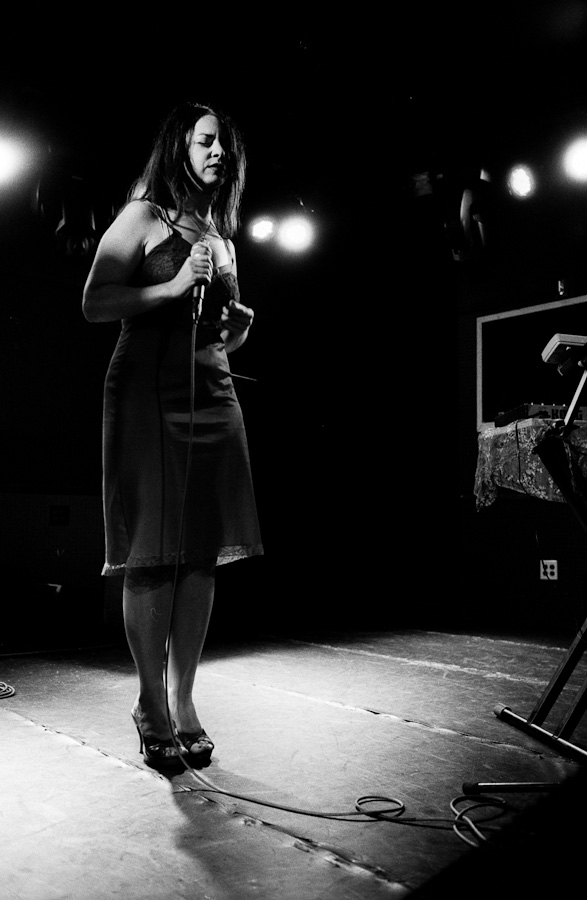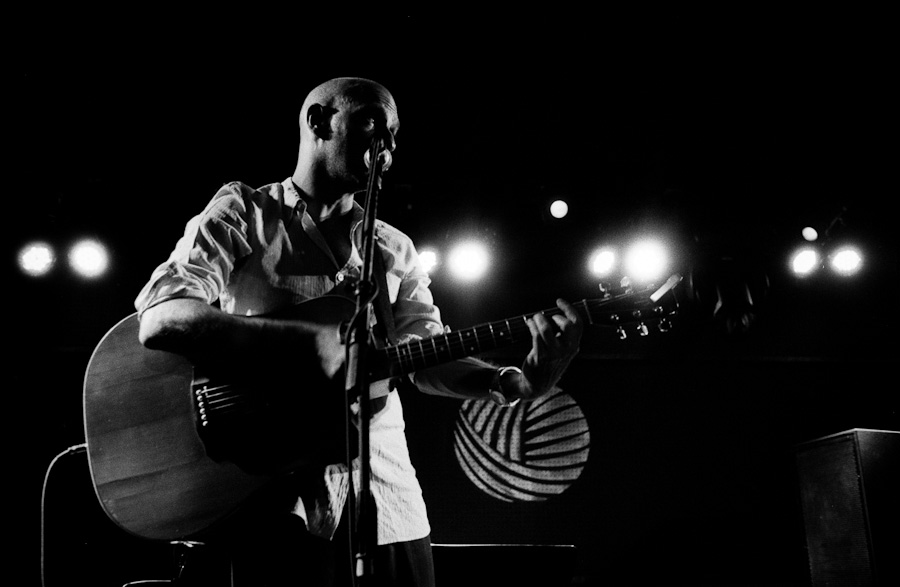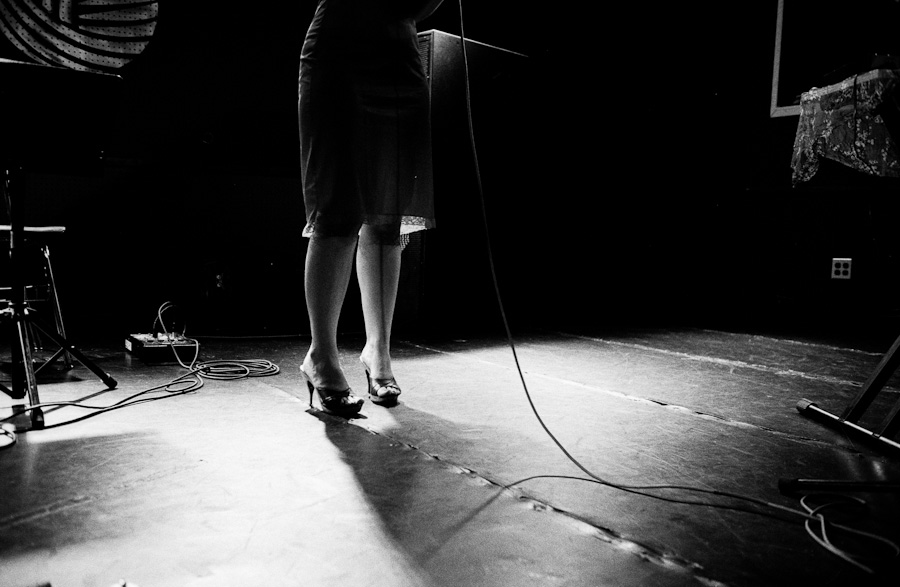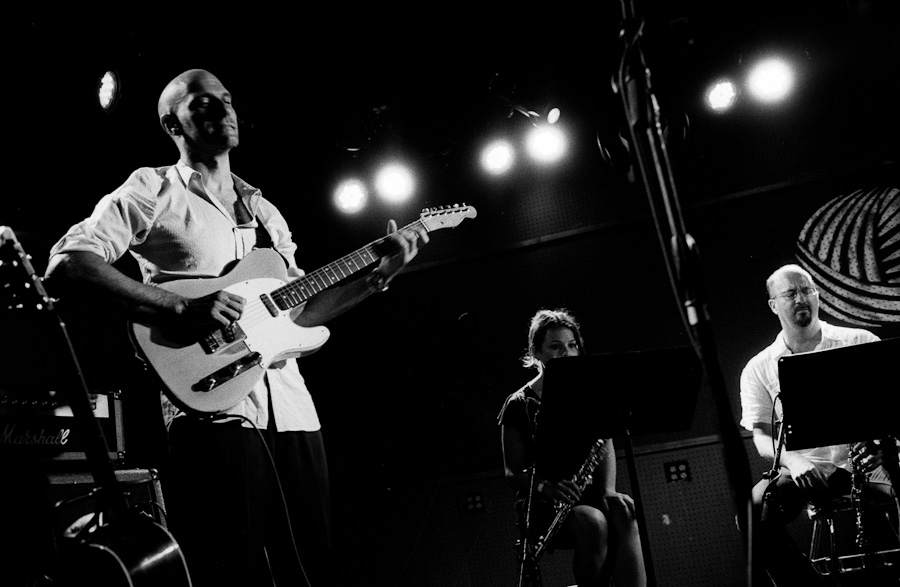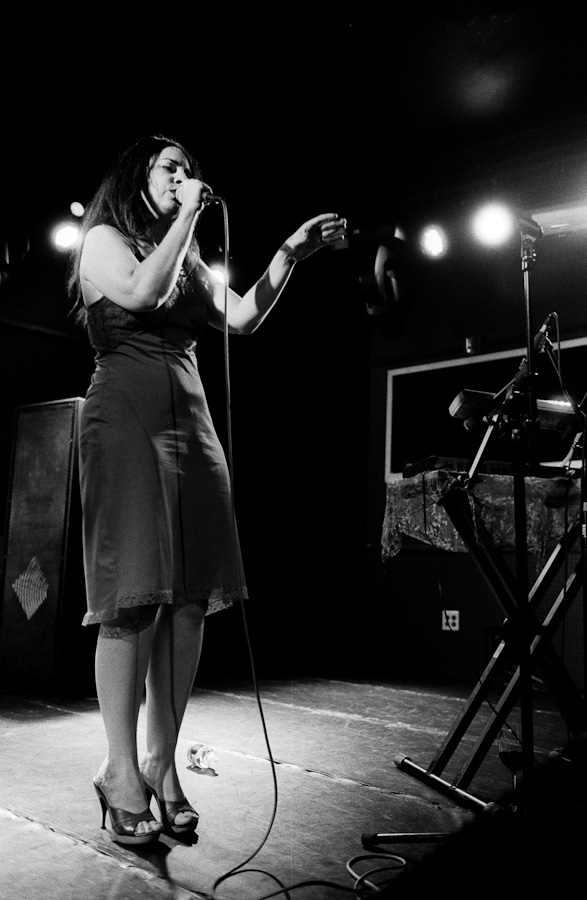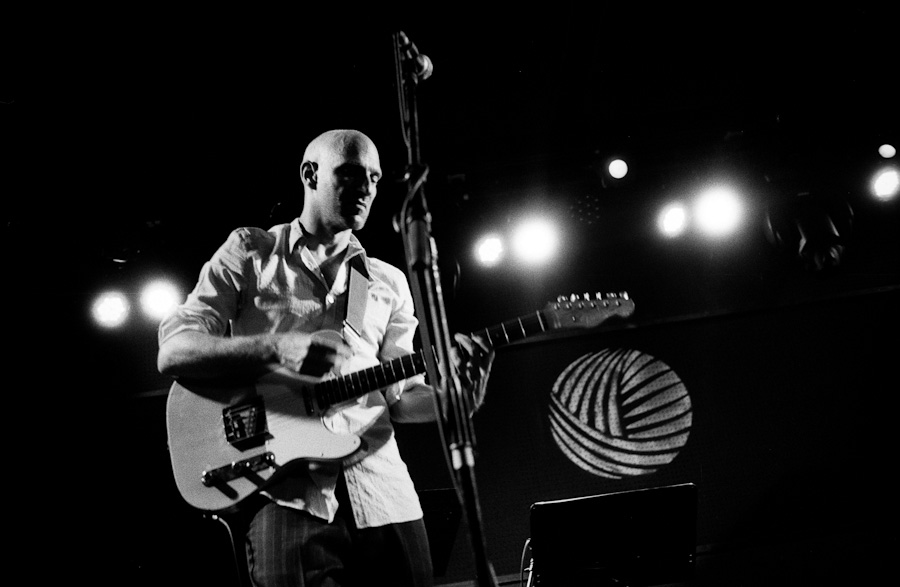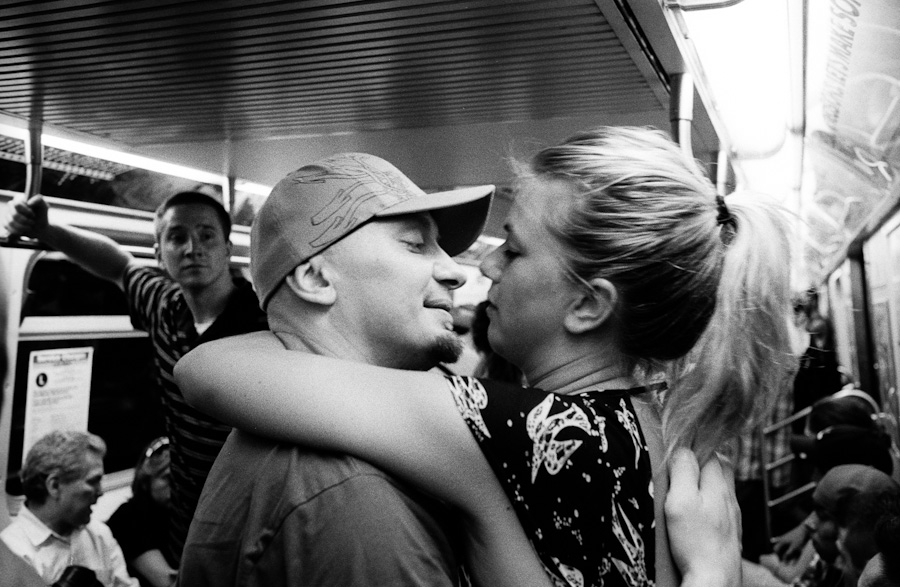 On the train back to Manhattan.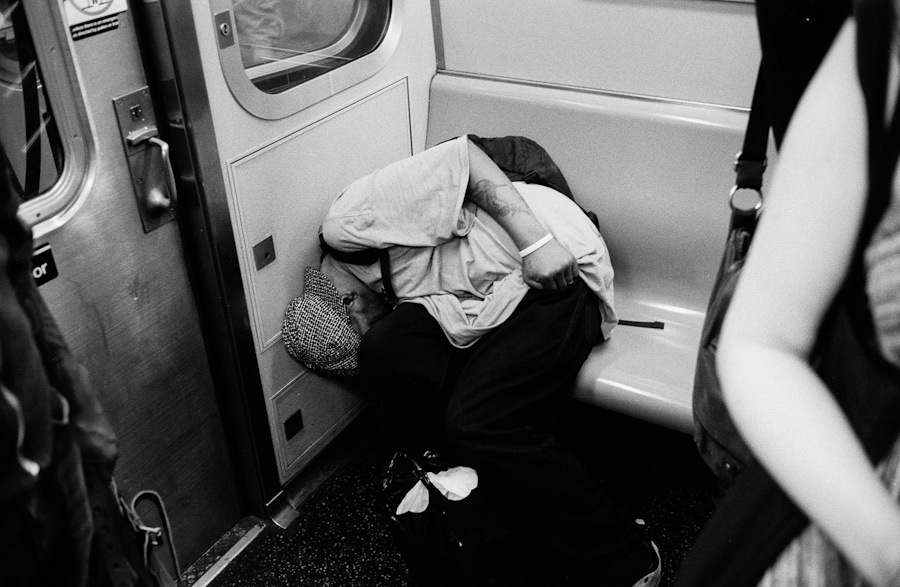 That shot wasn't a matter of timing. They were just slumped that way for the whole ride.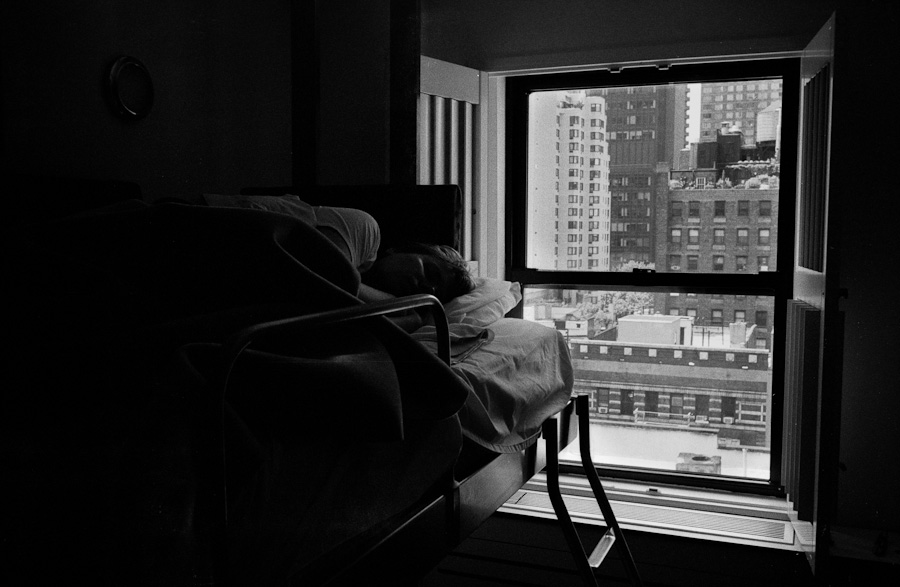 Morning at the hotel.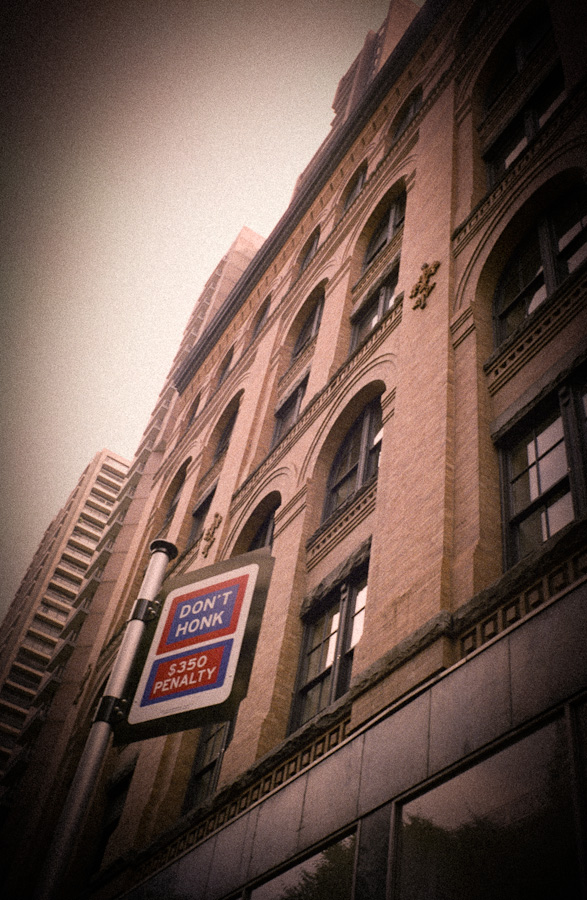 As we walked the streets of New York we played a game of adding up theoretical traffic tickets for honking. Can't say I ever saw anyone being written up. New York is a city of criminals though, I can tell you that much.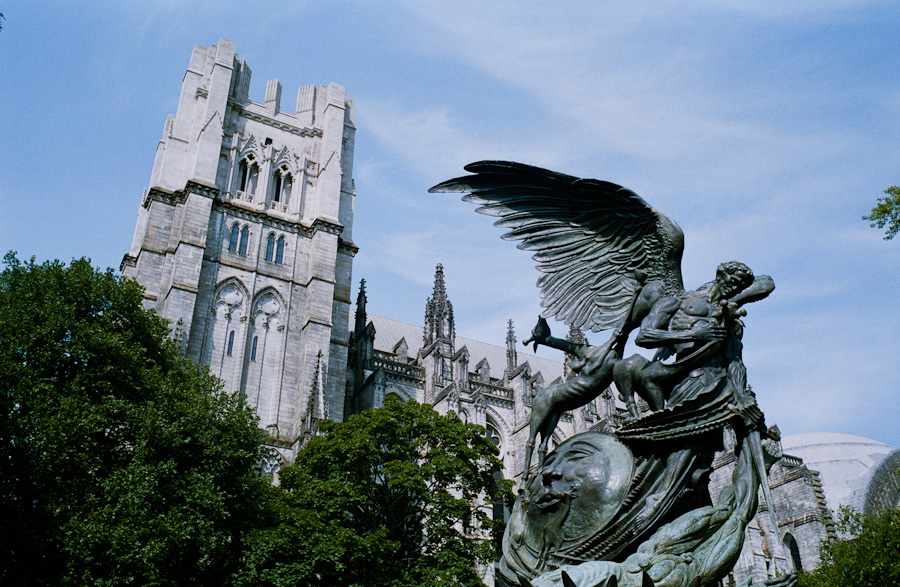 We decided to visit the cathedral of St. John the Divine early on. Outside there was some creative sculpting to be found.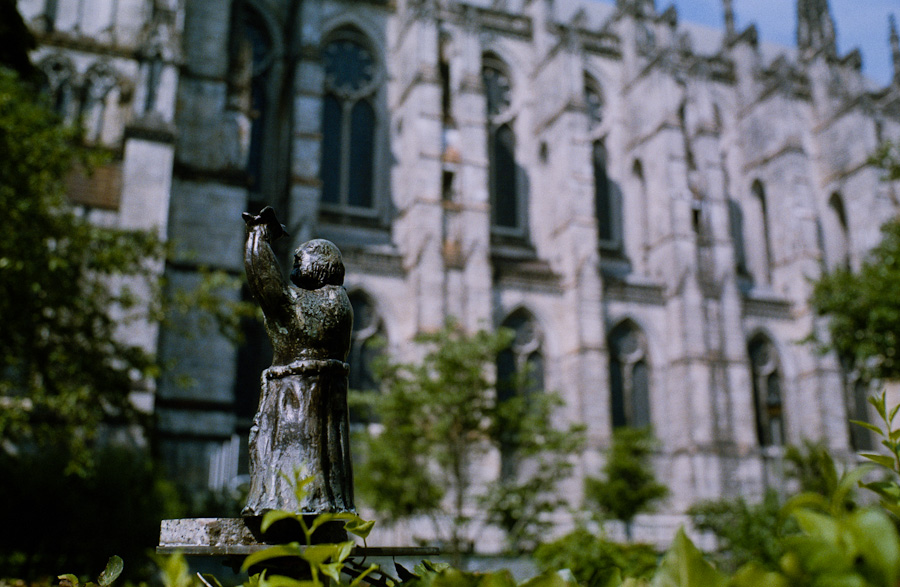 Oh, I was also going to mention that this roll of colour is a long expired roll of Afga Optima 100 that I've had for a while. I found the colours fussy to edit. Some parts of the roll is worse than others… a bit green, which I tried to compensate for but got bored of since it was preventing me from posting this entry.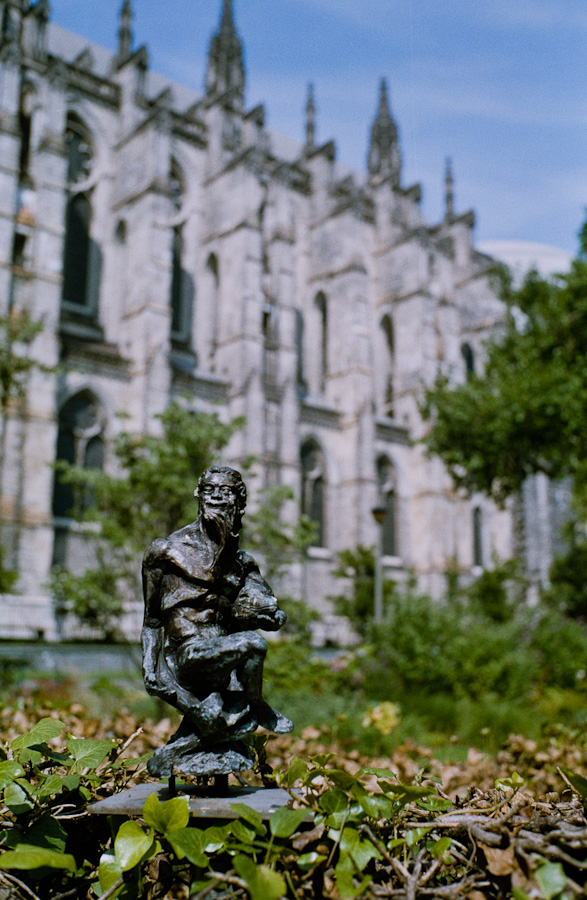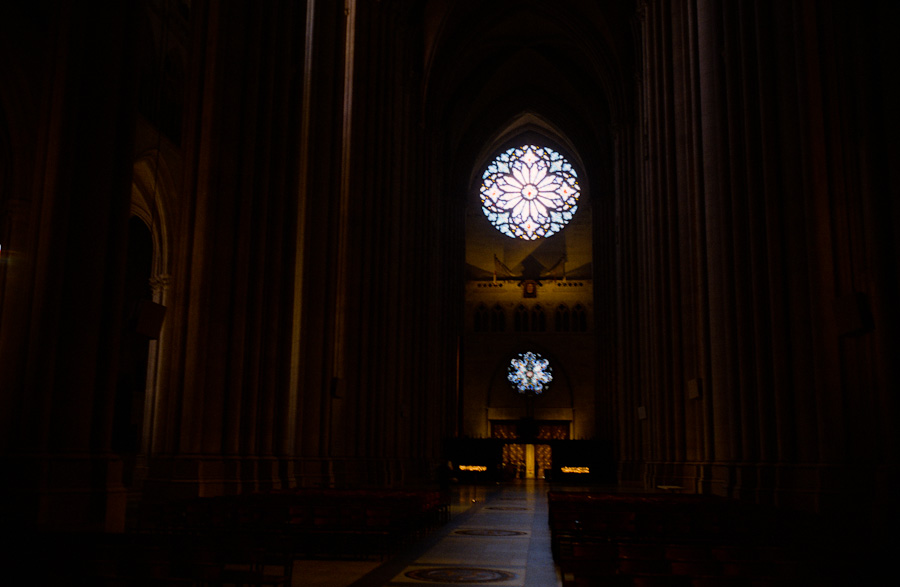 I had heard through a friend that on Saturdays the cathedral offered tours through the hidden passages of the structure and up upon the roof and this was the main appeal to us. But as it turned out we missed the tour that day, so we bought tickets for the following week. More on that later, I guess.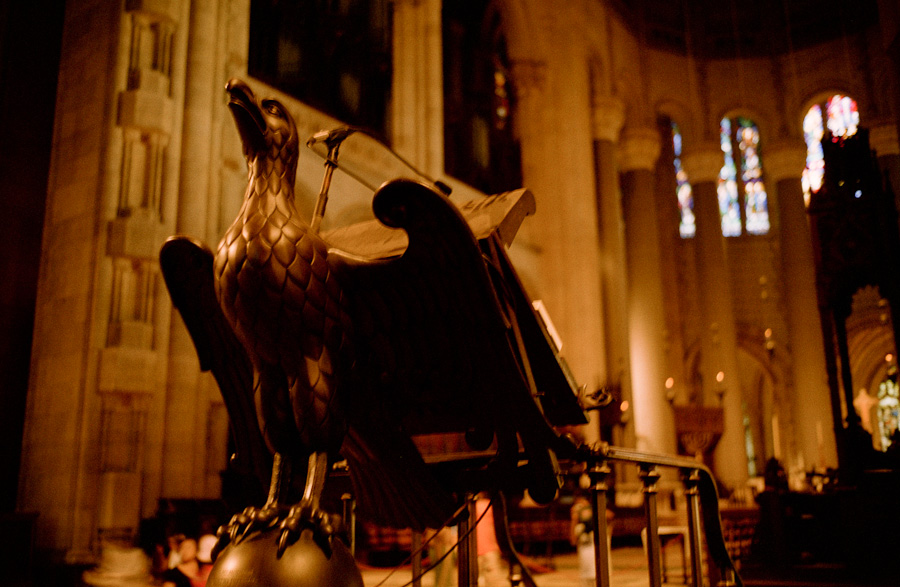 Whether you are a political or religious speaker, it's good to have figures like these to stand behind so as to freak the fuck out of your audience.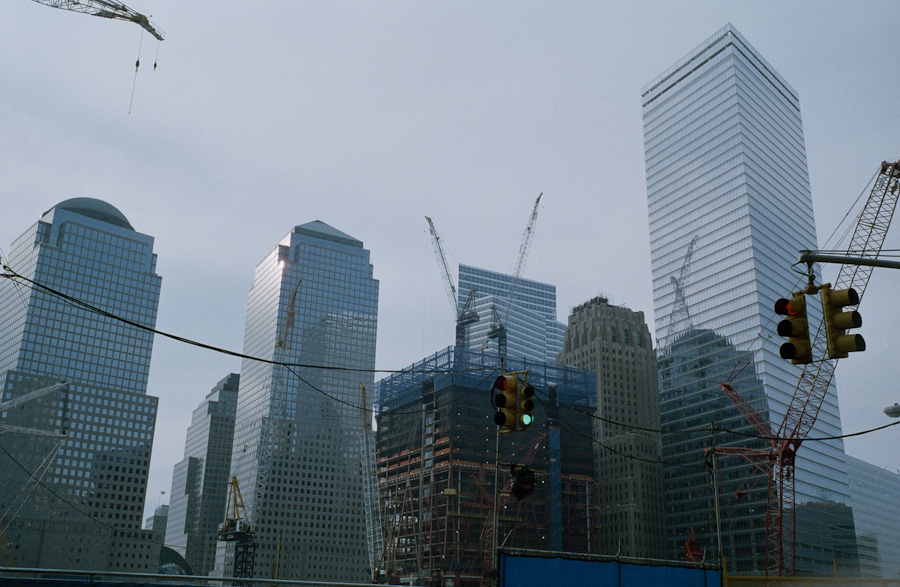 "Ground Zero."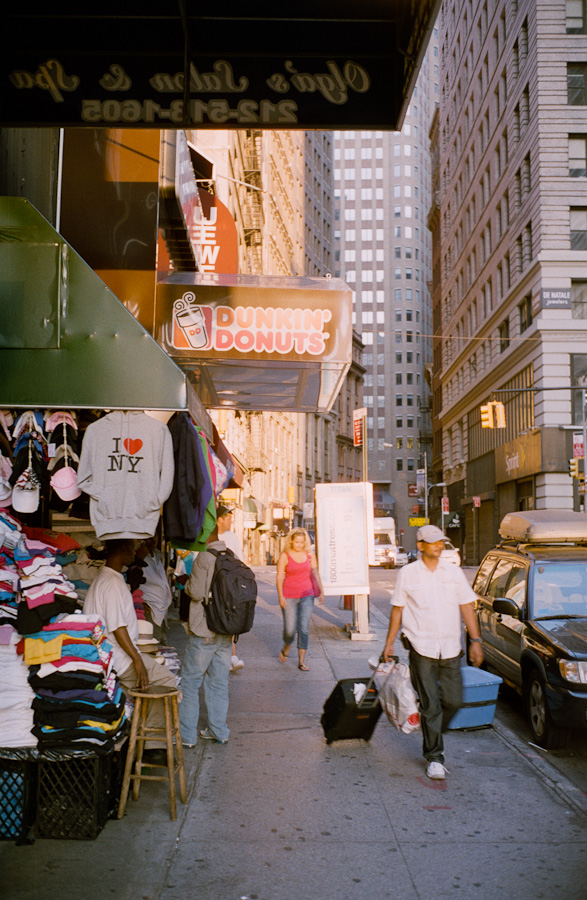 In New York, there's Dunkin' Donuts everywhere. I thought it was hilarious just for how random it was. I mean, Dunkin' Donuts? Who knew? I guess I'd never seen that in any other city and I didn't expect it. I started to think of it as Tim's and it made more sense.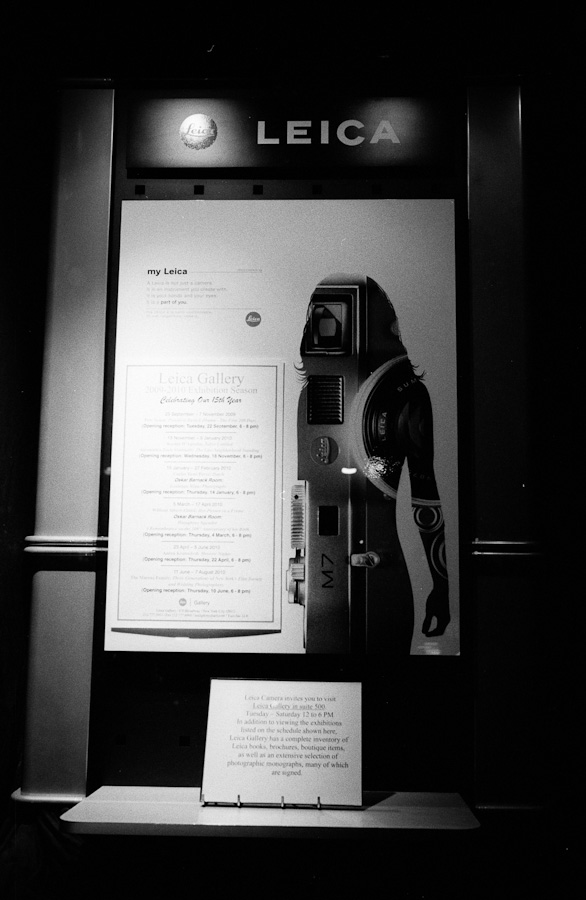 We spent that evening doing some shopping and eventually I switched that roll out for some trix.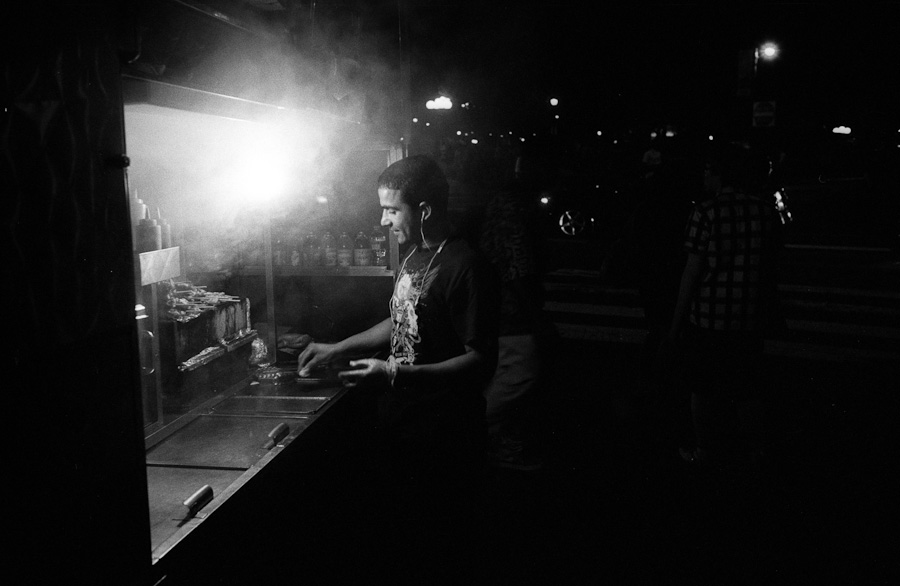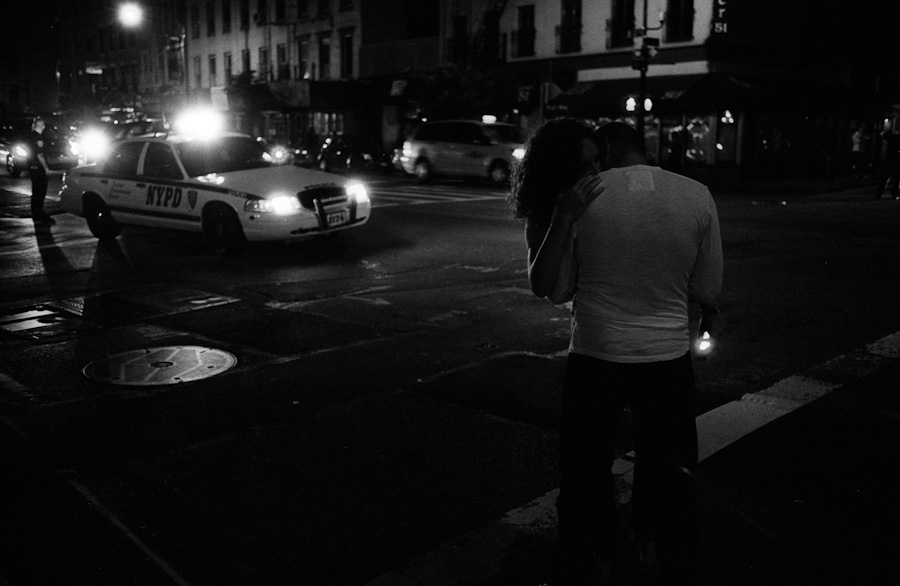 Came across this scene while scoping out the area around the hotel that night.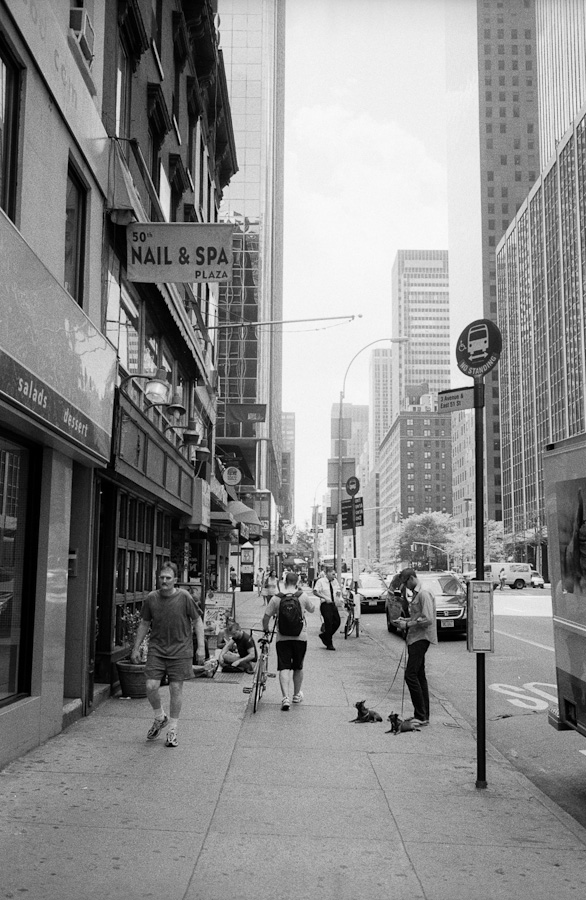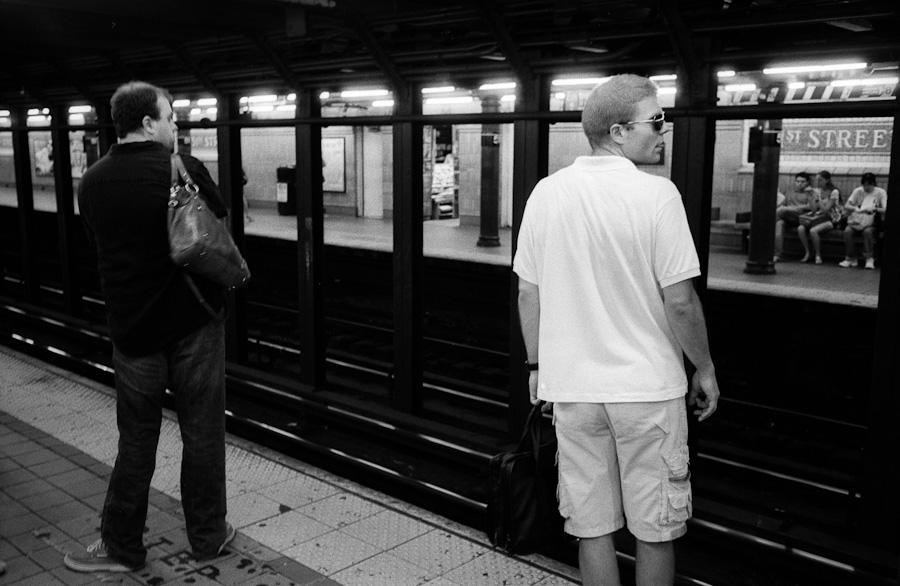 Although DC was hotter, the situation in the NY Metro was different altogether. Hot. stale sooty air. All you can do is stand in the oven and wait for the for the next rolling refrigerator.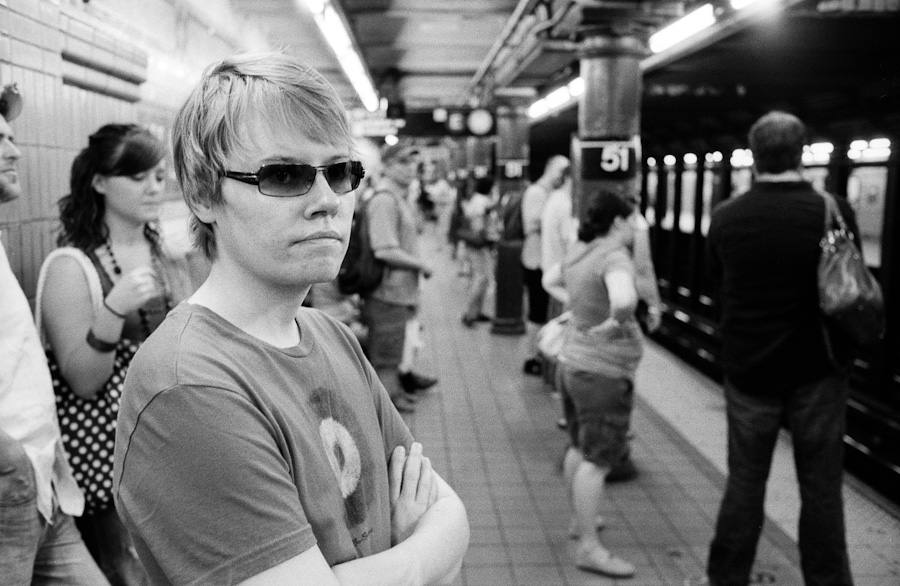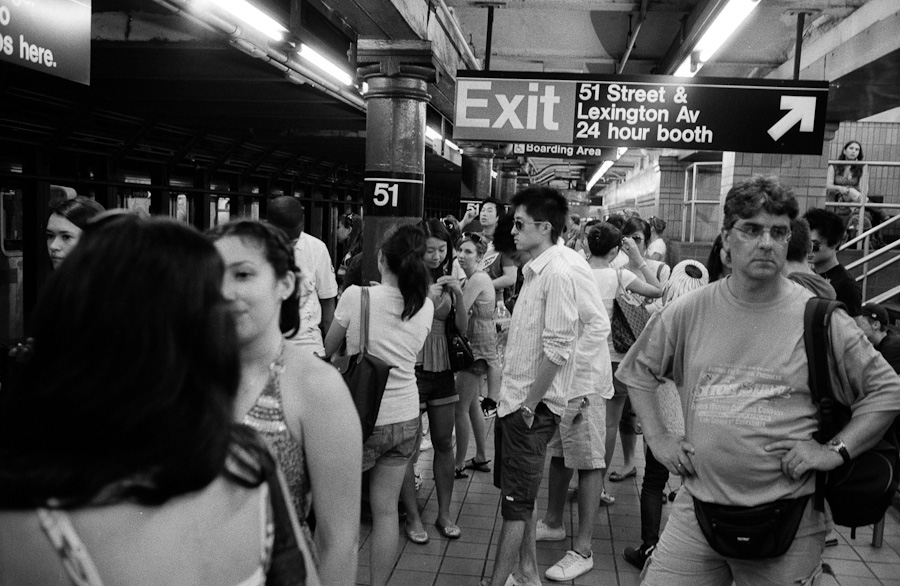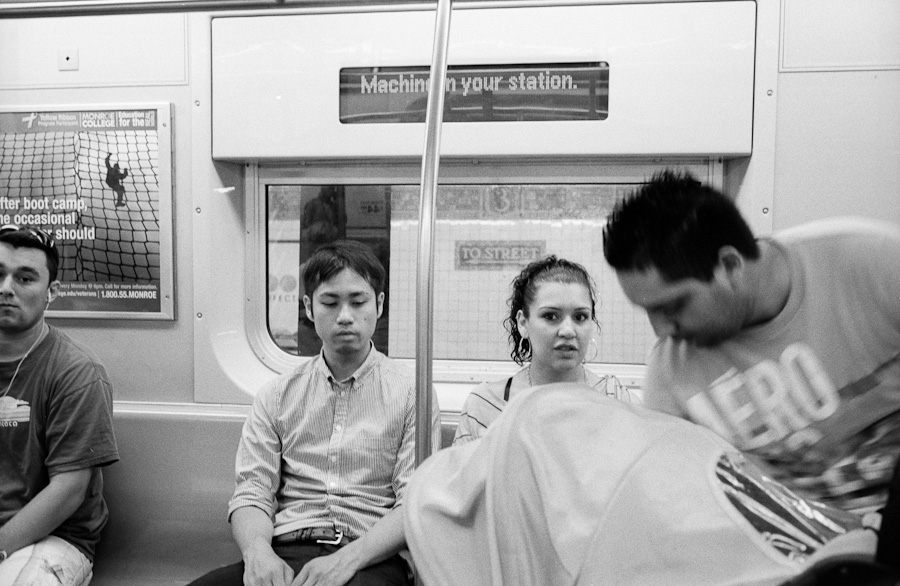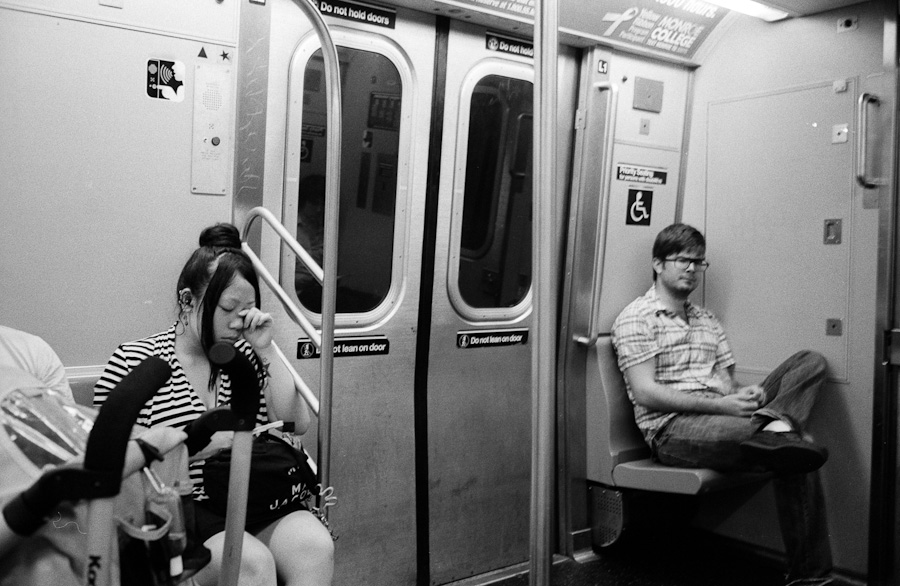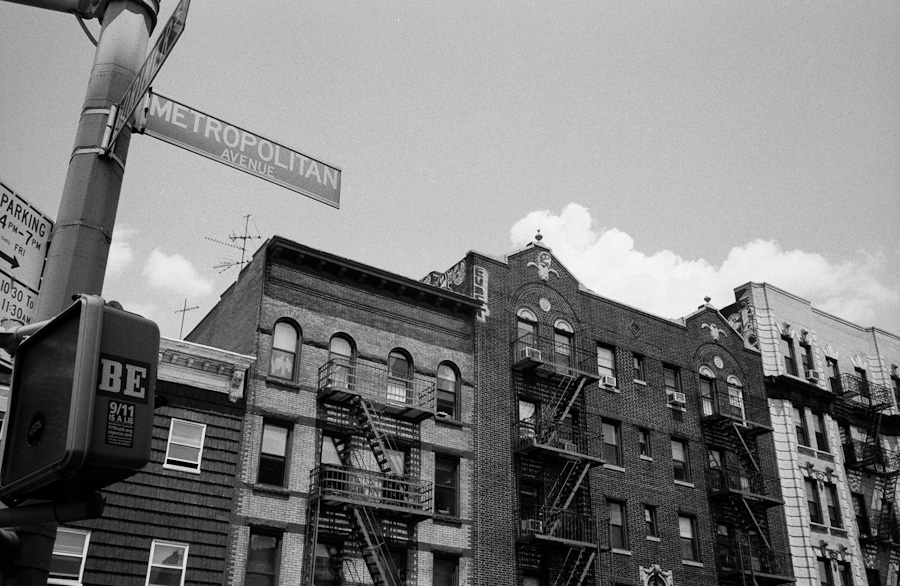 One morning in Brooklyn.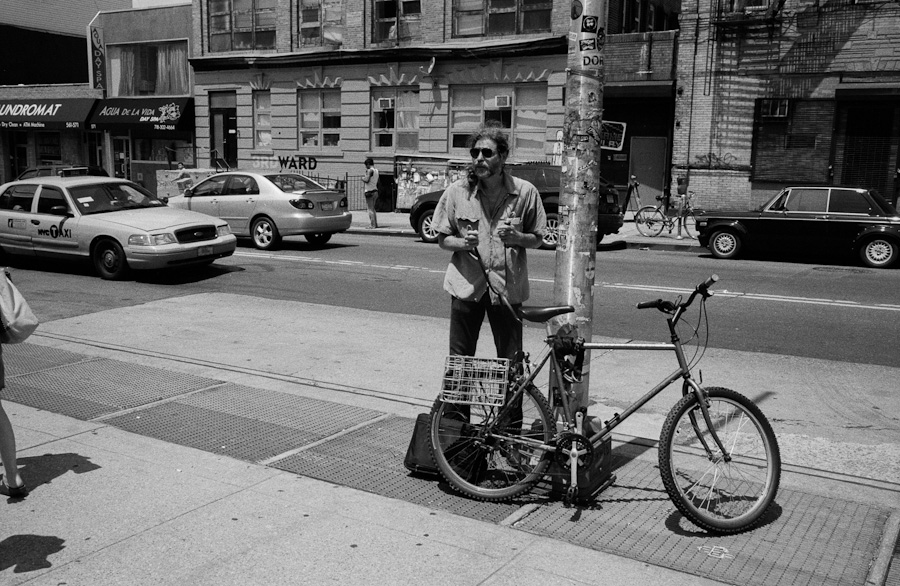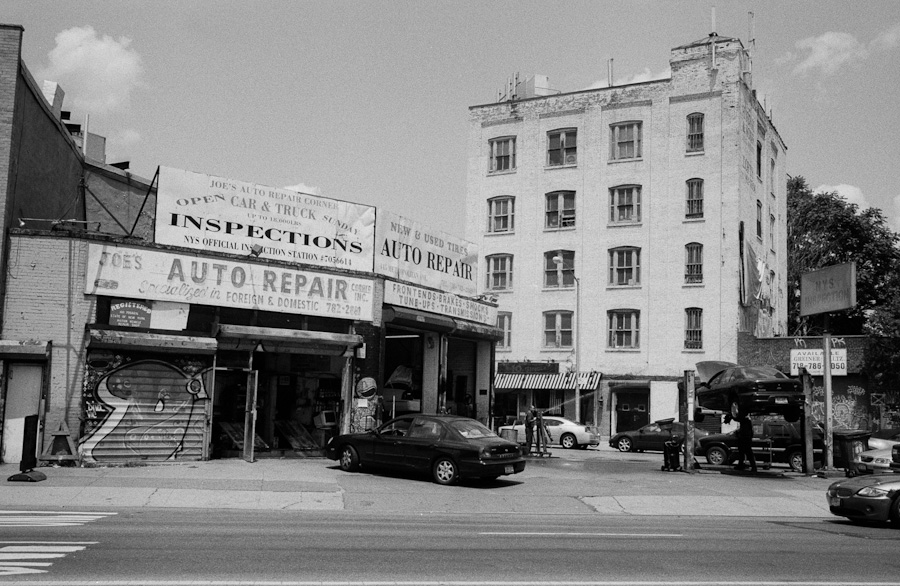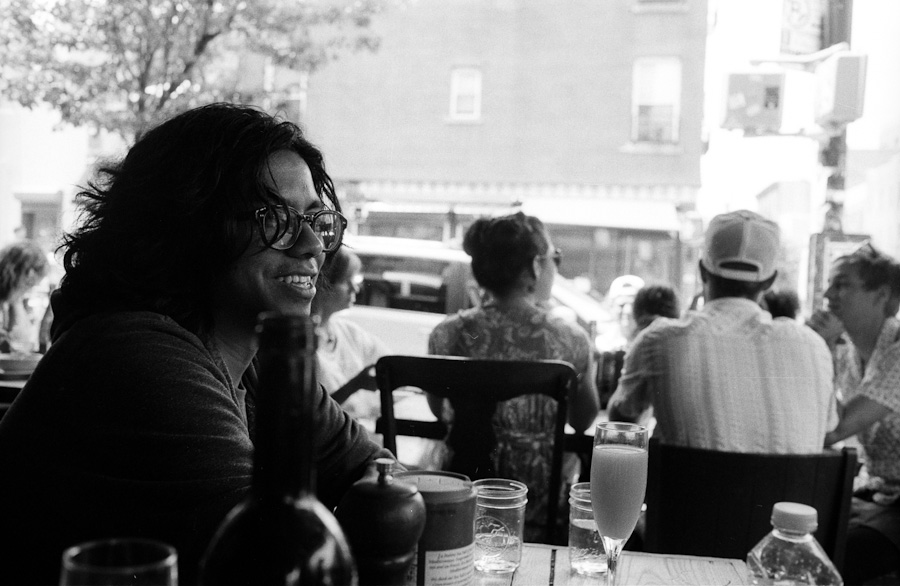 Having brunch with some friendly folks that we met at the Knitting Factory and their friends.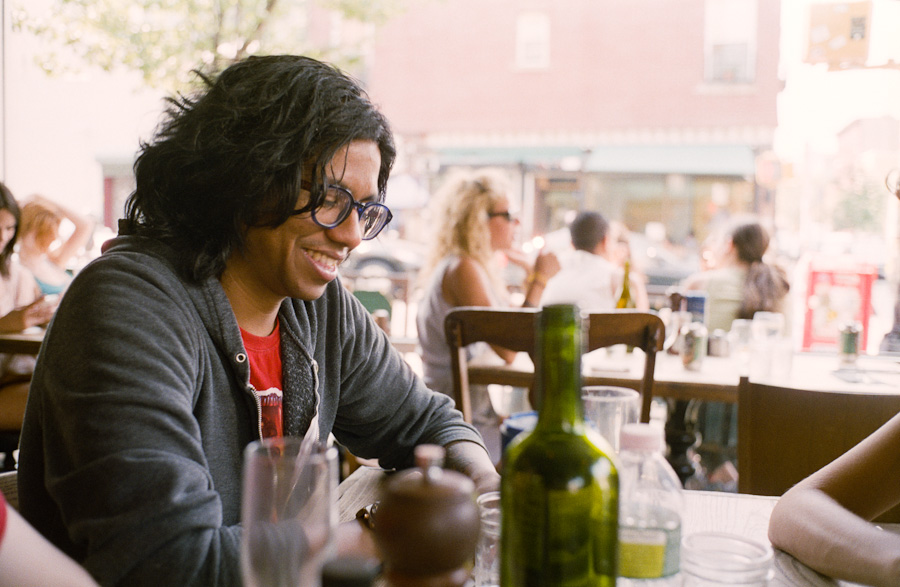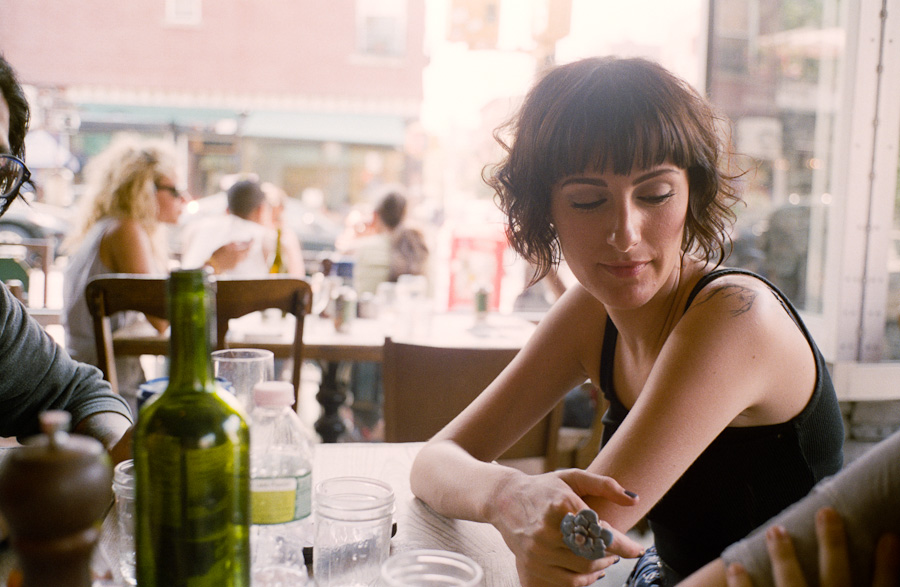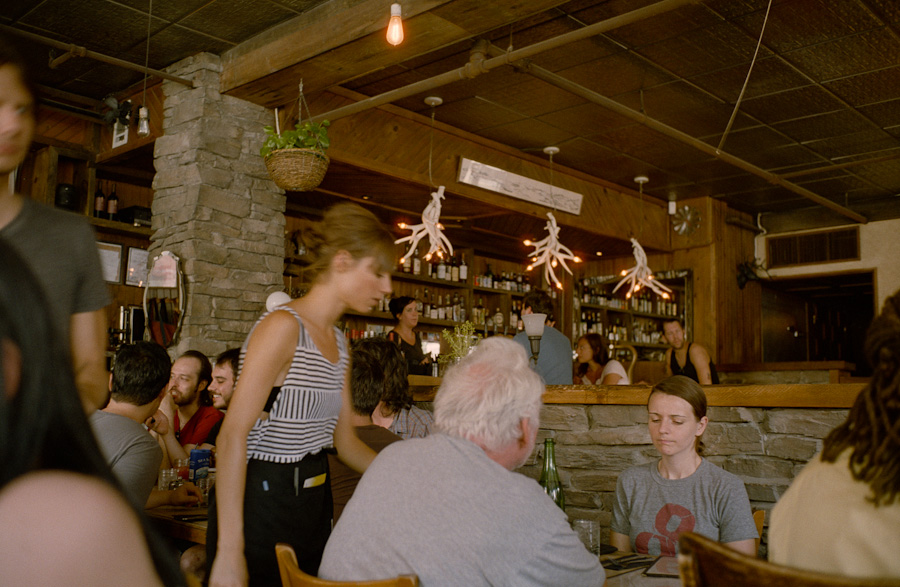 They took us to a place called Lodge which had some antler shaped chandeliers. They served water to the table inside old wine bottles. It helped me to feel like a classy, trendy person.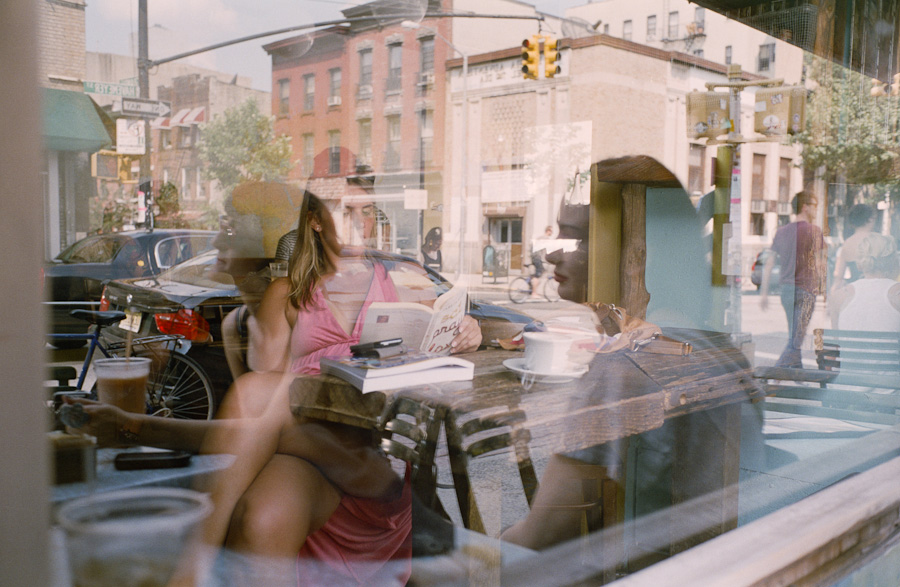 There was a lineup waiting for tables there, so we decided to be polite and do our lounging at some cafe which meant walking across the street.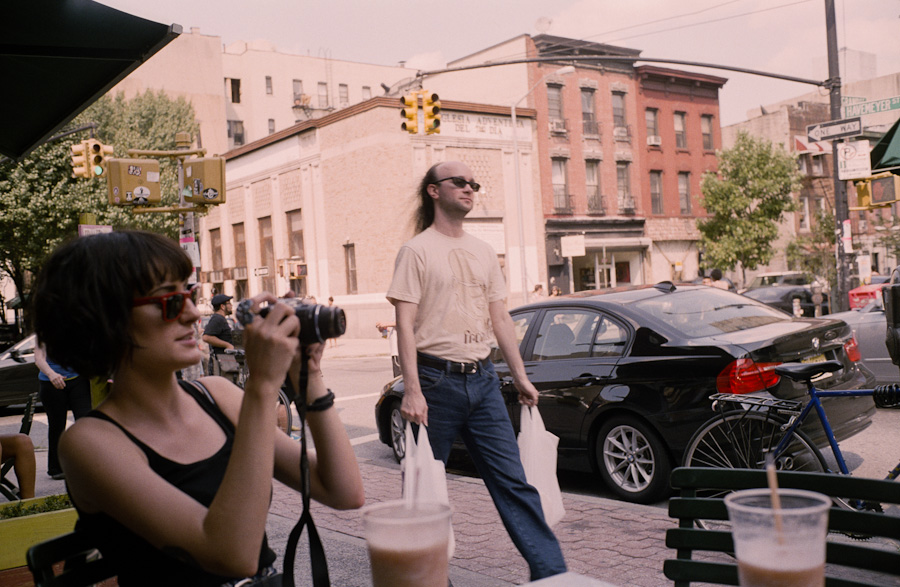 This guy had walked past in the other direction only a few minutes before and he was quite popular with our table so when we saw him coming back we were ready for it.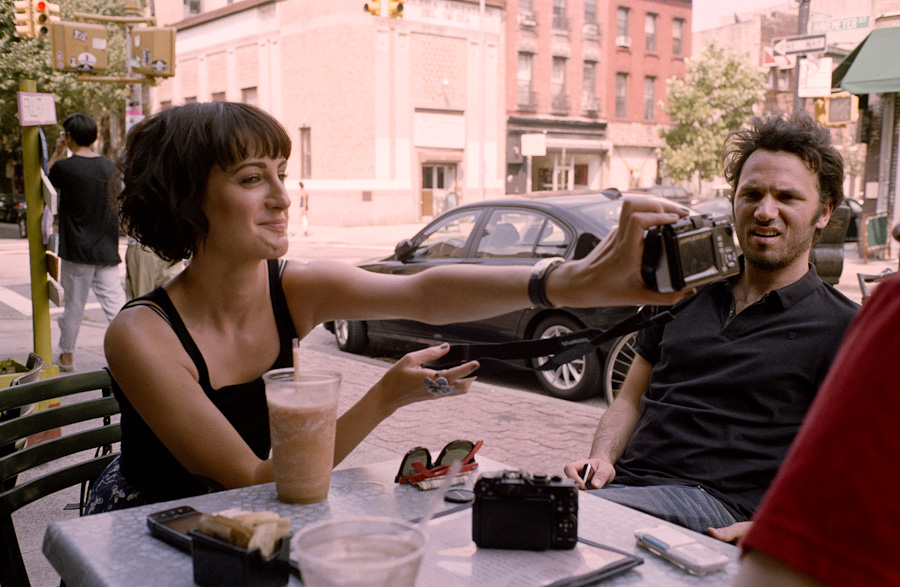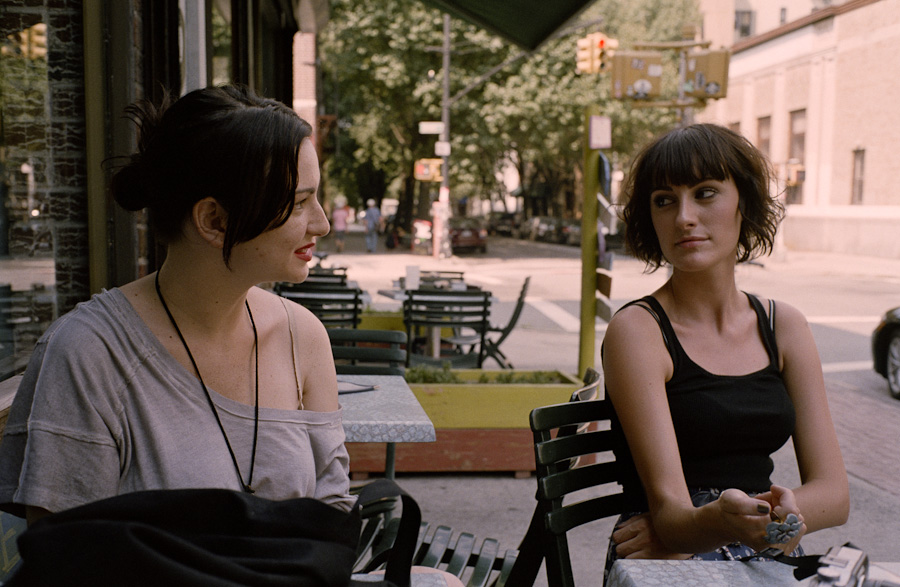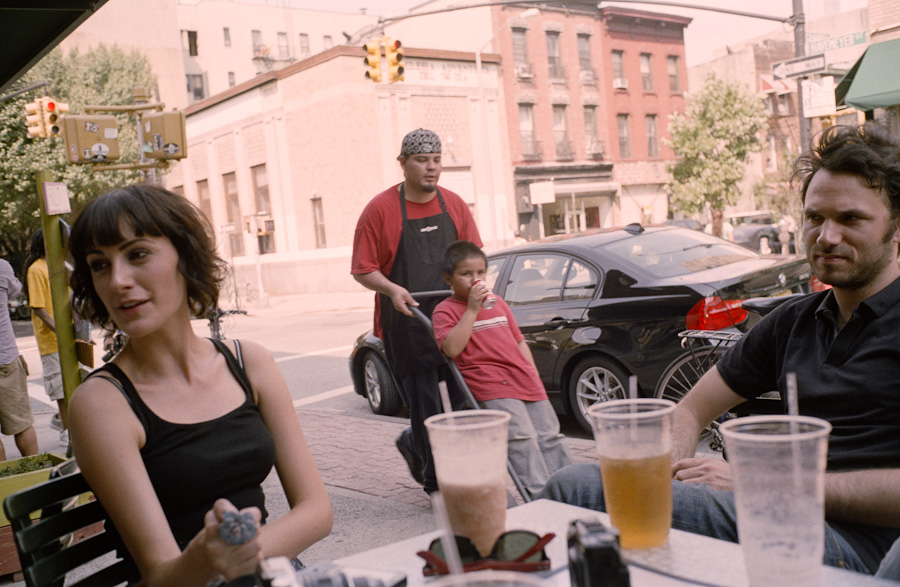 Then this guy walked past with a kid on a dolly drinking a Coke! I thought that was hilarious, and far more entertaining than the long haired balding dude, but my enthusiasm was not shared.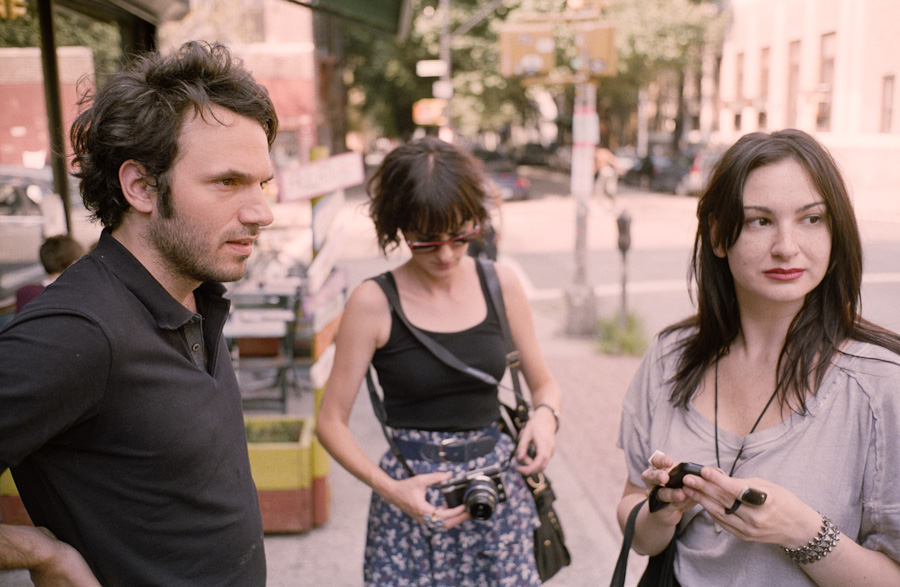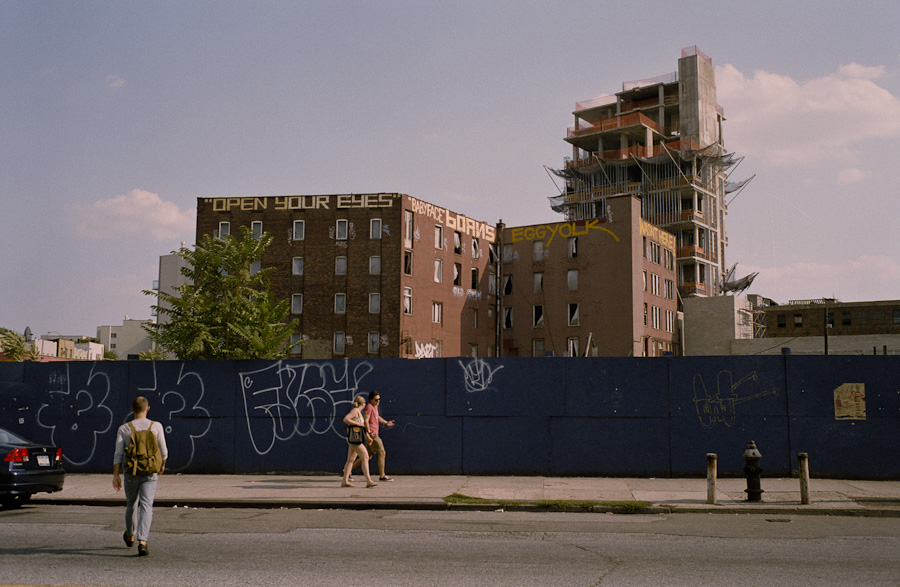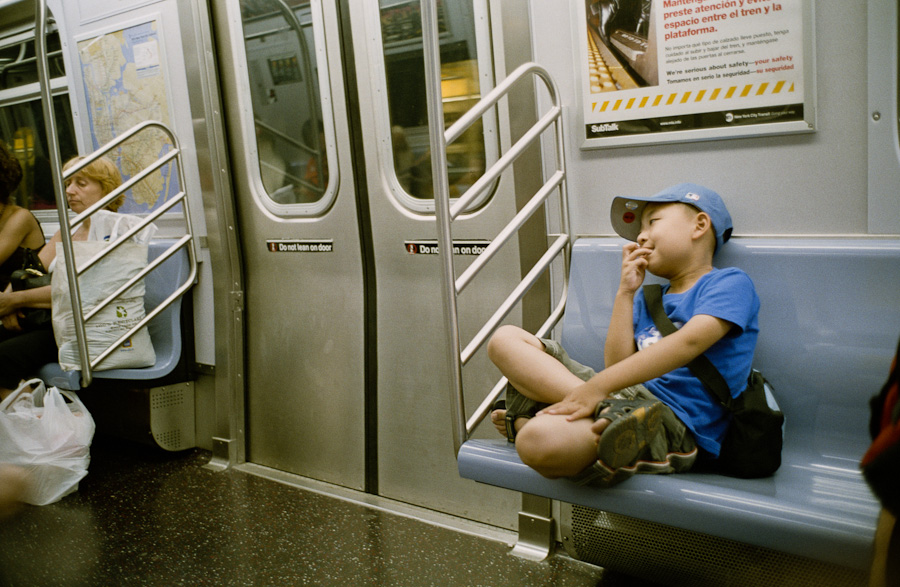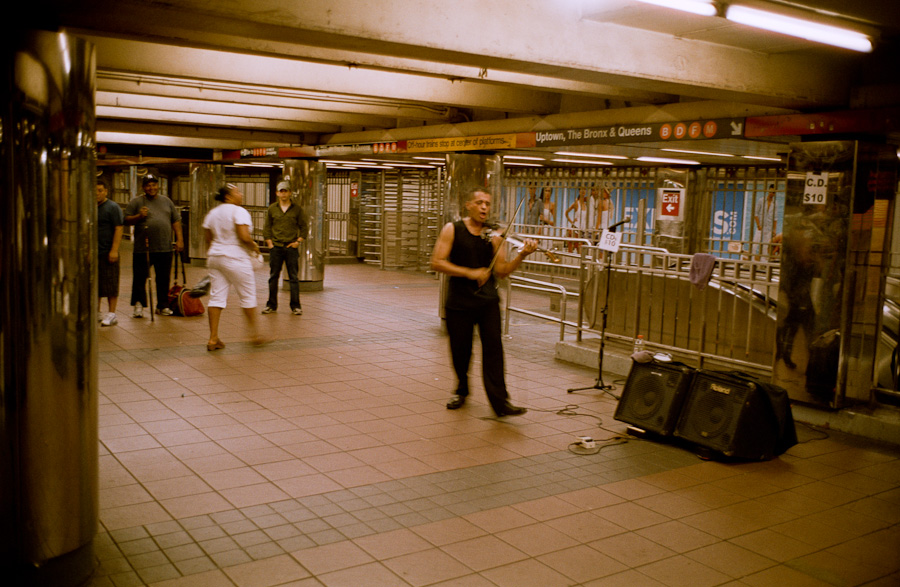 Stopping here doesn't seem like a bad idea. At this rate I'll probably have two more New York entries.
Tags: Agfa Optima 100, Brooklyn, Elysian Fields, Kodak Tri-X, Leica M6 TTL, New York, Summicron-M 35/2
Posted in Inconsequent, music, photos 4 Comments »