Stagsters and Dragsters
Maybe it's not the typical time to be doing so but I did a lot of reading over the summer along with a lot of coffee drinking. Here is a summary of my cirriculum.
Watchmen, by Alan Moore. Glad I read it but I felt let down for all the hype. On the other hand it lowered my expectations for the movie and ended up enjoying it unlike the fanatics.
A Singular Man, by J. P. Donleavy. This guy is a virtuoso. I can't wait to read more Donleavy.
Beautiful Losers, by Leonard Cohen. Some great stories in here but something about this book felt dated to me, as if culture had moved on or at least I had. I bet it was amazing to read 30 or 40 years ago.
The God Delusion, by Richard Dawkins. Not sure what to say about this but I think everyone should read it, especially you fence-sitting agnostics. As awkward as Dawkins comes across when speaking publicly, in print he has a charm which reminds us that he's probably the most passionate and outspoken ultrageek we've ever known. (Note: It should go without saying that when we read books, especially books like this, we don't read them to be told what to think, we read them to challenge and re-evaluate what we've thought and will think)
The Runes of the Earth, by Stephen Donaldson. Book 7 in the Chronicles of Thomas Covenant. It was terrible and yet I'm still attached to the series for some reason. I guess it's just because Thomas Covenant fucking rules.
What is the What? by Dave Eggers. The story of a Sudanese refugee and his coming of age. It is disturbing and also humbling.
Platform, by Michel Houellebecq. If he's not my favourite author he's the author I most wish will write more books.
Blood Meridian, by Cormac McCarthy. One book where I feel insulting to think of using mere adjectives as description. There is a quote from this book I might talk about in a future entry as it relates to photography. Some of you may have already figured out what quote that's going to be!
But of course I do actually have some photography to share.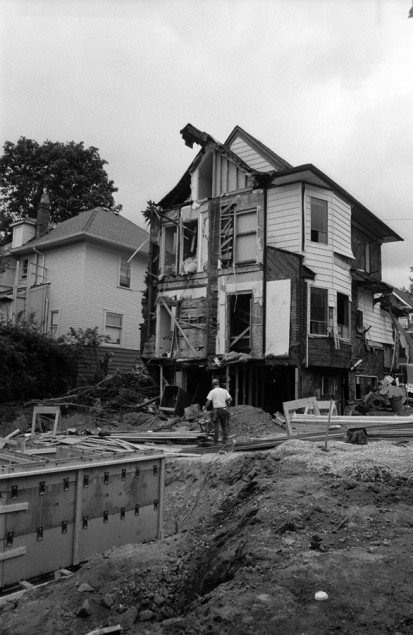 Down the block from my apartment this was happening.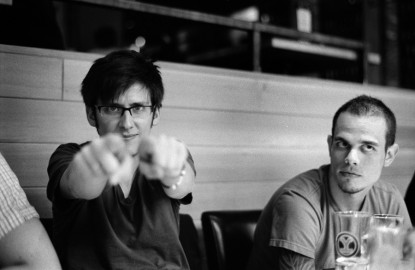 But that evening in Yaletown something involving a bit of drinking was also happening.
By the way, many of these wides are from my little plastic Nikon Series E 28mm f/2.8.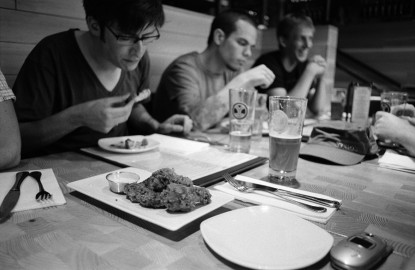 In most entries you'll see them playing instruments, but this time you'll see them chewing chicken.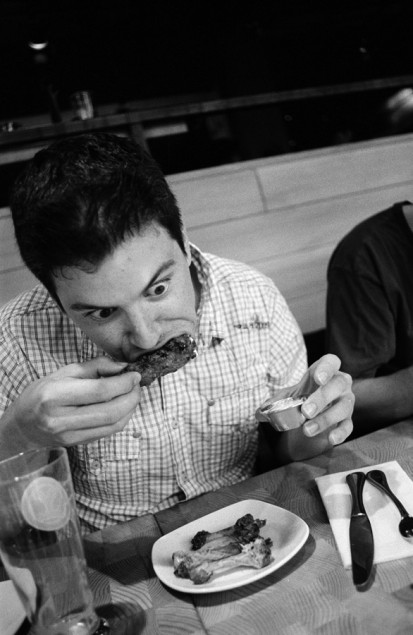 We both laughed after that and I said "you know what I got, right" and he said "yes, I know what you got."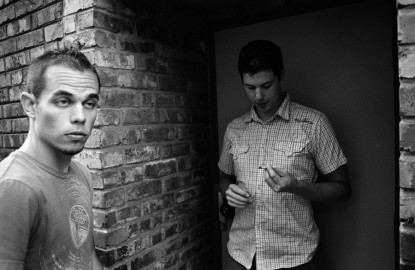 The next thing to do was to take a little walk…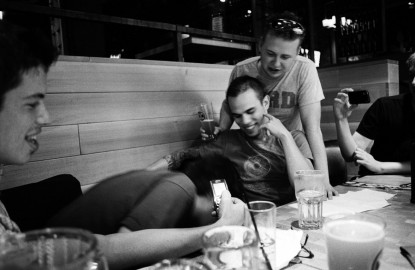 And to get back just in time to witness Jonathan extract a shot from somewhere between Tanner's legs.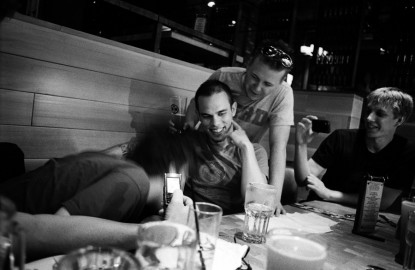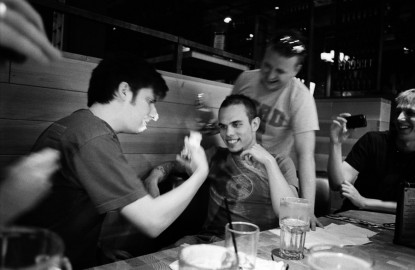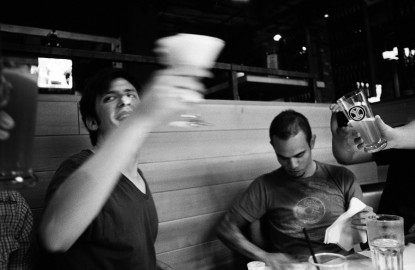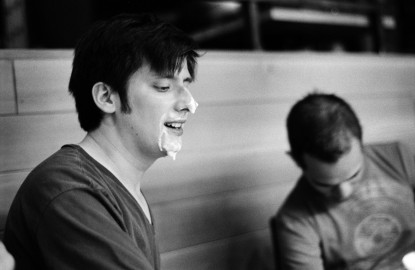 By now you might have guessed that this was Jonathan's stag.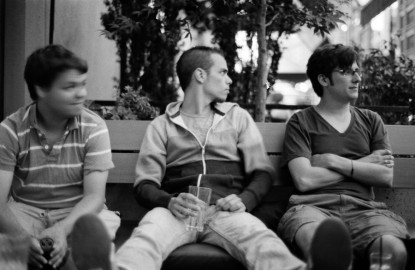 We continued to drink into the evening outside on the patio. f/1.4 at 1/6th. Later we went to see dancing girls and due to my camera I was refused at the door. When I eventually got inside I realized why, the girls performing at that venue bored me sober.
How to transition from the peelers to hanging out with my family gracefully? No idea really.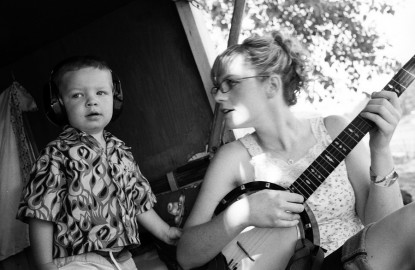 This photo is best without context…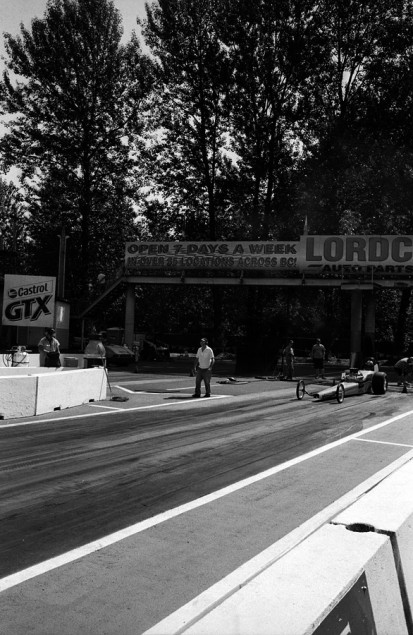 Shifting gears a bit, aheh. And films, shooting 125px in the Leica and Tri-X in the F100. On the first weekend of August my mother was giving her new dragster some break-in runs at Mission Raceway.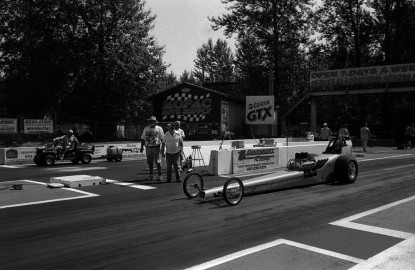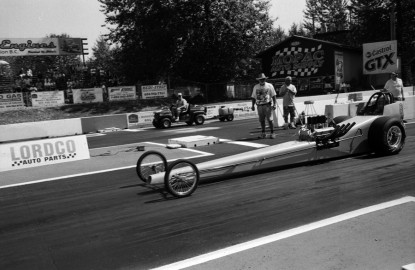 Catching the launch.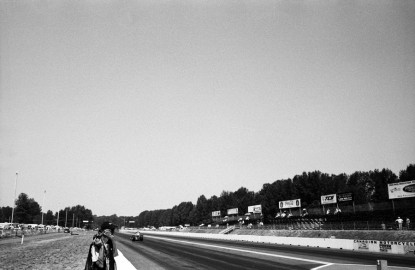 That was the first time I really wanted to have a rapidwinder on my M.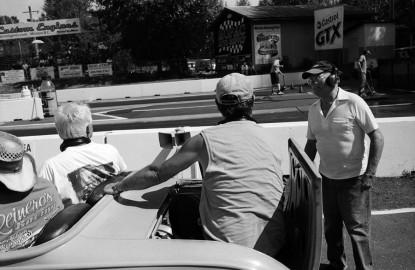 Here's the crew before heading down to the end of the track to guide the dragster back. That's my grandfather on the right wondering why she didn't hit 3rd gear on that run.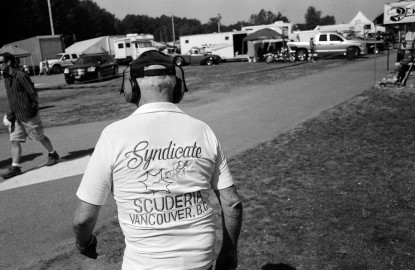 I followed him back to the trailer. My grandfather made a name for himself racing in the 60's with a car that he built himself, the Syndicate Scuderia.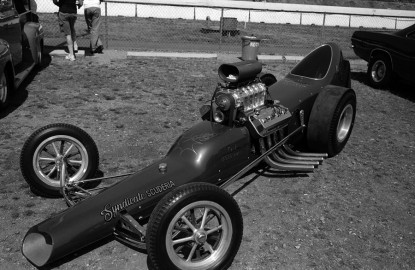 He brought the car to put on display and it was difficult to get a moment when it was not being crowded with digital cameras.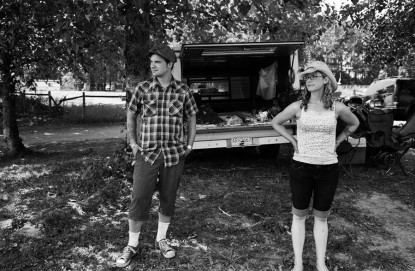 My sister was camped down near the end of the track, the only place you'd ever find some shade, but it was a long walk back and forth.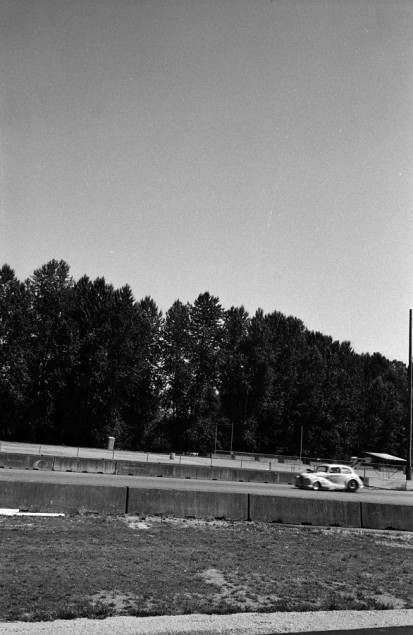 The shutter on my M drags at 1/1000 so I made one at 1/500 just to see what I could catch of a nitro funny car. That car ran 6.739s at 207.08 mph.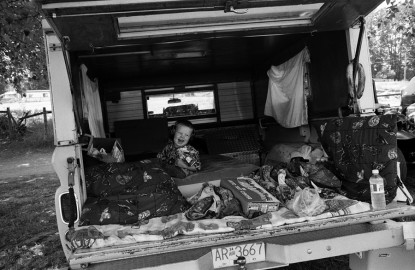 It had been forever since I'd seen my nephew that weekend. He loves the cars but the sun was intense, it was one of the hottest weekends of the year.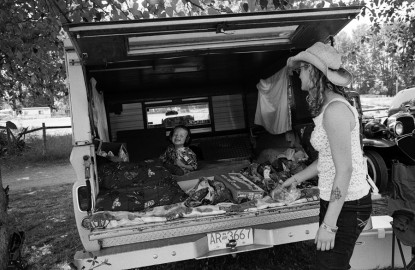 Then my mom sent us a text to let us know it was time to drive again.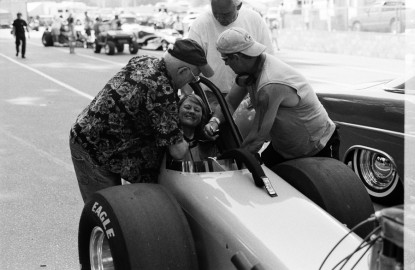 When I caught up with her they were in the staging lanes. I've never seen my F100 overlap a frame like that before but it hasn't happened again fortunately.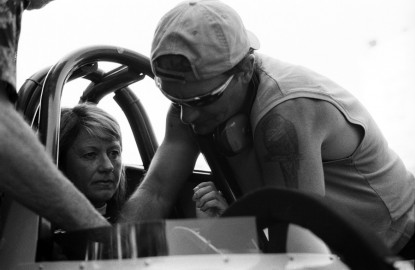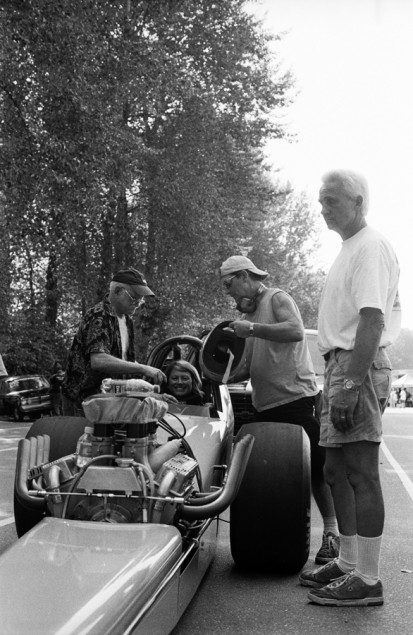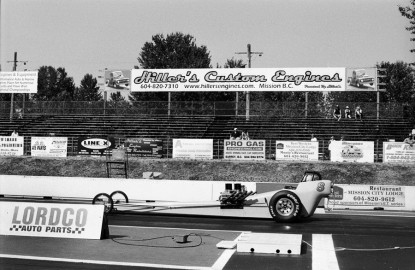 The one time I brought my F100 to the line to make use of continuous mode, she was placed in the opposite lane. Sad face.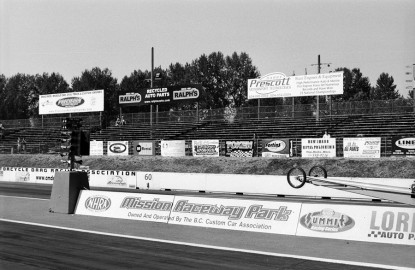 This is almost comedic, especially if you haven't tried to shoot something like this before. Anticipating a bit too quick, but it is a barrage of the senses, feels and sounds much more beautiful than it ever looks.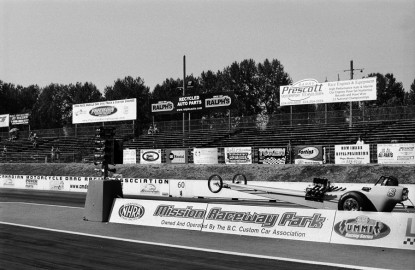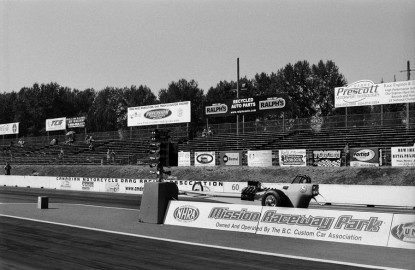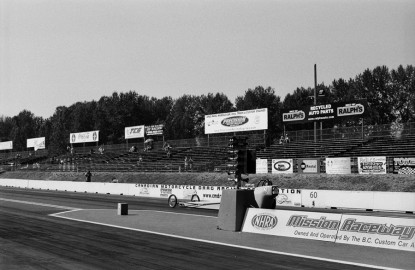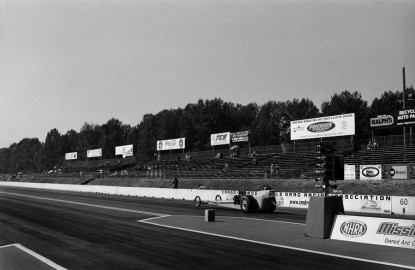 Looks like she bounced there.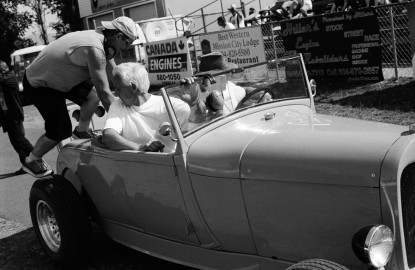 And the crew setting off to meet her at the end again.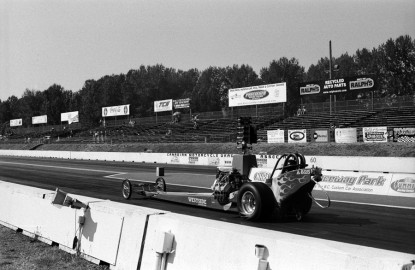 Mom wanted to run alongside him but their crew told us their car wasn't running straight so they did seperate runs. He ran straight, but slower. Good thing for his ego I guess ;].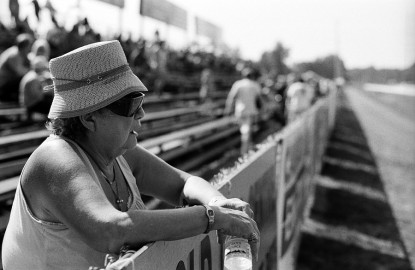 Lady spectating in difficult light. f/2.8 @ 1/4000.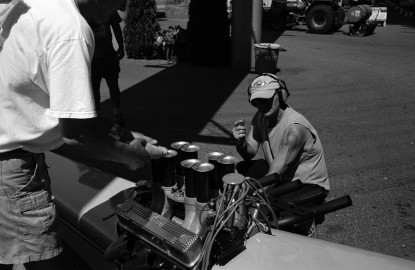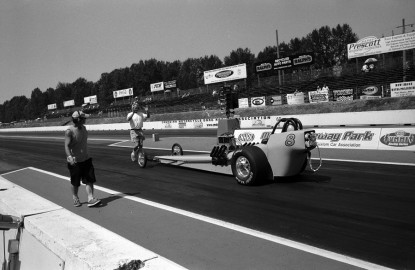 Bringing the car back after the burnout.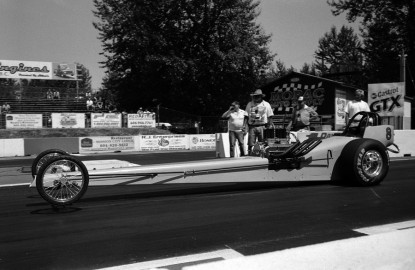 Catching some air again.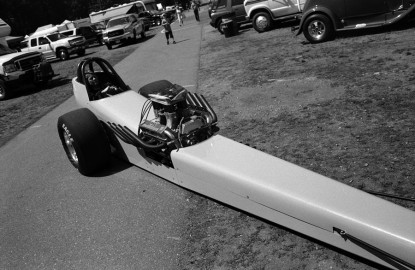 Pulling back up to the trailer. She was running pretty consistently about 140mph that weekend, but I don't remember the times. Right around 9 seconds I'm guessing.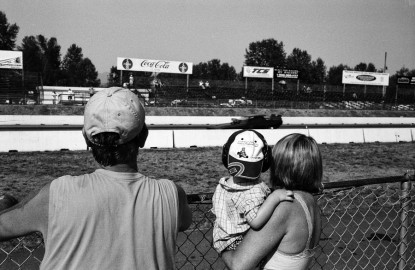 Went to watch the funny cars from another angle. Even in the first half of the 1/4 mile you can't stop them at 1/500.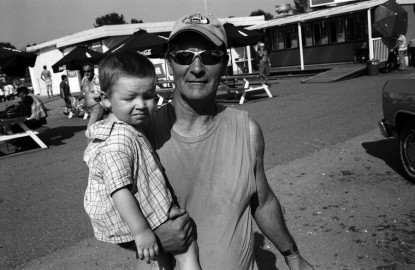 I think my good man maybe needs some shades.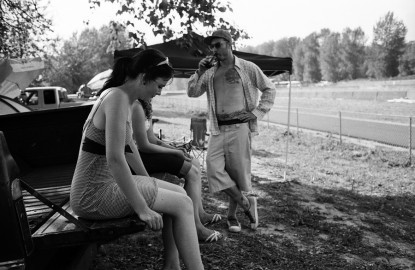 Getting some shade again with my sisters friends.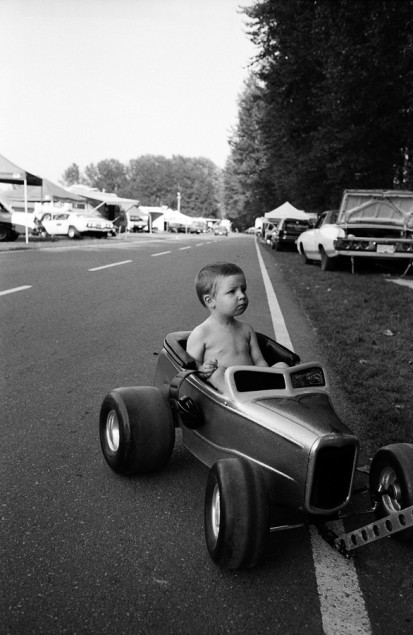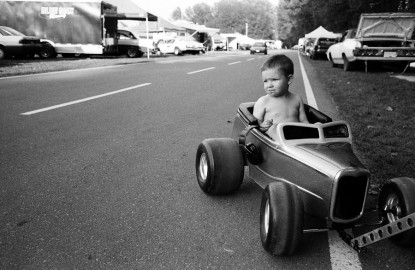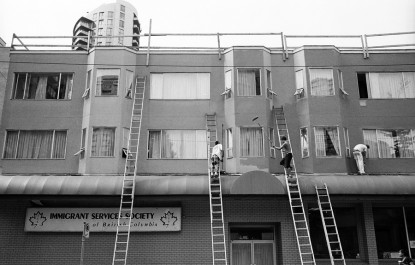 Finishing off the roll back in the city.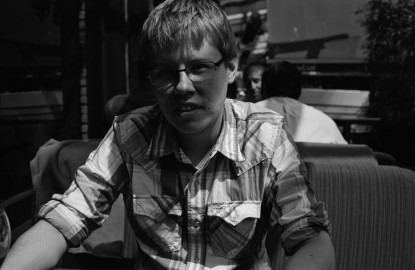 We had some lovely mini-taco things.
Tags: beer, fast cars, Kodak 125px, Kodak Tri-X, Leica M6 TTL, Nikon F100, Planar T* 50/1.4 ZF, Series E 28/2.8, Summicron-M 35/2, Vancouver
Add a Comment Trackback