And now for something entirely different
I have given disclaimers in the past when I have devised to share artistic photographs on the internet, because that's just not typically my thing. Today I prepare to do worse, but I hope you'll enjoy it. One thing that most people probably do not know about me is that I am a Formula 1 fanatic. In my free time I enjoy the video games, most people know that part. One of the video games I enjoy playing is F1 2010 which has an engaging career mode.
I've just completed a race in my second racing season, driving for Scuderia Toro Rosso this year at the Turkish Grand Prix, in Istanbul. At that link there is an informative lap diagram with numbered corners that may help you follow this post.
For an introduction to the circuit, and a chance to meet an individual represented by one of the AI drivers that I battle with in this race, you can preview A Lap of the Istanbul Grand Prix with Mark Webber. Yeah! Mark is awesome. In addition to being the only driver in the paddock with the balls to come out and say that taking Formula 1 to Bahrain this year is a moral catastrophe, he also does an insane amount of cocaine. Which we can't fault him for because clearly his teammate Sebastian Vettel drank all of the Red Bull!
Well, I wonder where I was. Oh, I drove a great race today, and the circumstances allowed for a lot of fun. While watching back the replay of the race I began to make screenshots to highlight some of the moments. Before long I was thinking that I might as well put this on the internet somewhere.
Allow me to set the stage. During the practice sessions leading up to the race I had refined the set up of my car to a point where I was feeling confident through every corner except the multiple apexes of turn 8 as Mark helpfully illustrated above. This is possibly the most challenging single turn in Formula 1. It's very difficult to perfect this corner because it must be driven right on the edge of the performance limits of the car for a significantly sustained period of time. Normally a corner has a single apex. You approach, brake, hit the middle of the turn and as your demand upon grip in a lateral direction reduces, you can afford to invest more force through the tires to move in a forward direction. Turn 8 requires a constant compromise between the application of the throttle and several finite adjustments to the steering as the driver negotiates the most efficient line through four apexes, and the intervals aren't equal.
In real life, the driver must endure pressure up to five times the force of gravity for 9 seconds while holding their breath to prevent their lungs from collapsing. Unfortunately, video game simulations haven't yet reached that point, but they do factor for variables such as fuel weight and tire wear and they do at least attempt to model the sophistication of a Formula 1 car's aerodynamics and suspension systems. My point being, it is difficult to get it all dialed in right, even in a game.
By the time qualifying rolled around, I had only begun to imagine how I was going to be taking this turn throughout the race, but my lap times were dropping. I made it past the first two elimination rounds of qualifying in to the top 10 drivers, and the final round of qualifying. Then the sky opened up to make way for rain. Qualifying 3 began as water built up around the track. I chanced dashing out with dry tires in hopes that I could place a single hot lap before wet tires were absolutely necessary, and by some manner of luck, I completed my best lap of the track yet at 1:28.765s. No other drivers caught the last of the dry conditions and thus I earned myself pole position.
Why am I talking about this. Well I don't know. Let's look at what happened in the race. At 40% distance, this will be 23 laps. All simulation settings enabled.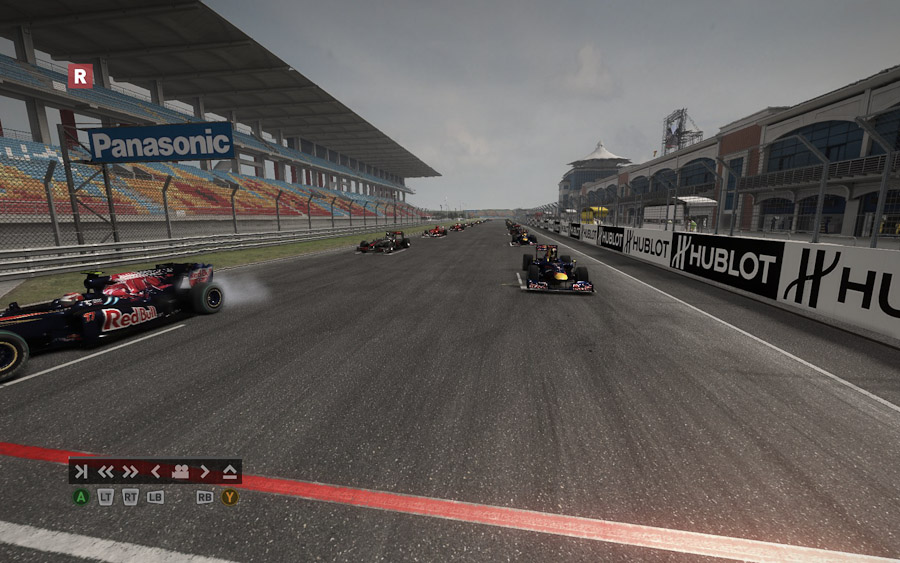 A bit of wheel spin as the lights go out. Now although my car says Red Bull on it, I'm not actually on team Red Bull, I'm on team Scuderia Toro Rosso, which is basically a junior team for Red Bull.
In the lead as I hit turn 2. Now the way to tell these 2 Red Bull teams apart is the muted yellow tone on the nose cone of my Toro Rosso compared to the bright yellow on the Red Bull. The charging bull on the Toro Rosso is also a fully drawn in design whereas the Red Bull is a simple vector graphic.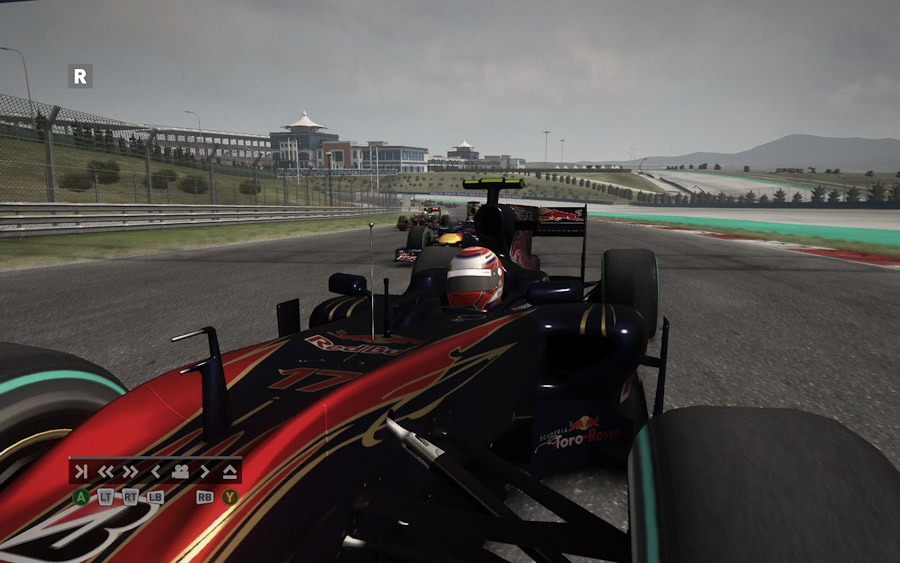 Under pressure early on not only from Vettel in the Red Bull behind me, but Webber in the other Red Bull hidden in behind while Hamilton in the McLaren also looks for a gap up the inside.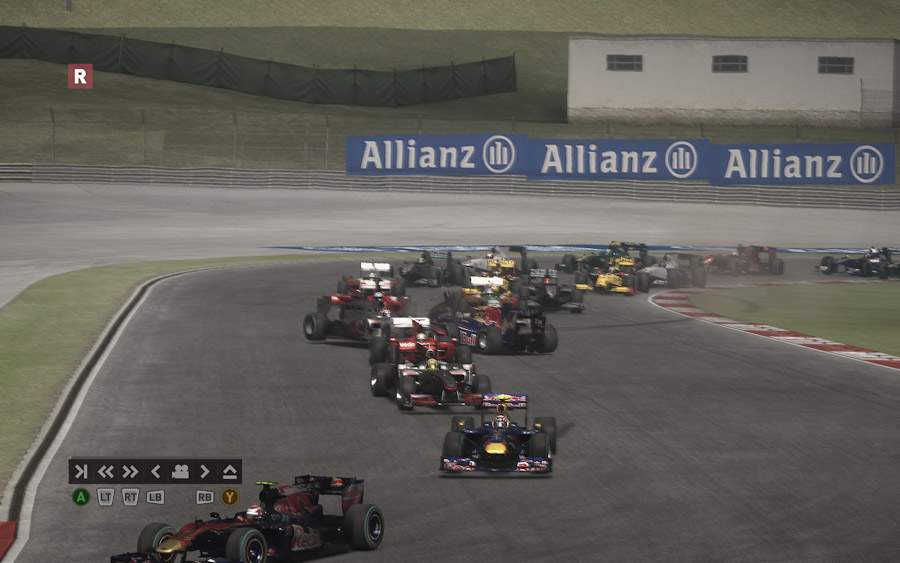 But as Vettel aggressively tries to take me on the inside of turn 3 he takes too much kerb and ends up facing the wrong direction, destroying the front wing of Jenson Button's McLaren in the process. And Travis Blanston, sailing smoothly away with just Webber to worry about.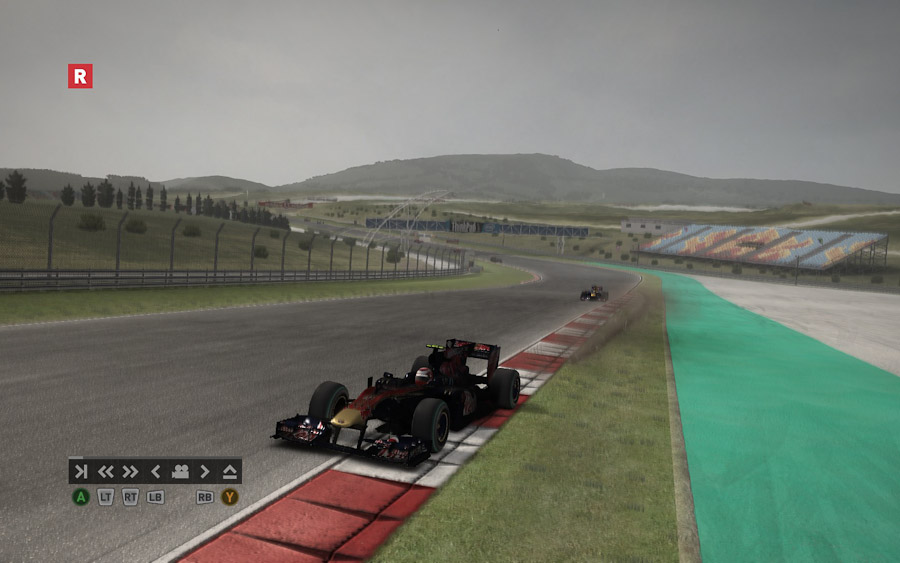 Correcting a short off-track jaunt as I push hard to try to build a gap between myself and Webber in the early laps.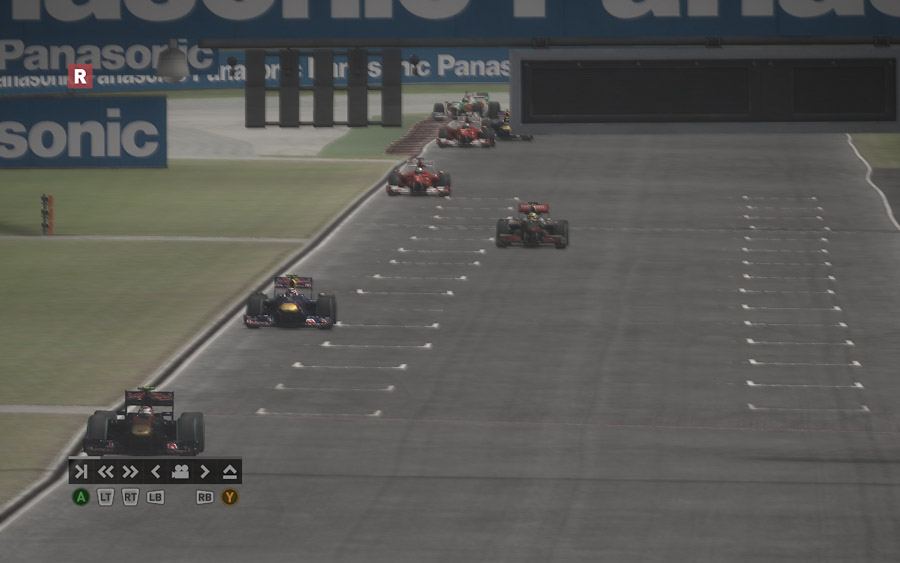 Leading down the front straight, the field spread out slightly after the first few laps. But I brake too late into turn 3 this time and Webber just barely manages past.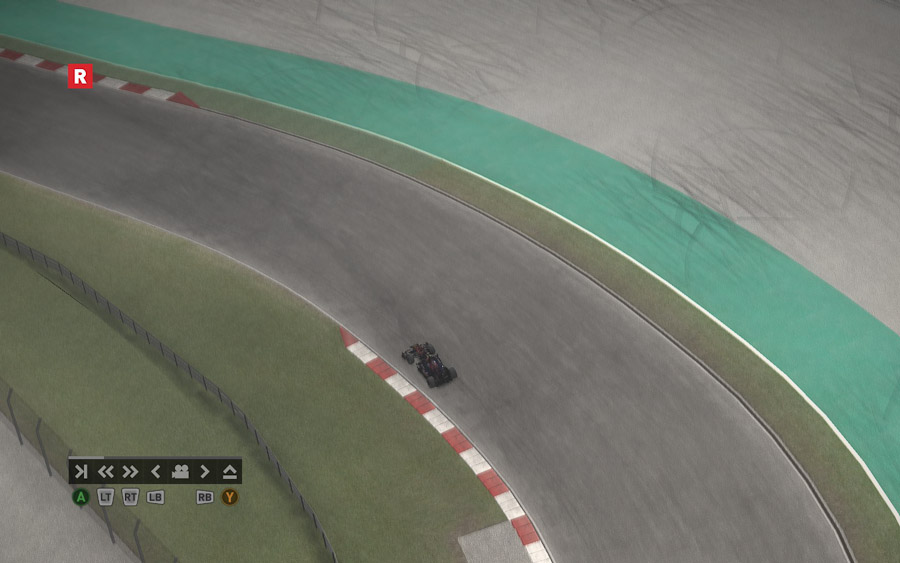 Nailing the final exit of Turn 8 running flat out. One of the things that makes turn 8 fabulous is that it leads out on to two long straights so if you wreck your exit you're going to lose a lot of time at high speed. This time I get it just right, which gives me a great opportunity to take first place back.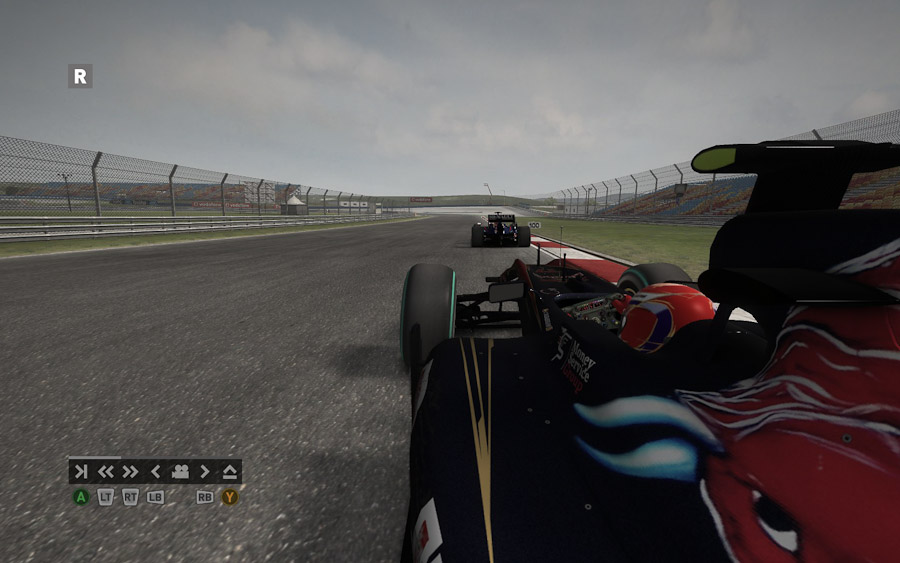 Committing to pull out from the slipstream to a late brake down the inside of turn 12.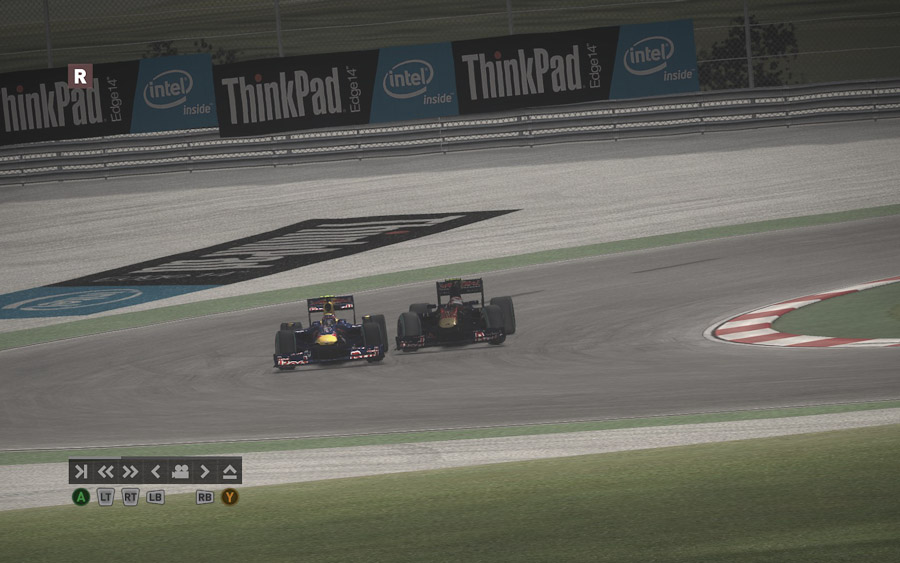 Webber, refusing to let up as I force him around the outside. But it's not going to be easy, because the track is about to snake back and forth through a low speed chicane giving Webber a second chance with an inside line of his own.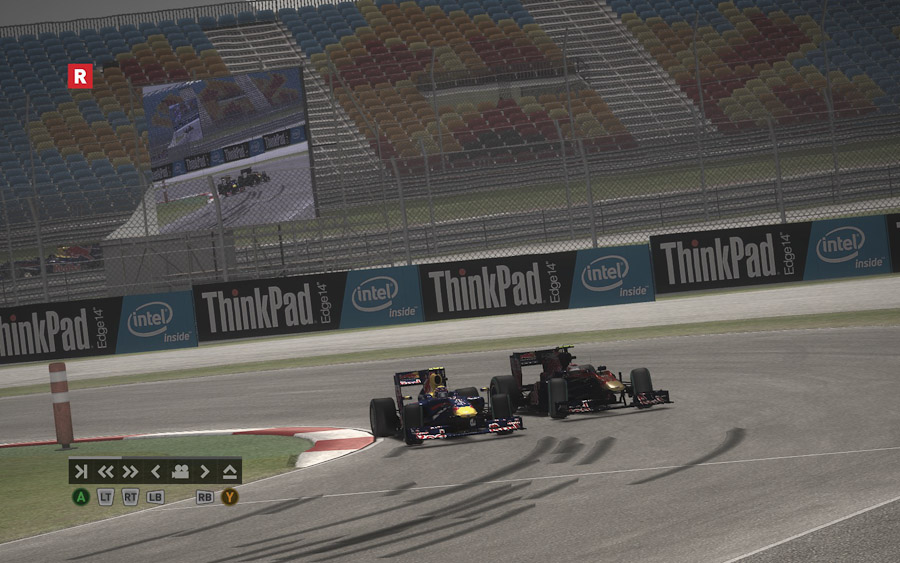 Side by side through turn 13 as we prepare for the final corner before the front straight.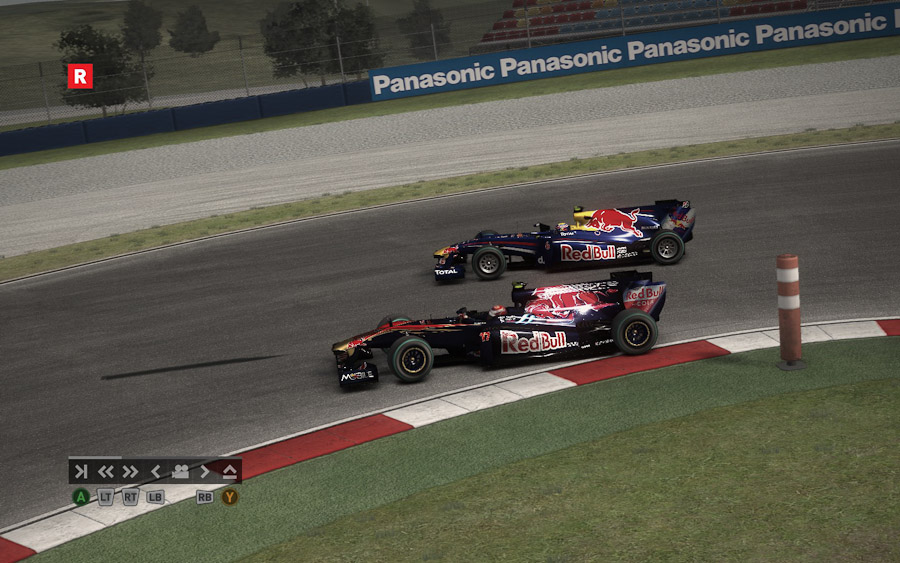 My turn back through the inside and this time I make it stick.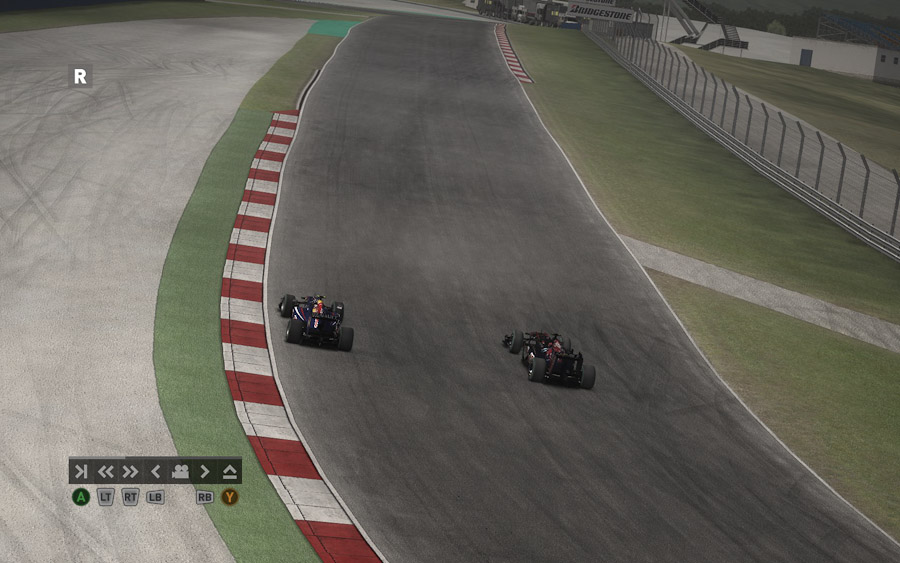 But I fumble again, overbraking into turn 7 which lets Webber carry his speed around the outside.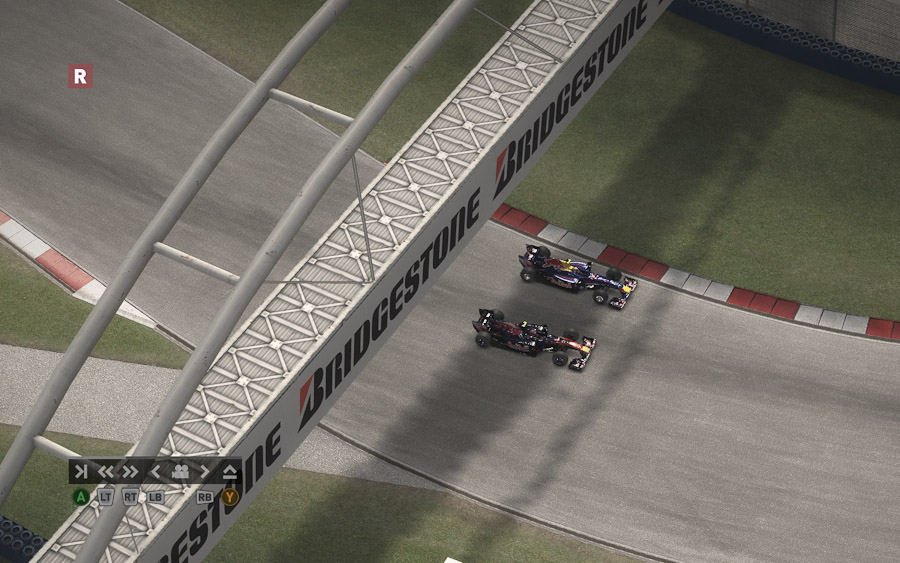 As we go side by side into turn 8! Because the ideal line through turn 8 is so much faster than a poor line it's a superb place to defend your position, there's just no way around through there. But to go in side by side is completely different, and faced with such a tight angle on the inside he's forced to break early and let me through.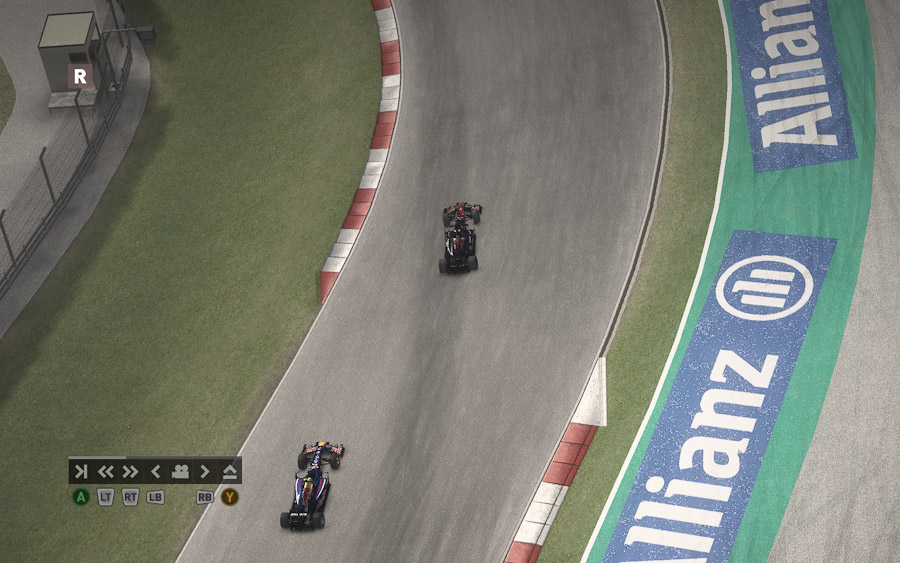 Here you can see how far off the rubbered-in racing line Webber is.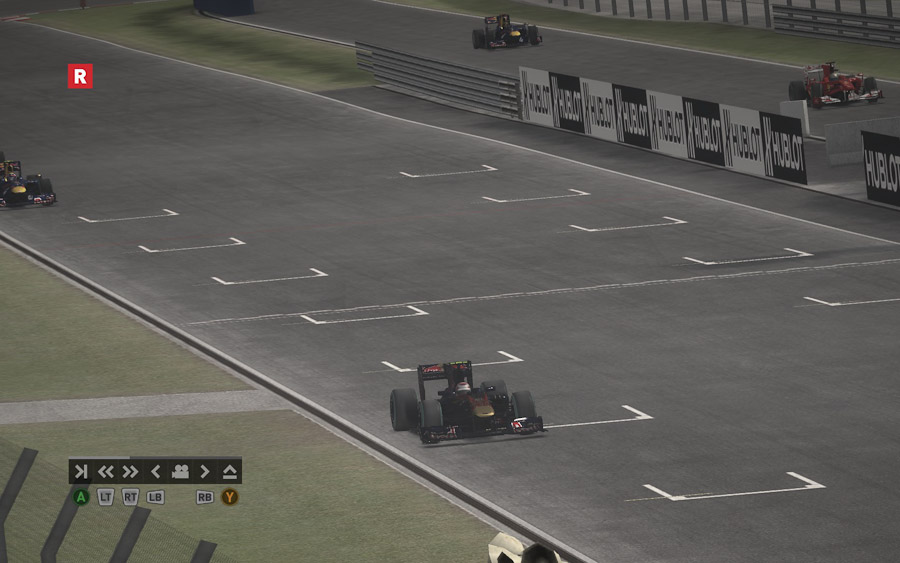 As I come down the front straight on lap 8, Vettel and Alonso pull off to pit for new tires. This was actually my scheduled pit stop as well but I felt confident with my pace and my tires were still feeling good. I need to do everything I can to build a gap to Webber before my pit stop. He is still on my tail with Hamilton in tow now who has caught us up while we battled all across the track, slowing us down.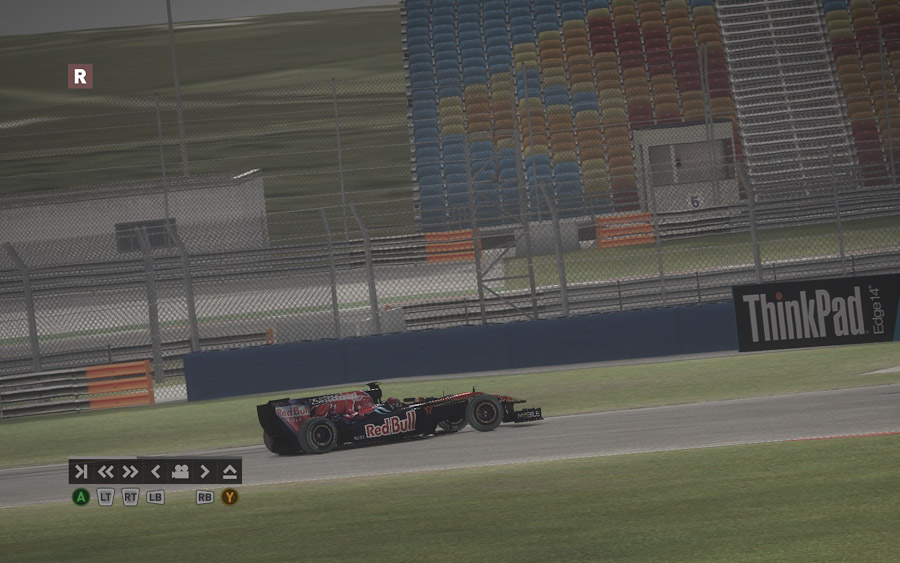 But on lap 9 I take myself off by giving  just a little too much throttle through the final chicane. At this point I had planned to stay out for another lap before pitting since I didn't feel my tires falling off too badly and I wanted to minimize the risk of running in to traffic that would hold me up in the pit lane.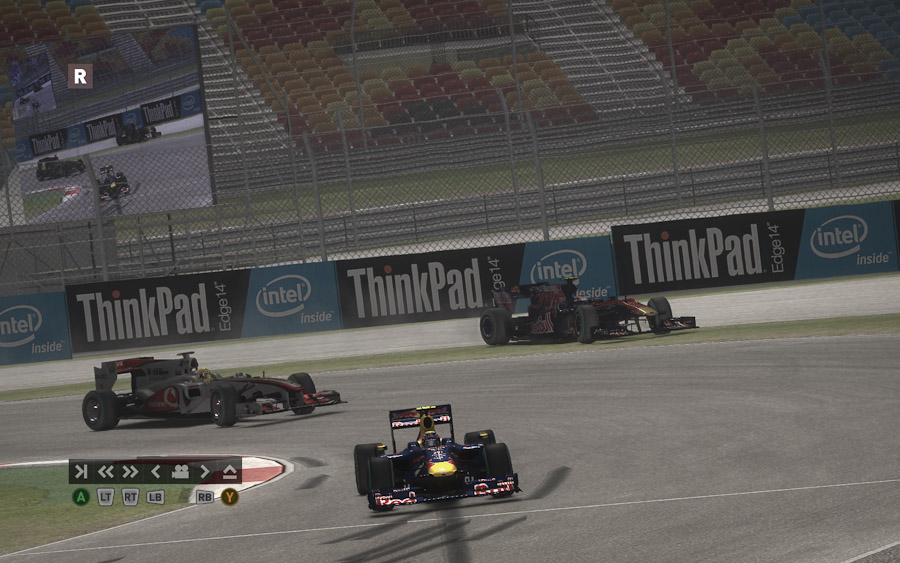 But having been spooked by this off, and with the pit lane right in front of me, I have mere moments to make the call. Wager another entire lap on these tires, or put a fresh set on to restore the confidence I need to take these positions back.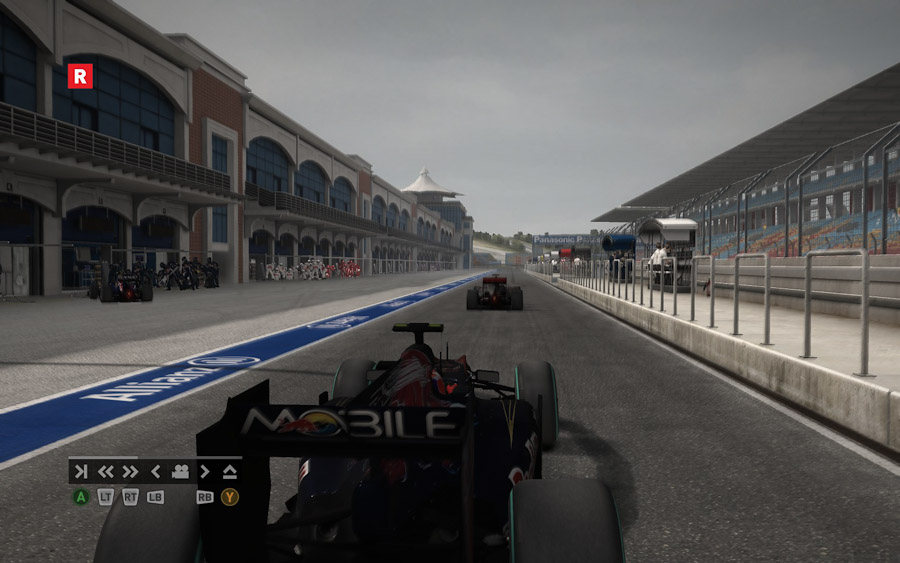 I dive in to the pits, following Webber and Hamilton who made the same choice. And by the looks of it, one of the Ferrari's is also coming in.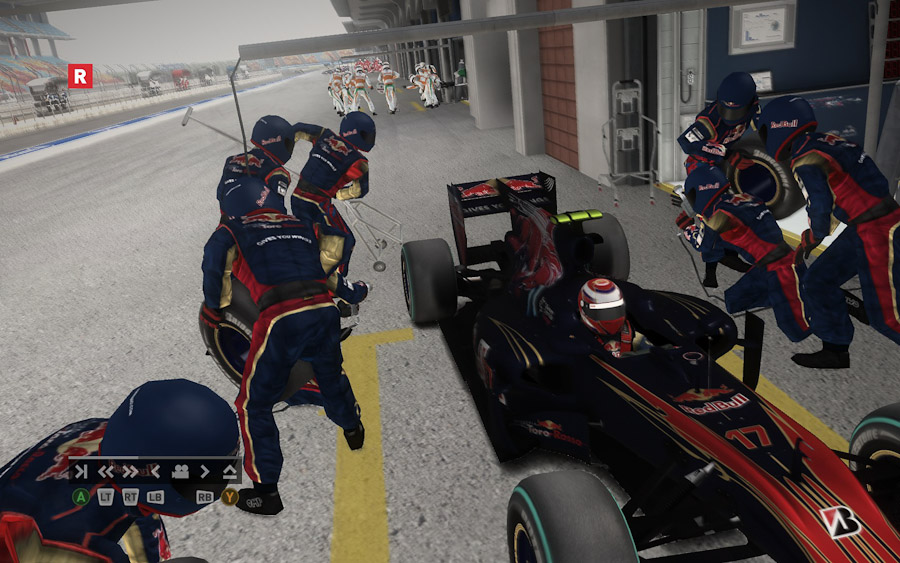 The pit crew spring in to action as I pray for a quick stop.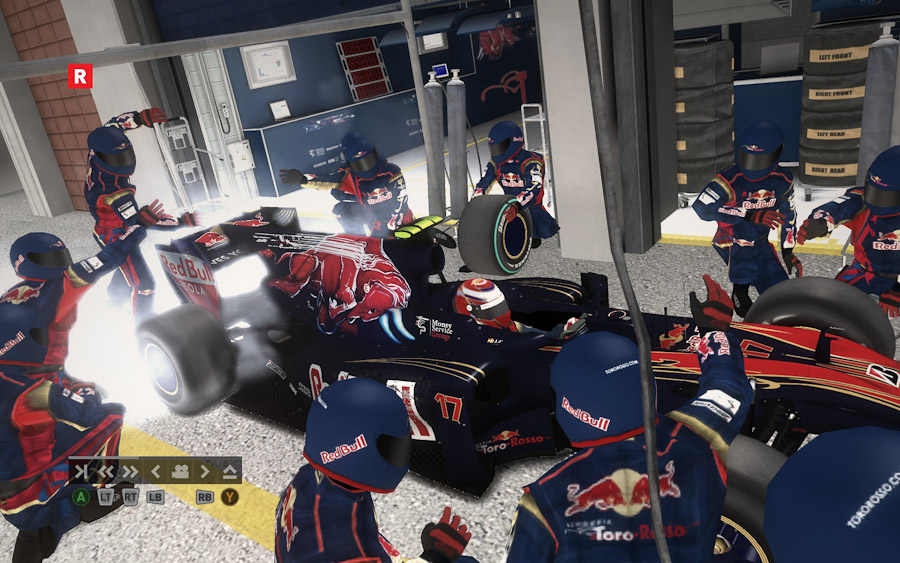 My crew holds me just briefly as they allow for Webber to roll by and I'm out in 5.8 seconds with 4 new tires.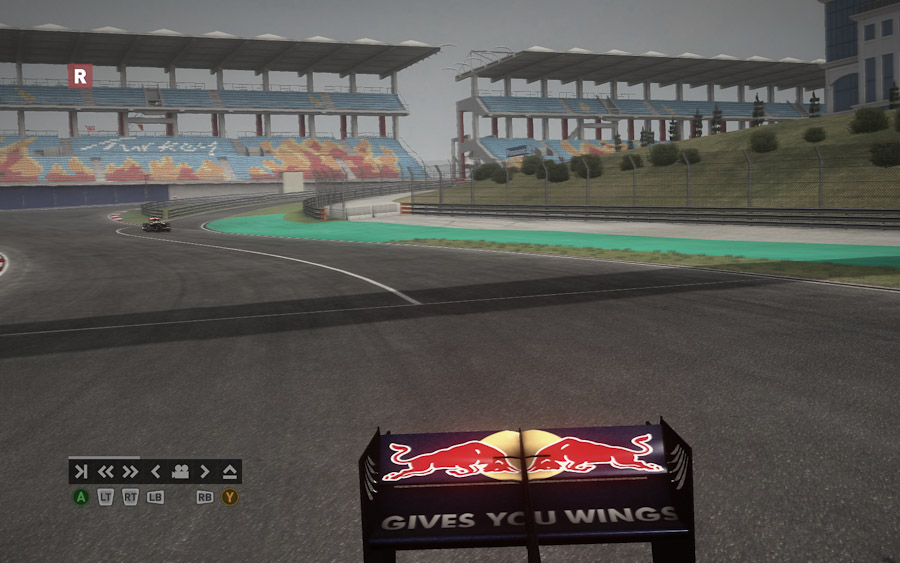 And then looking back I realize that I've somehow jumped Hamilton in the pits, which has made my job a lot easier.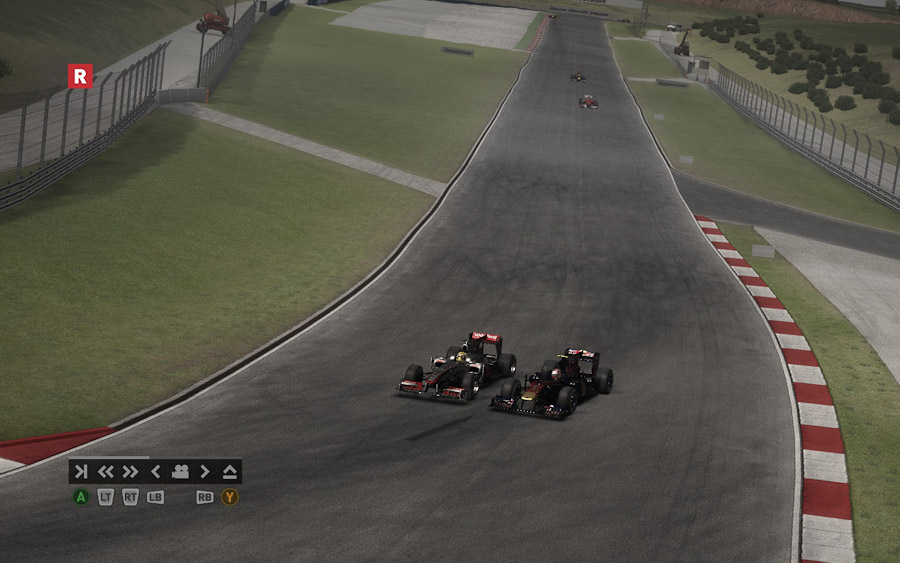 But Hamilton hasn't given up either as he puts a very aggressive move on me  in to turn 7. Just like last time with Webber I chase him hard through turn 8 to give myself an opportunity to pass down the straight.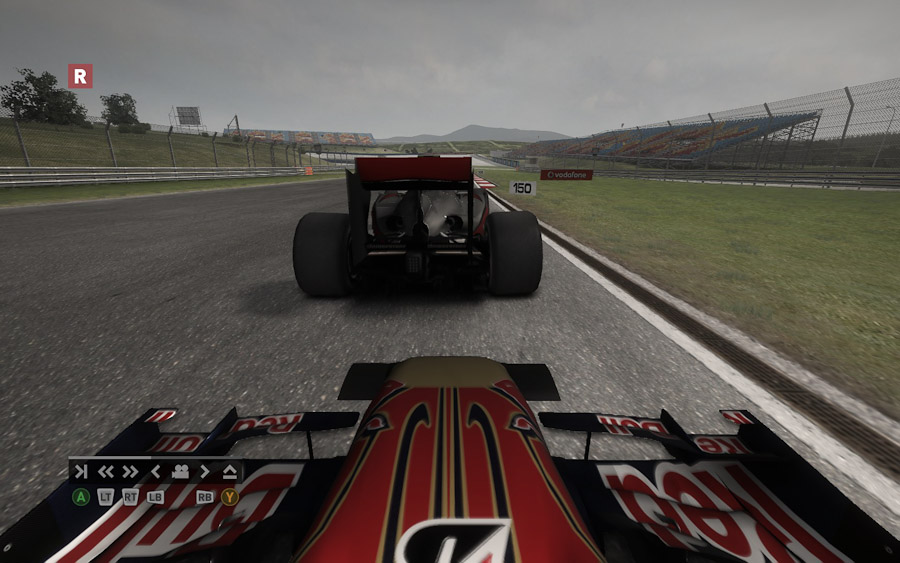 I slide down the slipstream with a little more top speed on Hamilton than I expected to have.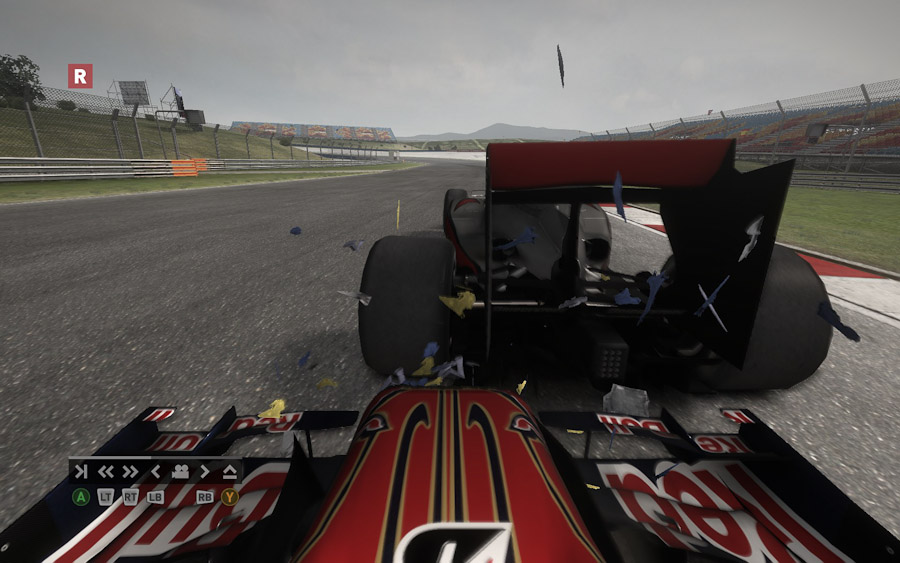 To make matters worse he brakes very early and deprives me of the space I need to pull out from under him. And despite it being only a light tap, I pay the price.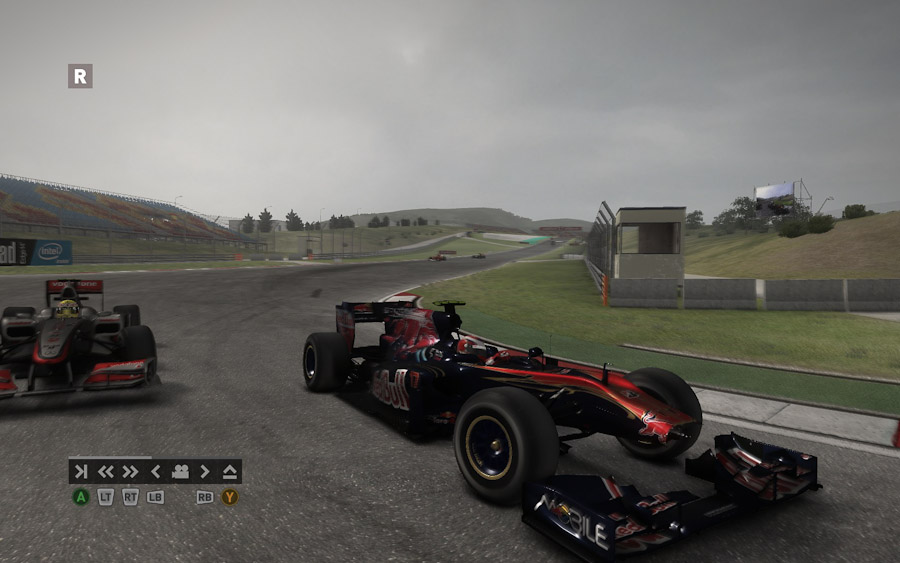 Or do I? Yes, that's a magical floating front wing. I bet Adrian Newey will be interested in what my team has managed to do with our aerodynamics package!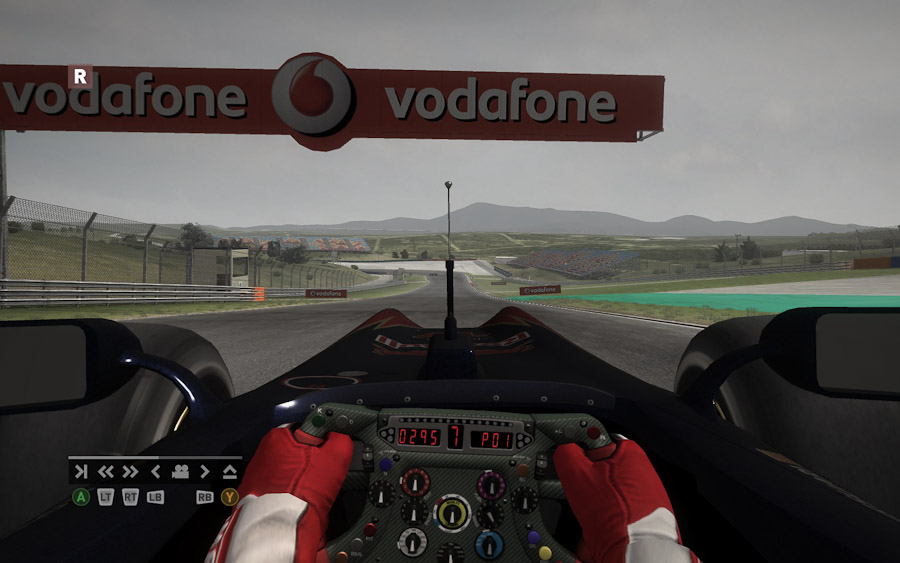 And for the next several laps, this is the best view that I get of Mark Webber up ahead. This gives me a good opportunity to drive by myself and develop a rhythm.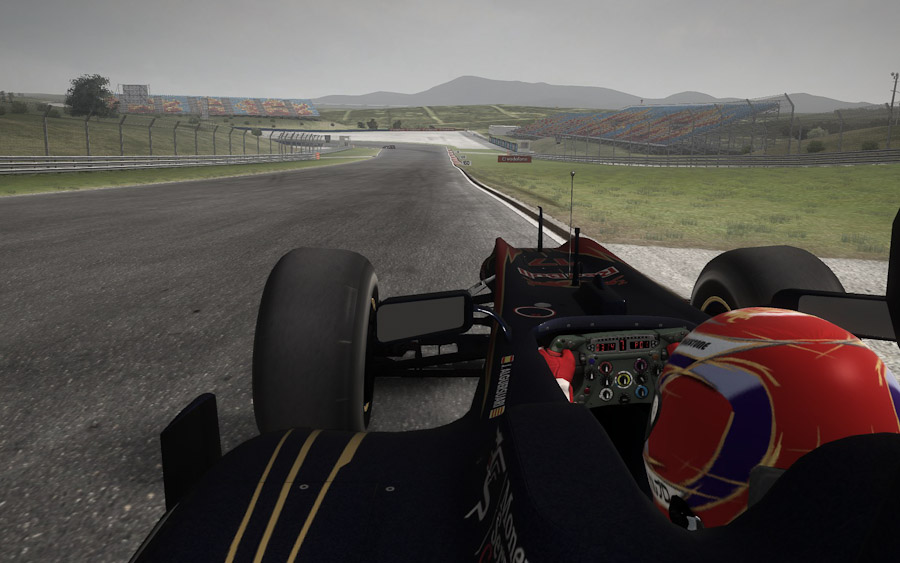 I reel him in mere tenths of a second at a time, but becoming uncertain how much longer I'll be able to keep up the pace as my tires begin to age. I have to make them last the rest of the race.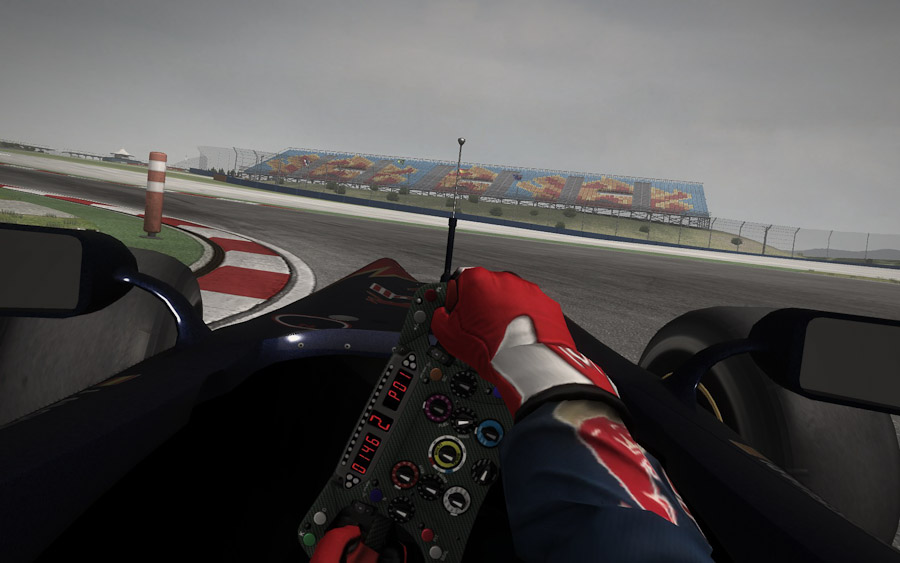 And as I round turn 9 in to the back chicane I come across a surprise.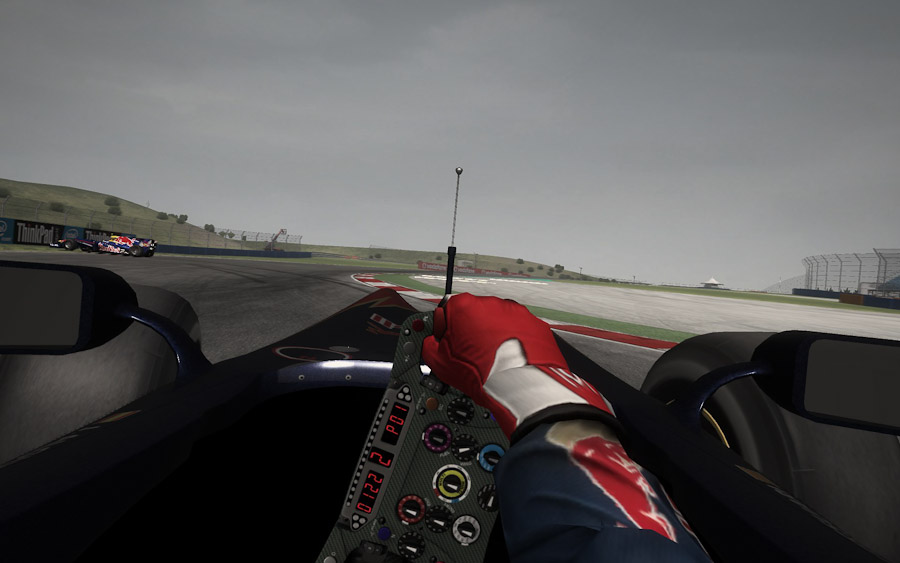 Webber has spun himself out.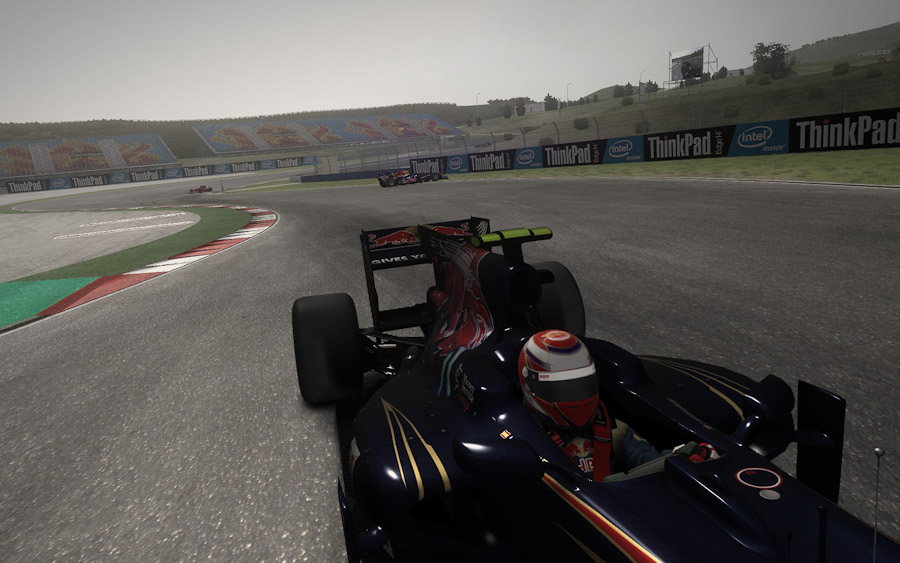 And I'm through back in to the lead. I've got just 6 laps to go now.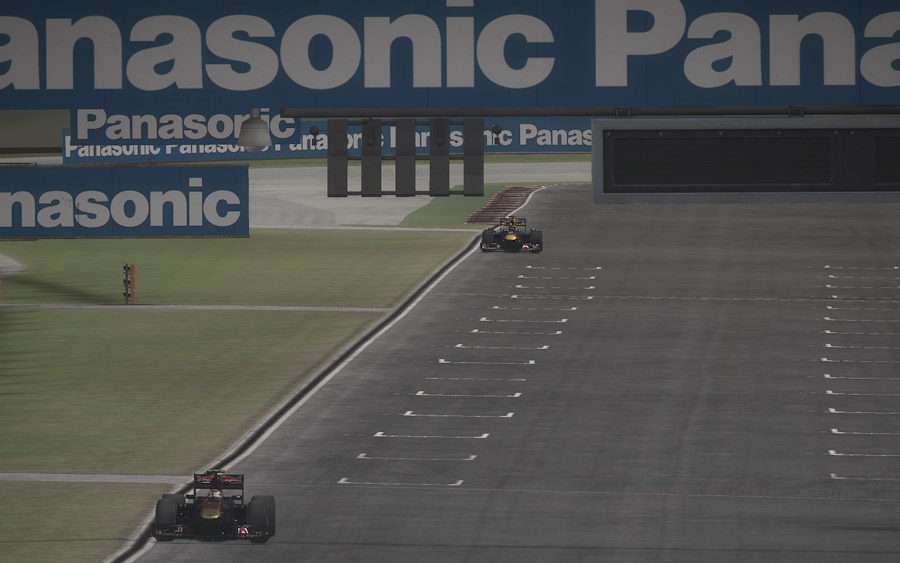 And then the final challenge. After a disastrous start, Vettel has charged back through the field and found his way in to open air behind me. I flip my fuel mixture back to fast mode and Vettel and I start trading fastest laps.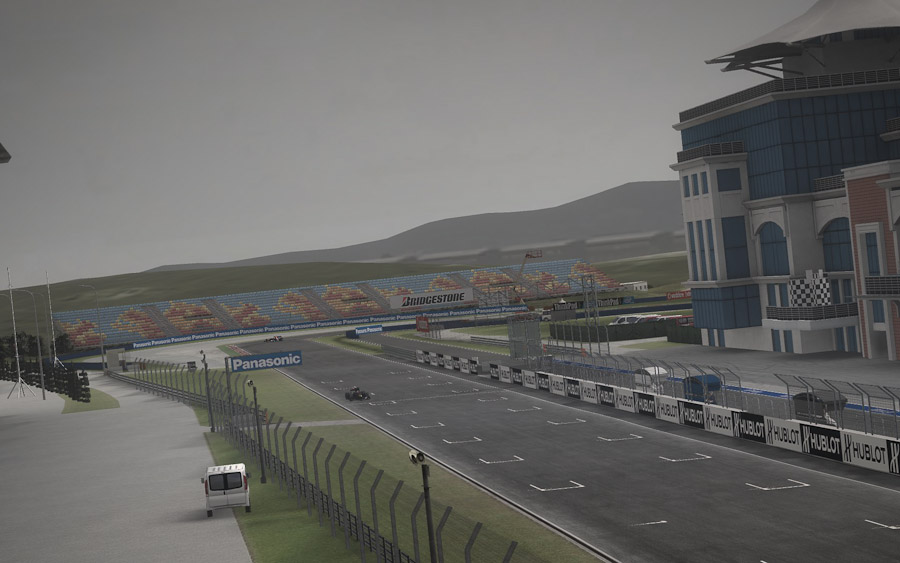 But it will be this way until I cross the finish line, still with a healthy gap of 4 seconds, 122 kilometres later.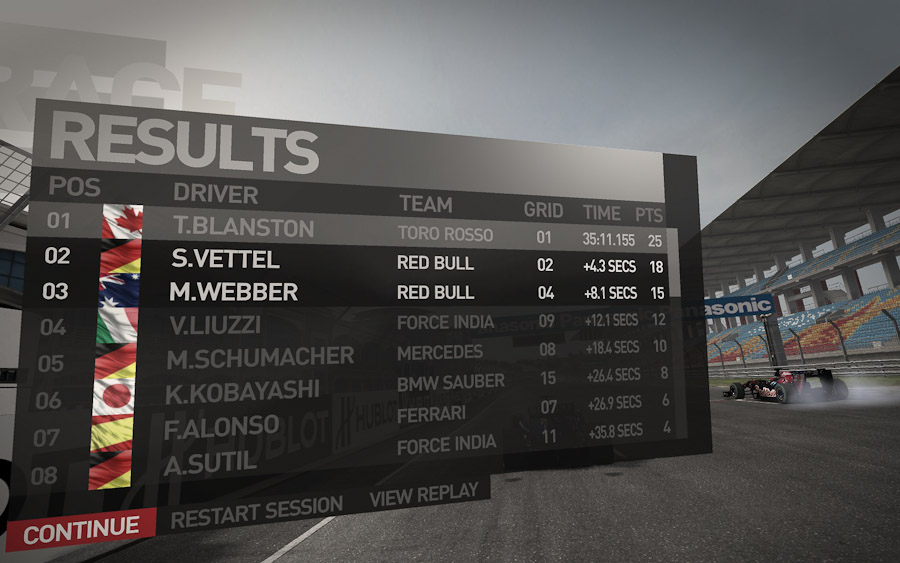 And the final results. Hamilton and Button, nowhere to be seen. I know Buttons race was ruined when Vettel dismantled his front wing (Vettel got away from that with no damage, at least he didn't pit for it), but I've no idea where Hamilton disappeared to.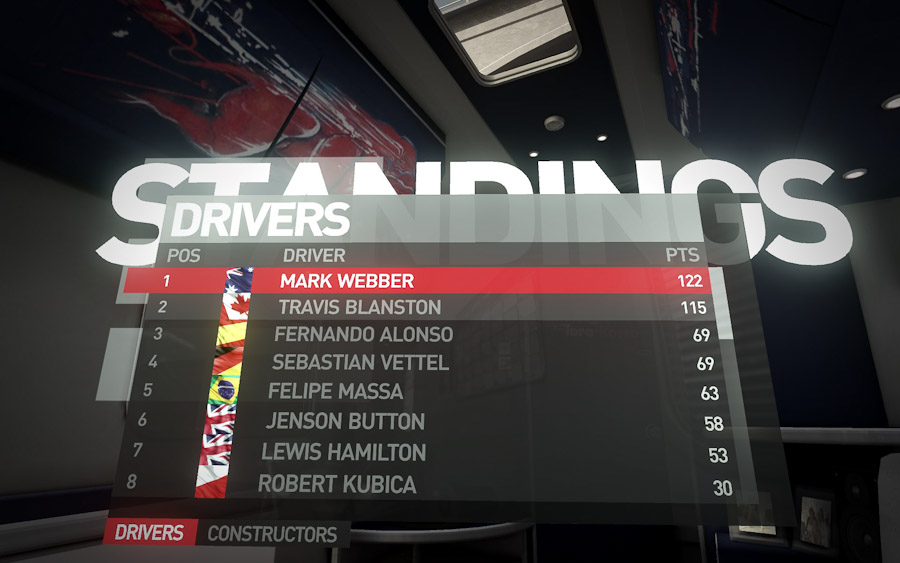 Back in the Toro Rosso trailer getting cozy, checking out the championship standings. It's pretty much all Webber and me this season. So Istanbul is over for another year. Up next, the Canadian Grand Prix in Montreal.
Tags: F1 2010, Formula 1
Add a Comment Trackback